We have all at some point an another linked A Game of Thrones to music – whether we claim a certain song is a specific character's anthem or the story of another character's life – but someone took it a step further and make a legit connection between artists and our beloved show. Steven Lear, an Instagram artist mostly known for his Star Wars recreations of classic album covers, relied on A Game of Thrones characters for his art this time.
Combining classic and currently popular artists and their album cover art, he has made some excellent puns and references our favorite Thrones heroes – Daenerys, the Starks, the Lannisters, Hodor, The Hound, Jon Snow, Melisandre. Below, you'll see bands ranging from Lana Del Rey and Taylor Swift to Led Zeppelin and Rage Against the Machine. While some make immediate sense, all of these will make you smile and occasionally giggle.
Sex Pistols – God Save the Queen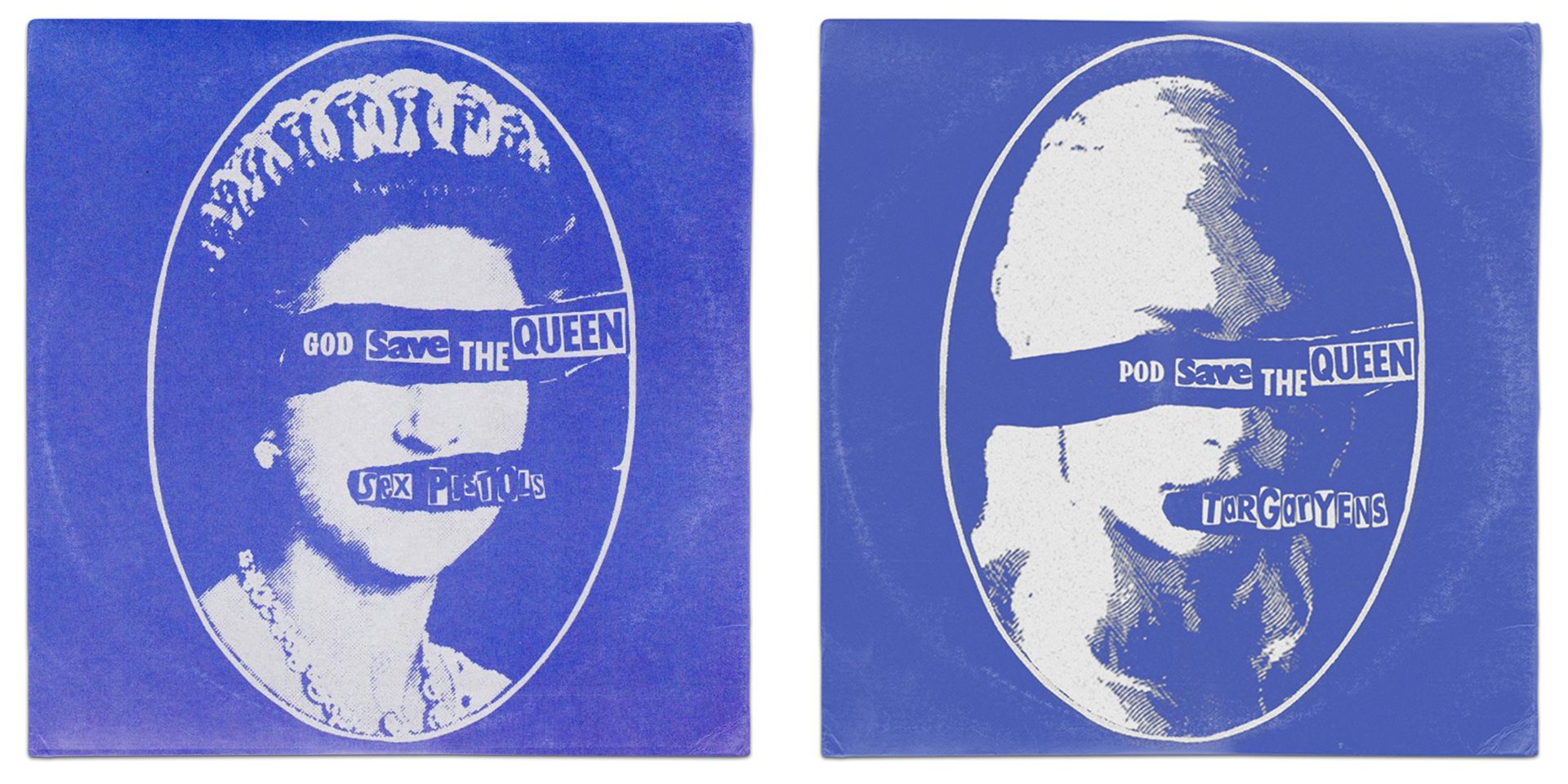 This funny and rhyming pun is pretty clever and something fans have long foreseen – Pod is there to save the Targaryen Queen. An amazing(ly hot) blacksmith, a ton of dragonglass, and a lot of White Walkers who will only die by that weapon. Have you done the math?
Pink Floyd – Dark Side of the Moon

The Stark Side Of The Moon; Do we need to explain it any further?
Led Zeppelin – Led Zeppelin (Hindenburg destroyed by fire)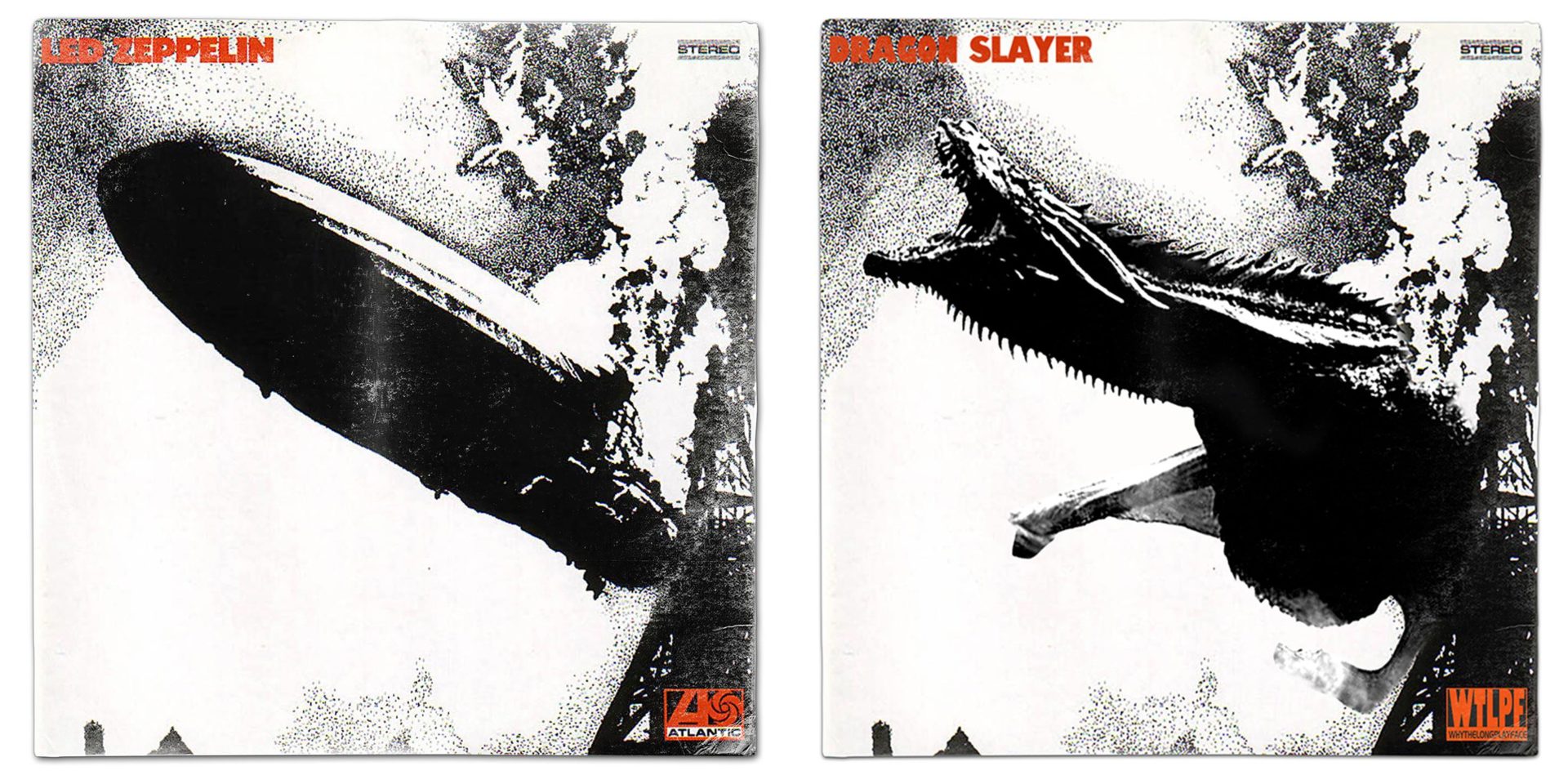 The cover to Led Zeppelin's self-titled album is the Hindenburg being destroyed by fire, and it looks very much like Viserion's death as he splashed in the icy cold water beyond the Wall after the Night King slayed him. I'm still not over that.
Peter Gabriel – So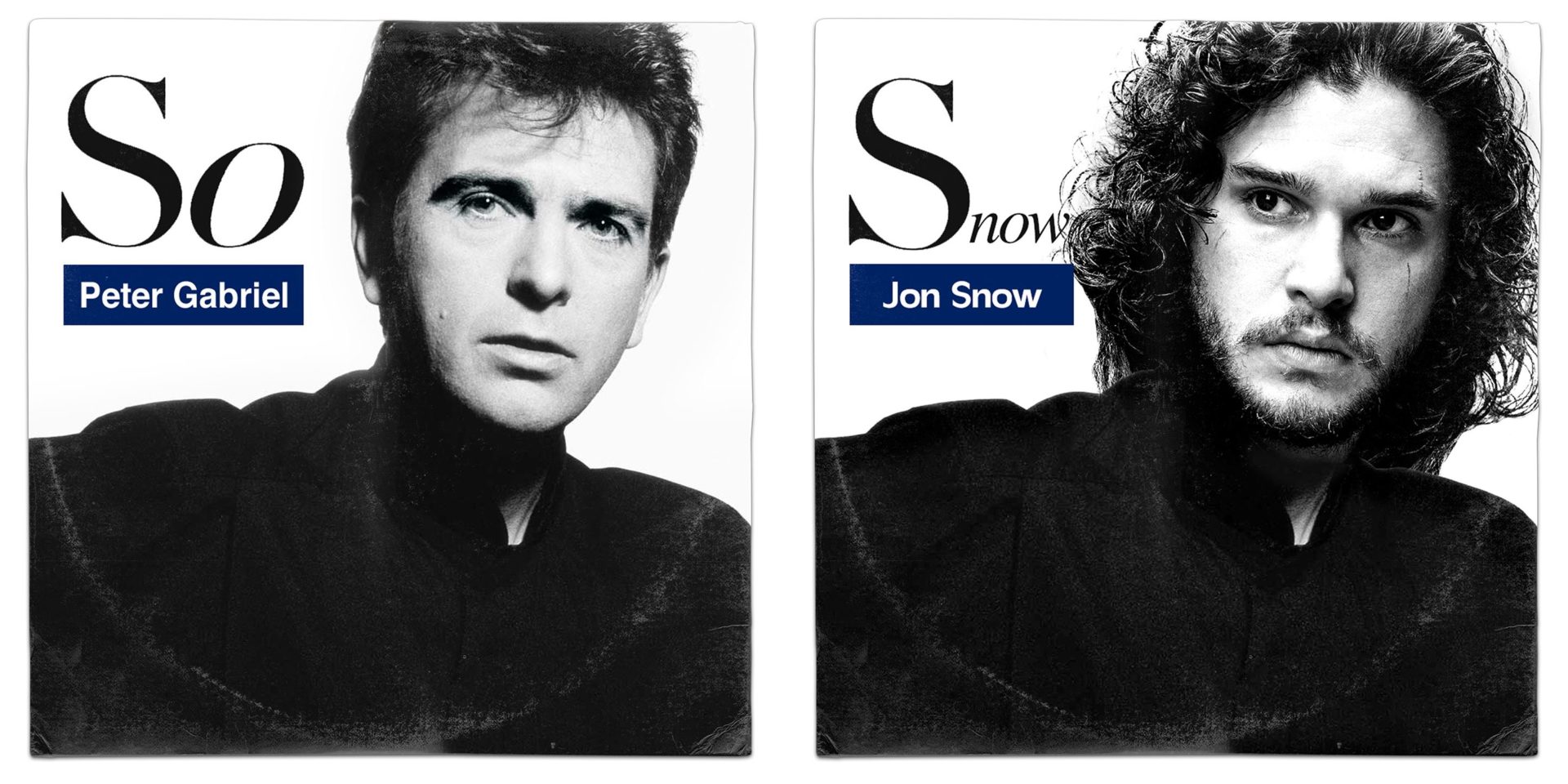 Jon Snow's devilishly good looks and his sometimes clueless facial expression absolutely match Peter Gabriel's album title. "So… Are we going to see each other again, Danny?"
The Doors – L.A. Woman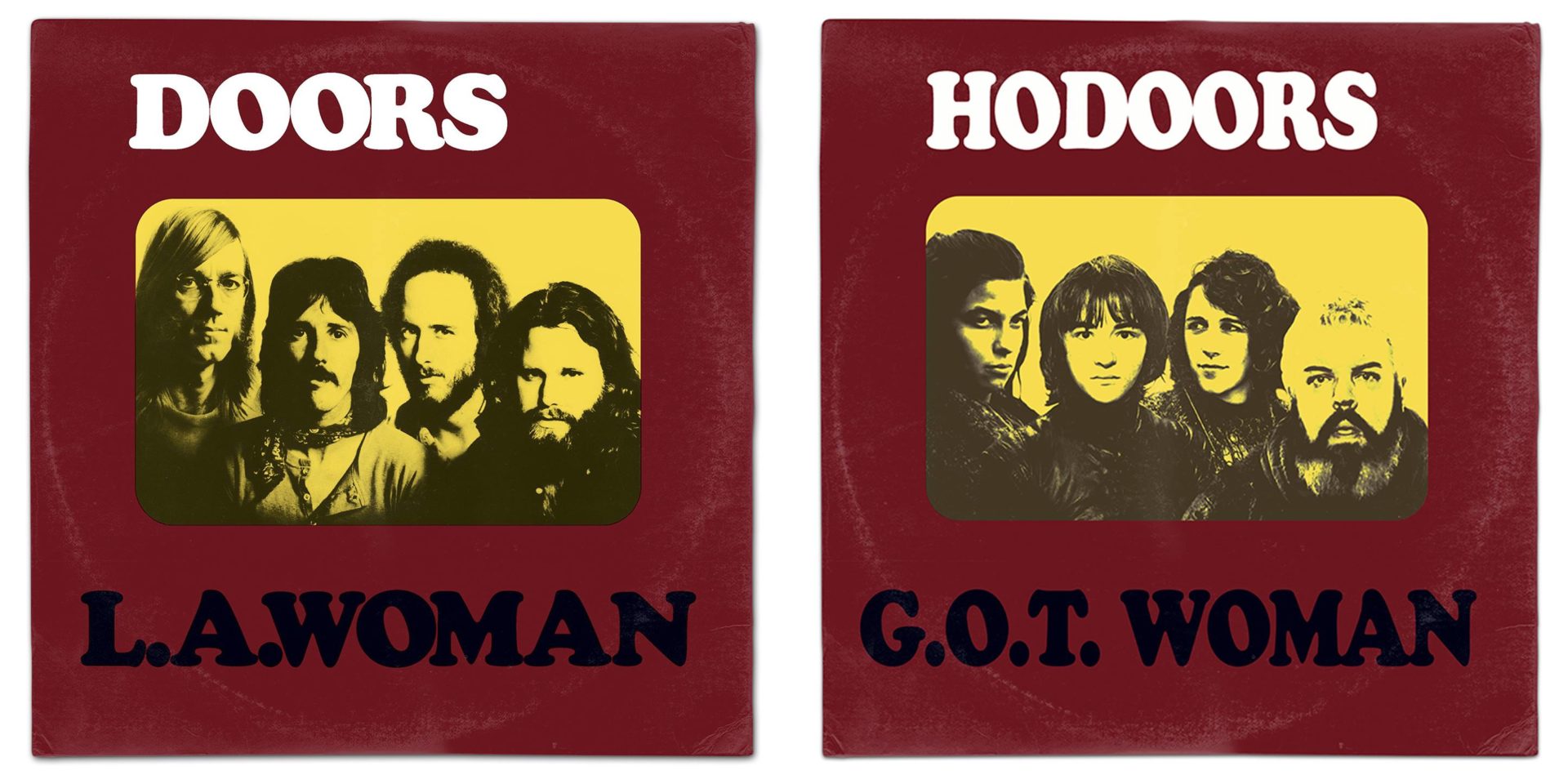 Hodor and his gang of sneaky, good-at-killing women and warging men have formed a reputation, and this album cover sums it up.
Rage Against the Machine – Rage Against the Machine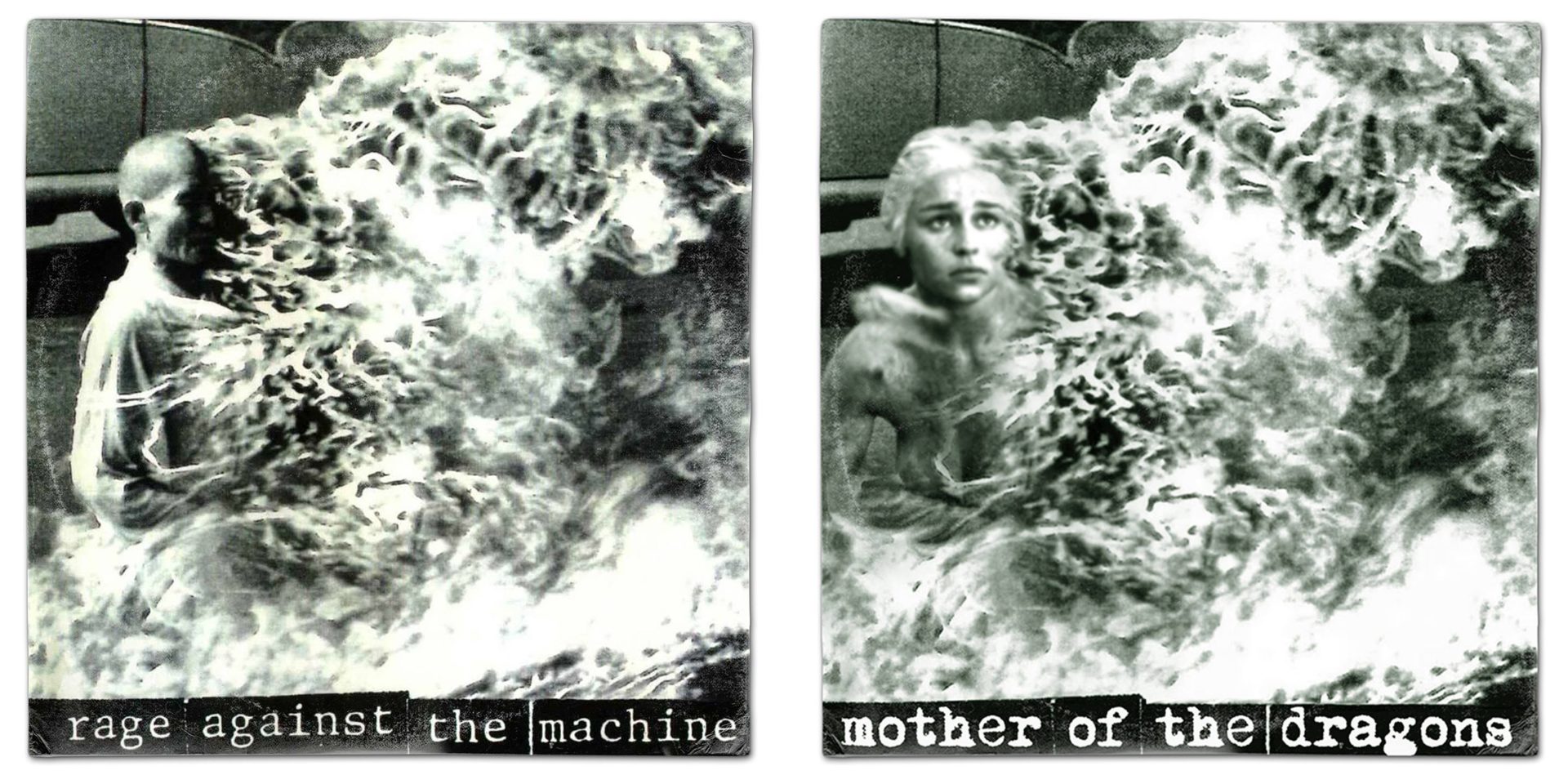 The original cover features a photo of Thích Quảng Đức, a Vietnamese Buddhist monk protesting President Ngô Đình Diệm's administration for oppressing the Buddhist religion by setting himself on fire. While our Queen has not protested anything in that matter, she did in fact walk through fire and came out unburned. She does protest slavery and desires to break the wheel and undo the corruption within the Iron Throne and its rulers.
Led Zeppelin – IV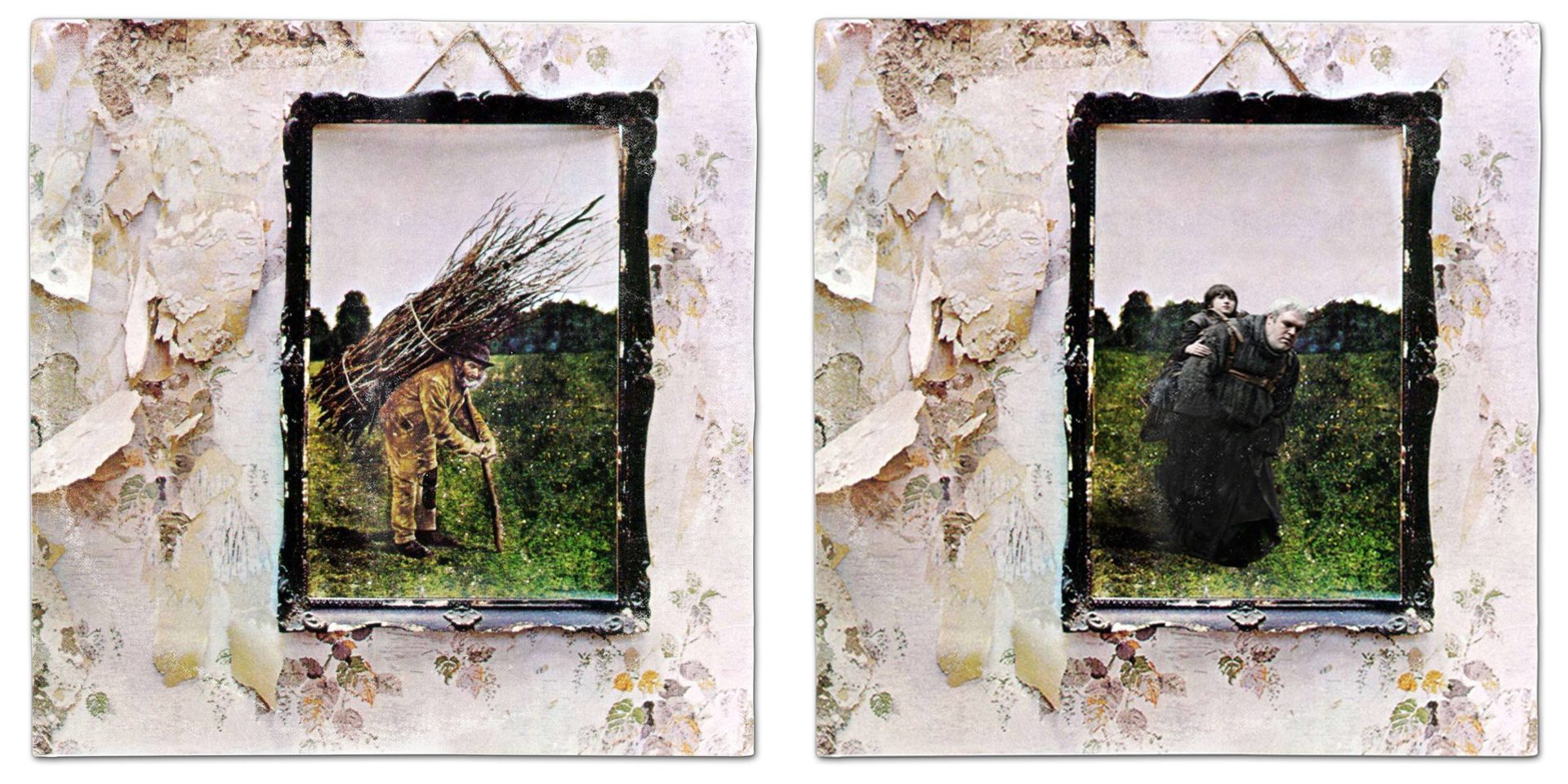 Jimmy Page says that this album cover was supposed to be something that was for other people to savor rather than for him to actually spell everything out, claiming it would make the whole thing rather disappointing on that level of your own personal adventure into the music. We can relate to this a little bit – Bran's long and drawn out story is turning into an excellent tool now, and we wouldn't react positively to it if it had been spoiled for us early on.
The Beatles – 1967-1970 (The Blue Album)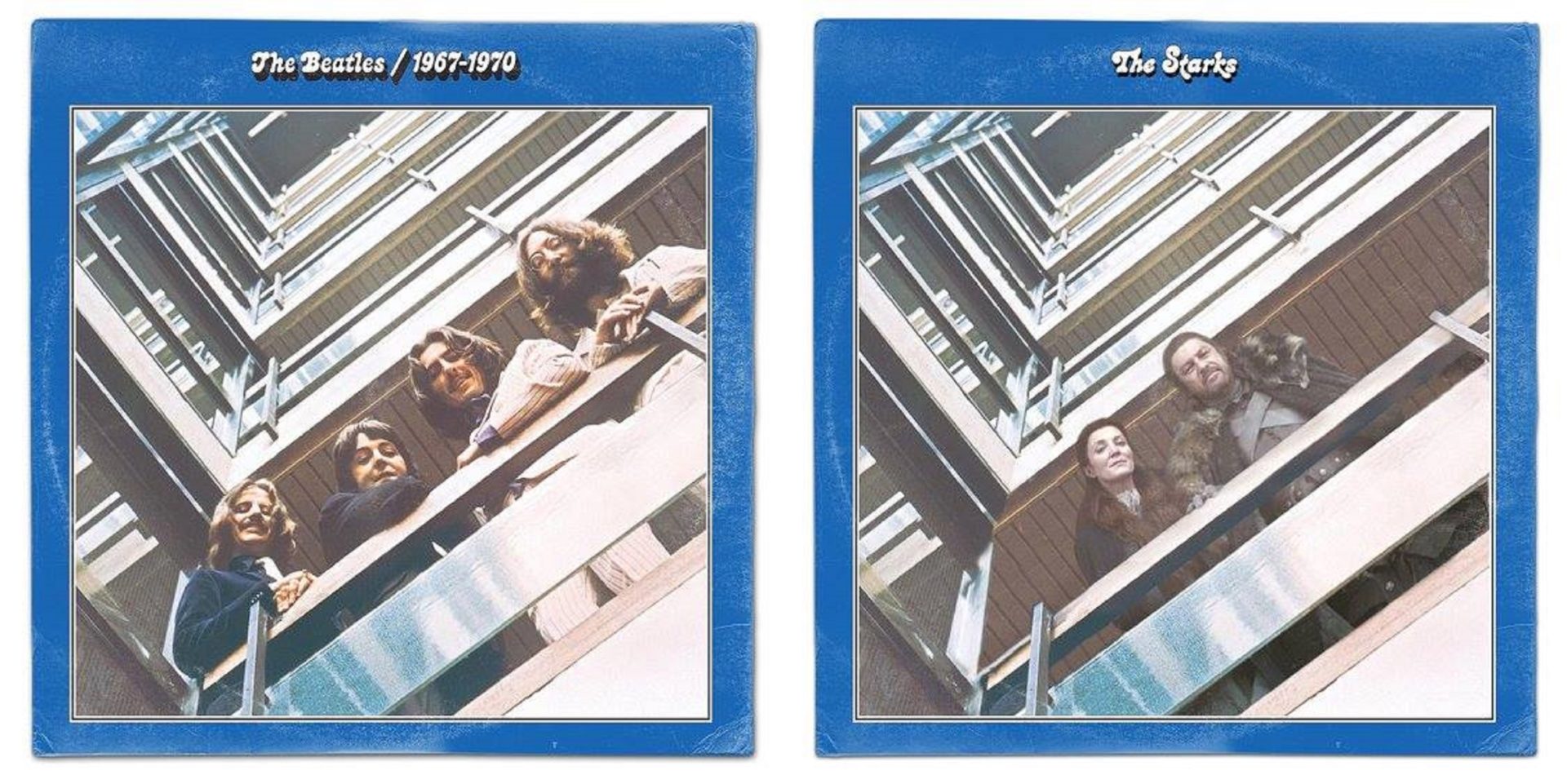 This album is a compilation of the best songs release by The Beatles in the span of 1967-1970. Ned and Cat remind us of better days, days where the King hadn't come asking him for help and non of this was happening. Somebody pass me the tissues.
The Carpenters – Close to You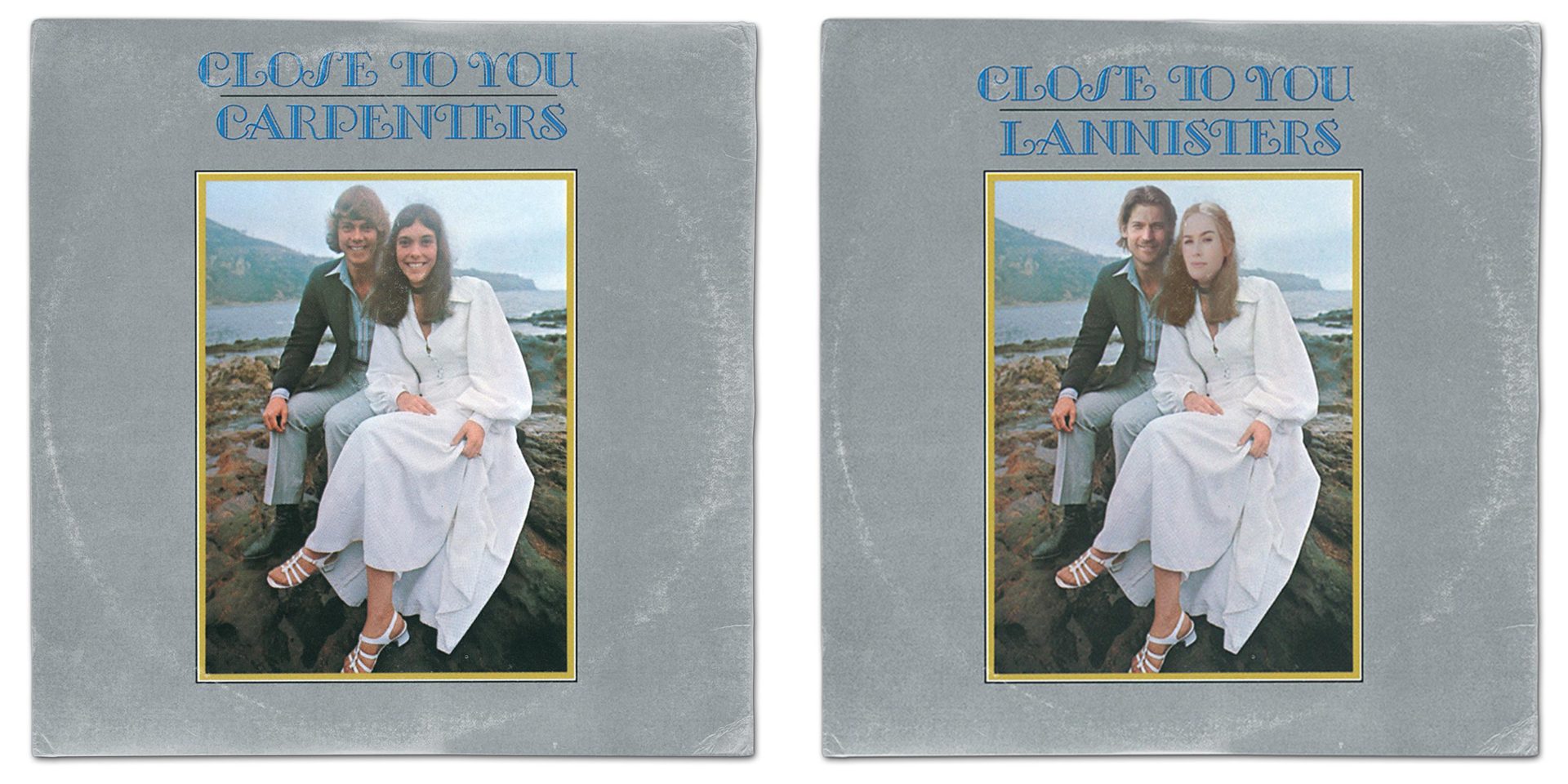 No offense to The Carpenters whatsoever, but eww. The incestuous twin couple we all hate to love. Just no.
The Beatles – Sgt. Pepper's Lonely Hearts Club Band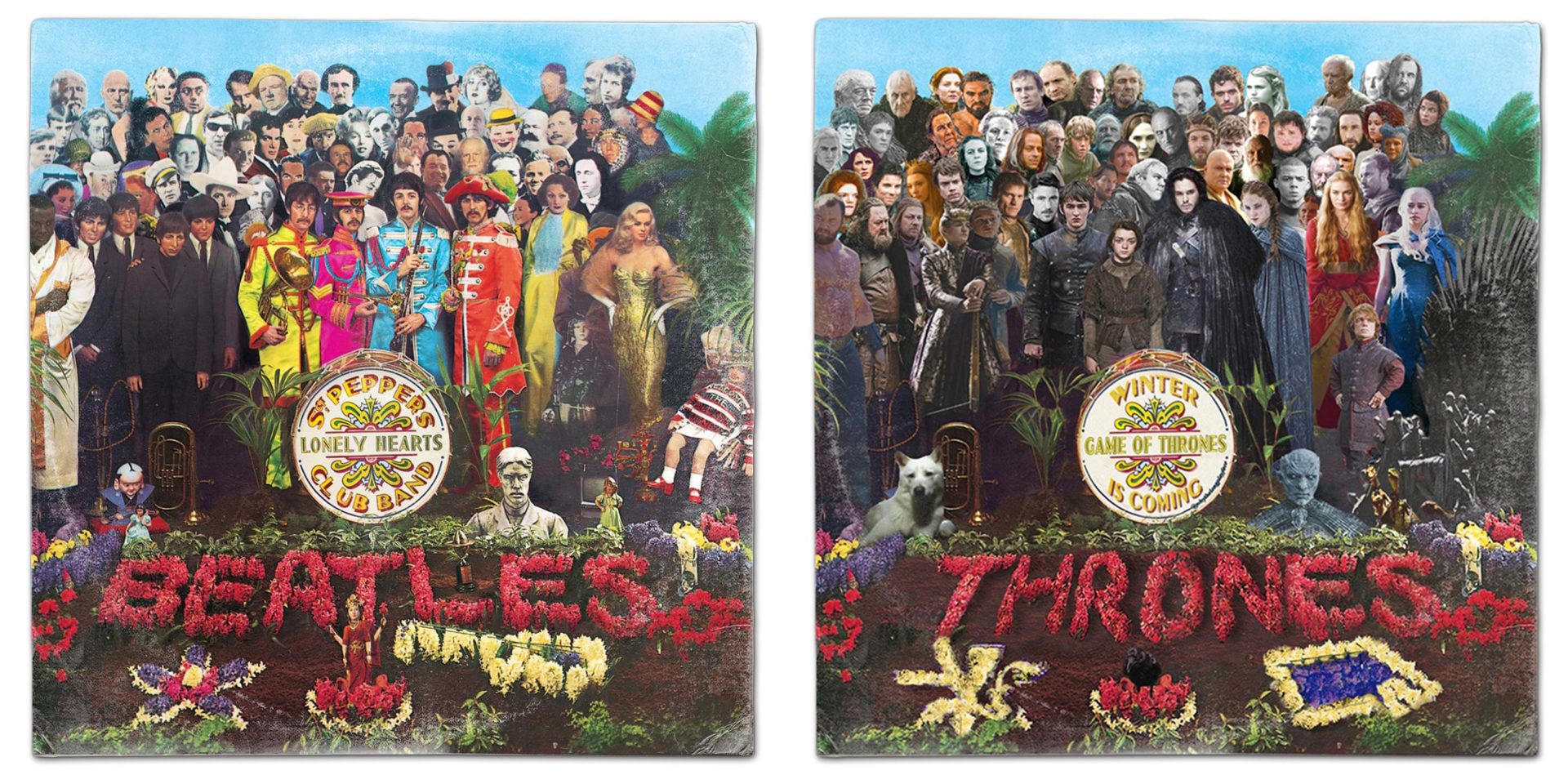 This fun album cover was said to serve as a guidebook to the cultural topography of the decade, demonstrating the increasing democratization of society where the "barriers" between 'high' and 'low' culture were being eroded. And so we see characters that started from the bottom and now are there, and some characters that toppled down really low.
Phil Collins – Face Value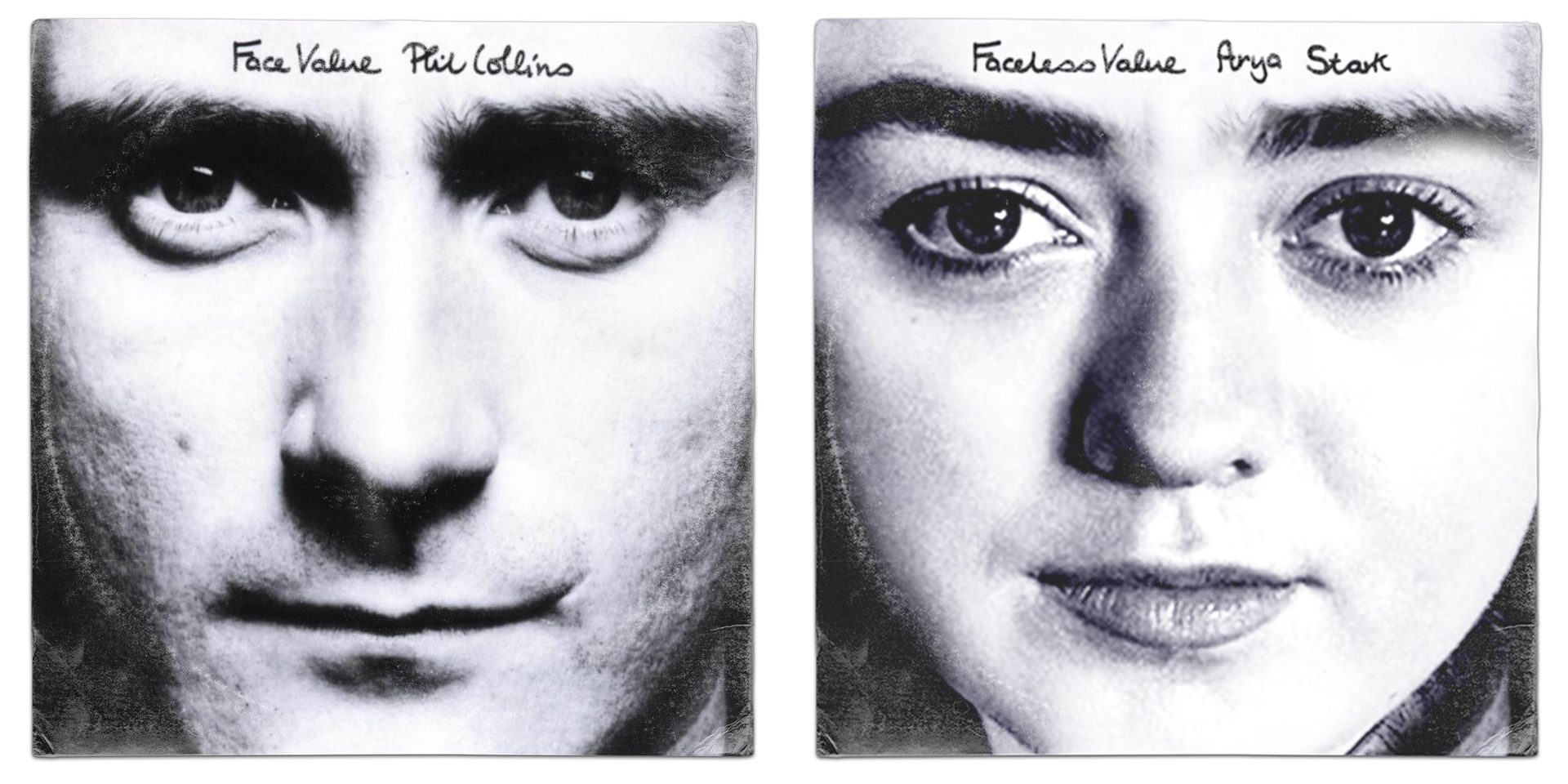 A girl is Arya Stark of Winterfell. A girl also takes faces and identities of those she kills and uses them for her own reasons. A girl is creepy, yet badass.
Kate Bush – Hounds of Love
After scrubbing this picture of The Hound from my brain, I can truthfully say that I'm glad he's not lovey in the show. But I cannot deny how much his character and loyalty have changed.
Lana Del Rey – Born to Die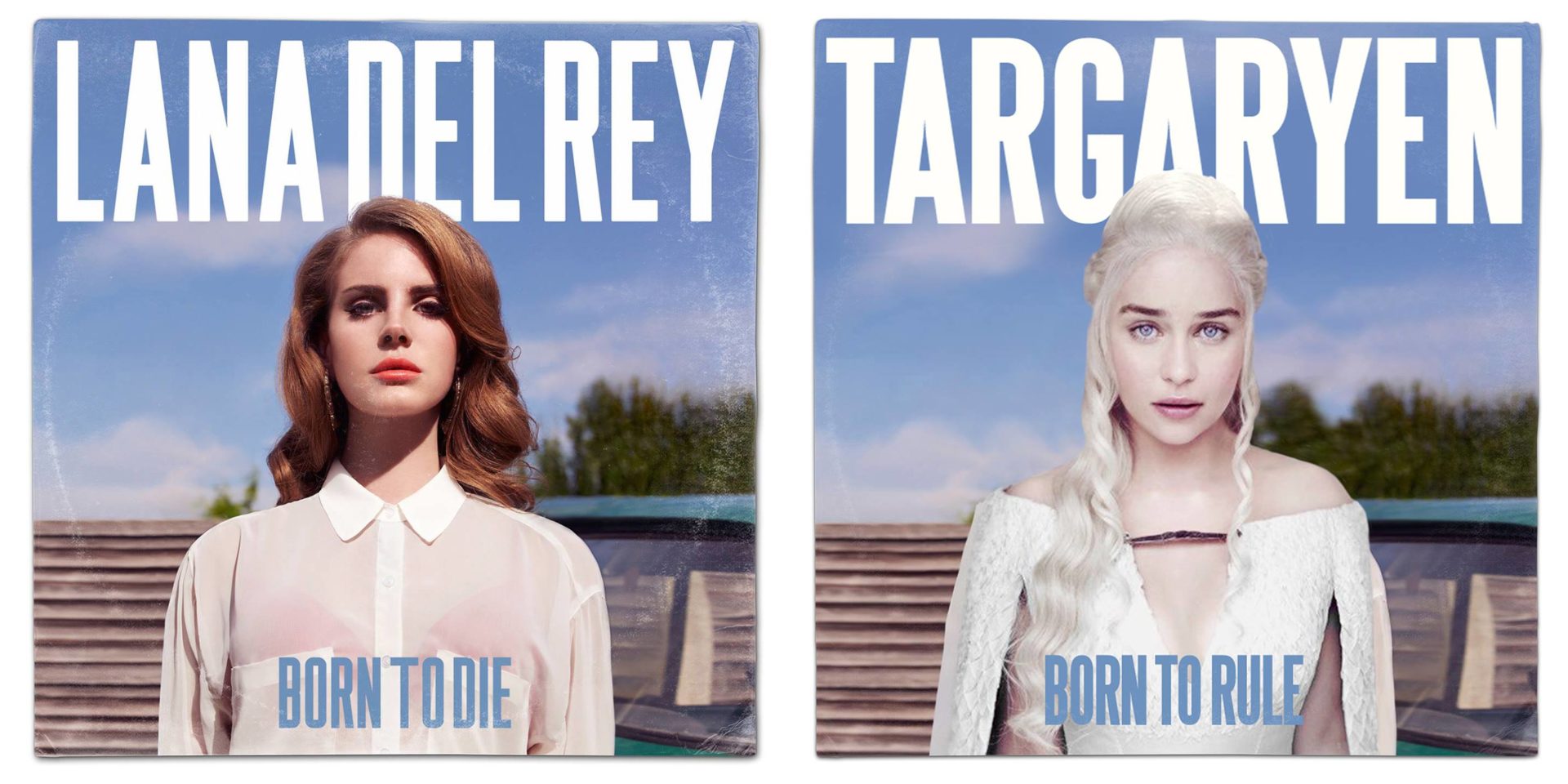 Daenerys has said this about herself over and over – she was born to retake the Seven Kingdoms, and she was born to rule. Slay, girl.
Imagine Dragons – Night Visions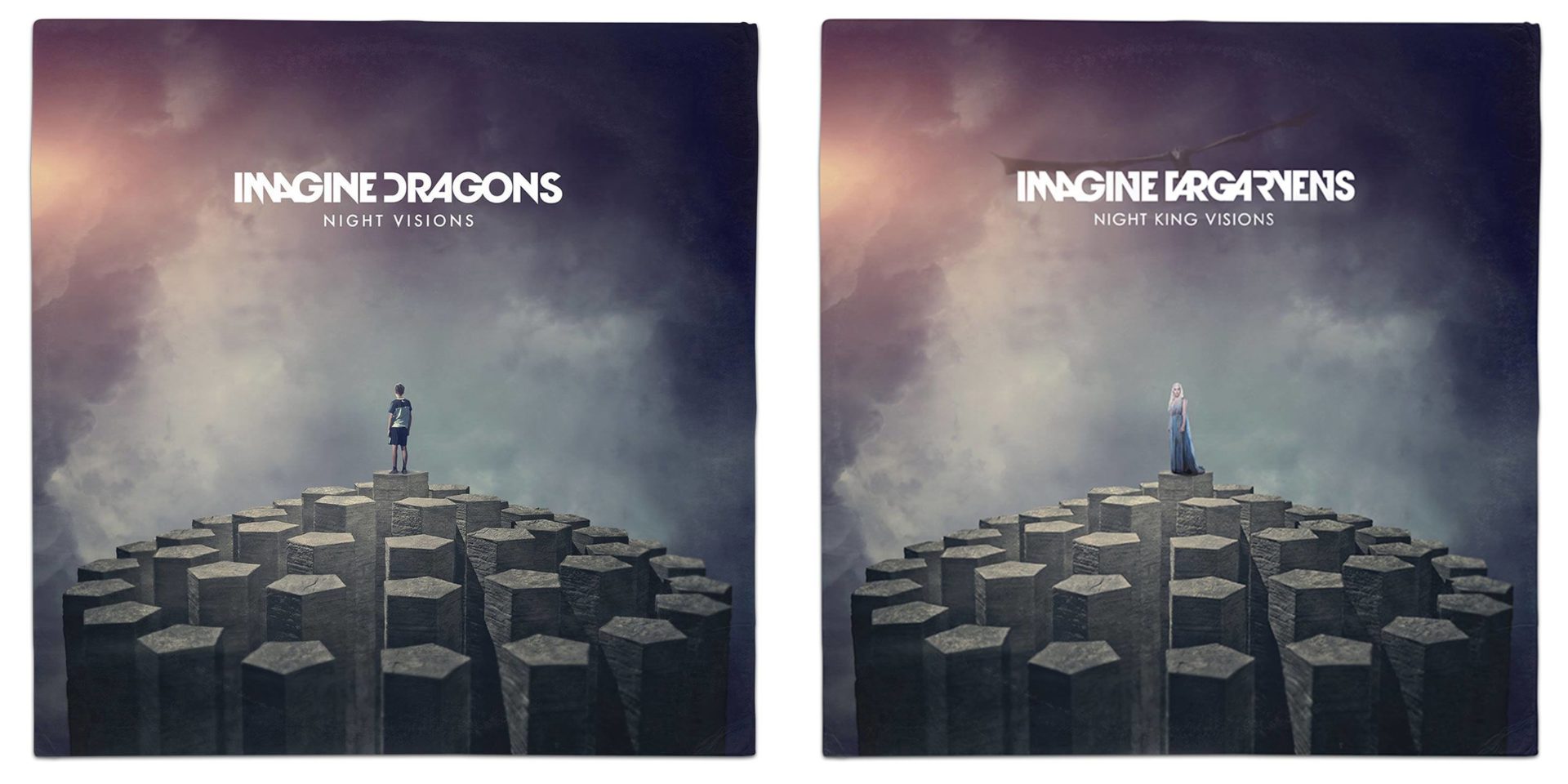 The recreated cover is absolutely beautiful and it reminds us of what we didn't see in the show – the correct visions Daenerys sees in the House of the Undying.
The Ramones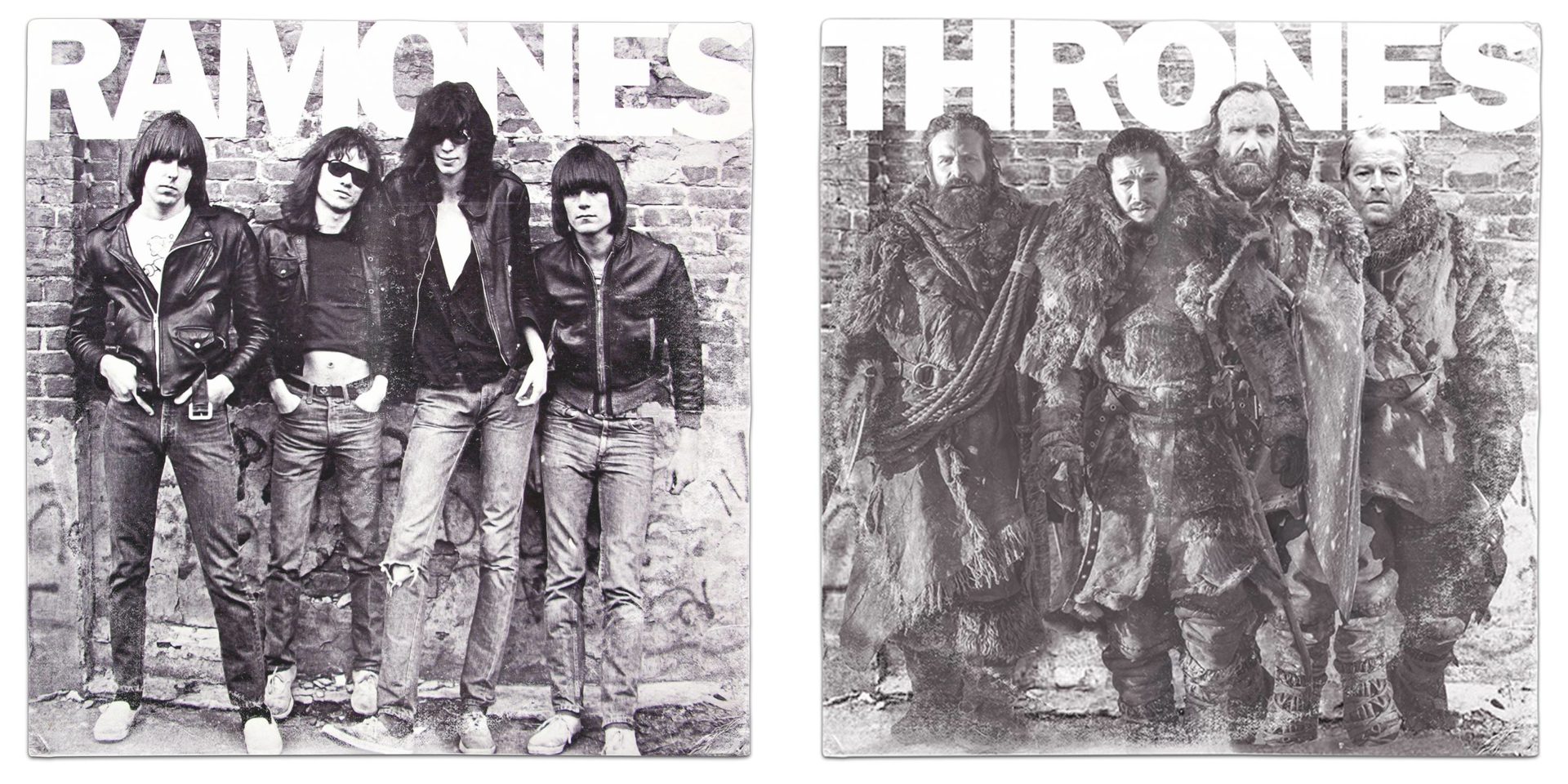 Lovingly called the A-Team by fans, this group of manly men not only look good as an album cover, but they successfully brought a White Walker to King's Landing. They're as stylish as they are efficient.
Taylor Swift – Red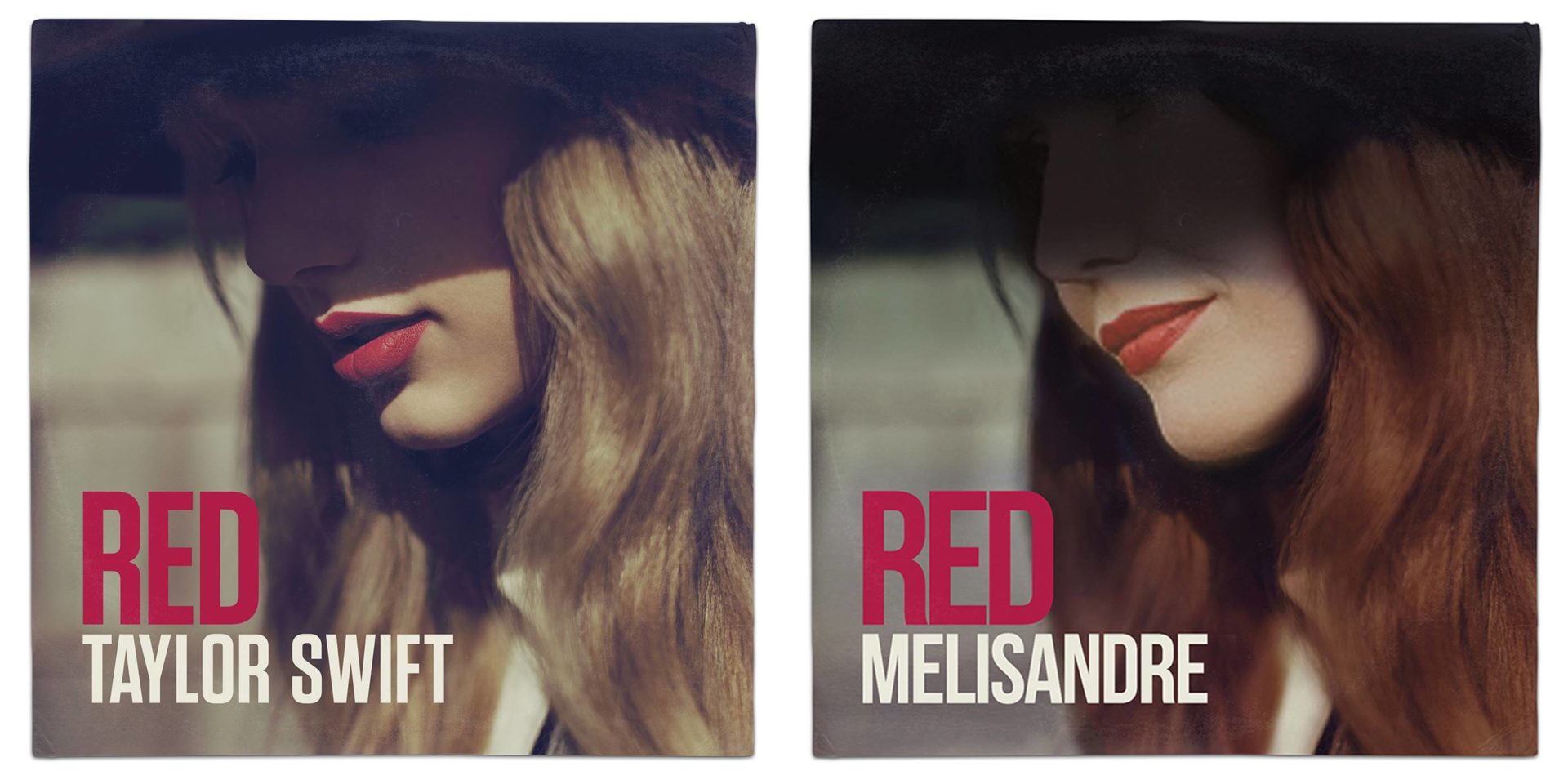 We all definitely had Taylor Swift's "I Knew You Were Trouble" stuck in our heads when we first met Melisandre, the Red Witch. And she looks great in this cover.