Ser Jorah Mormont got kicked out of Daenerys' team of advisors, banished from her sight twice, brought Tyrion Lannister to her – who is now her most cherished advisor and Hand of the Queen, and cured himself of Greyscale after she commanded him to, and he is still not lucky in love. Don't lie, your heart hurt for him when he realized Daenerys and Jon Snow had something brewing in between them. But Jorah is not a perfect man – he got himself exiled from Bear Island and brought dishonor to his House, and then broke Daenerys' trust when she learned he was a spy for King Robert Baratheon, telling him of her every move until he fell in love with her. That's a little creepy, especially since she's 14 years old in the books, but he is no Littlefinger and he remains as one of the best fighters and an avid member of the Friendzone Club in the show. In his honor, here are some memes that are guaranteed to make you giggle.
Spoilers ahead, as per usual!
Captain Friendzone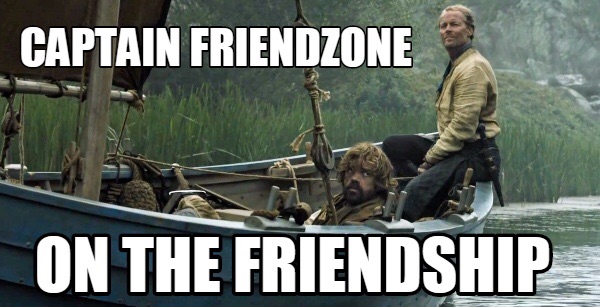 Captain Jorah of the boat Friendship, along with his Second in Command, Tyrion. Which failing love journey will they adventure to next?
Apply Milk Of The Poppy To The Burn Area…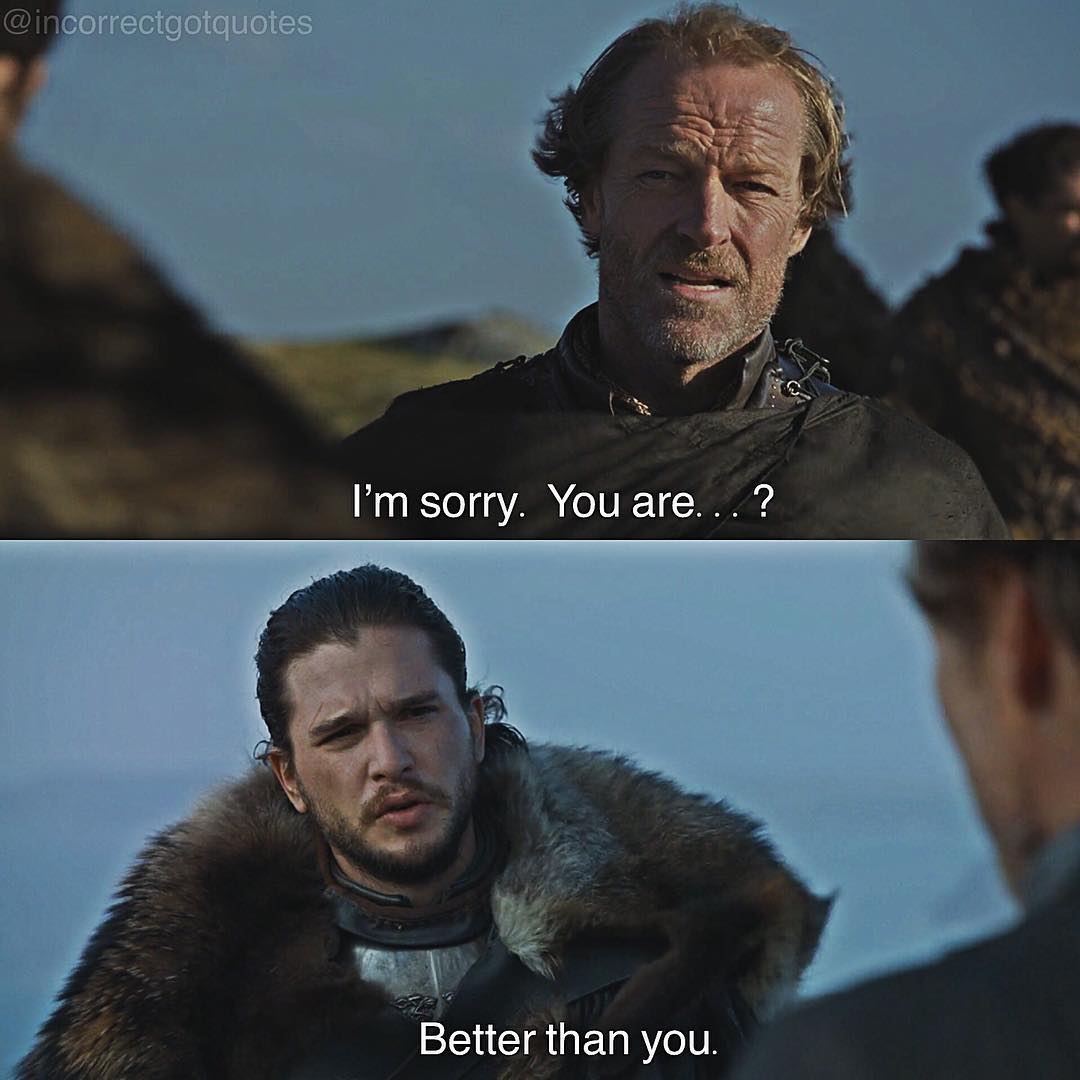 Can Jorah have that Aloe Vera back? A new burn has appeared, and it'll sting until season 8 comes out and we see what happens with this love triangle thing (or square, because Daario?).
Ride the Dragon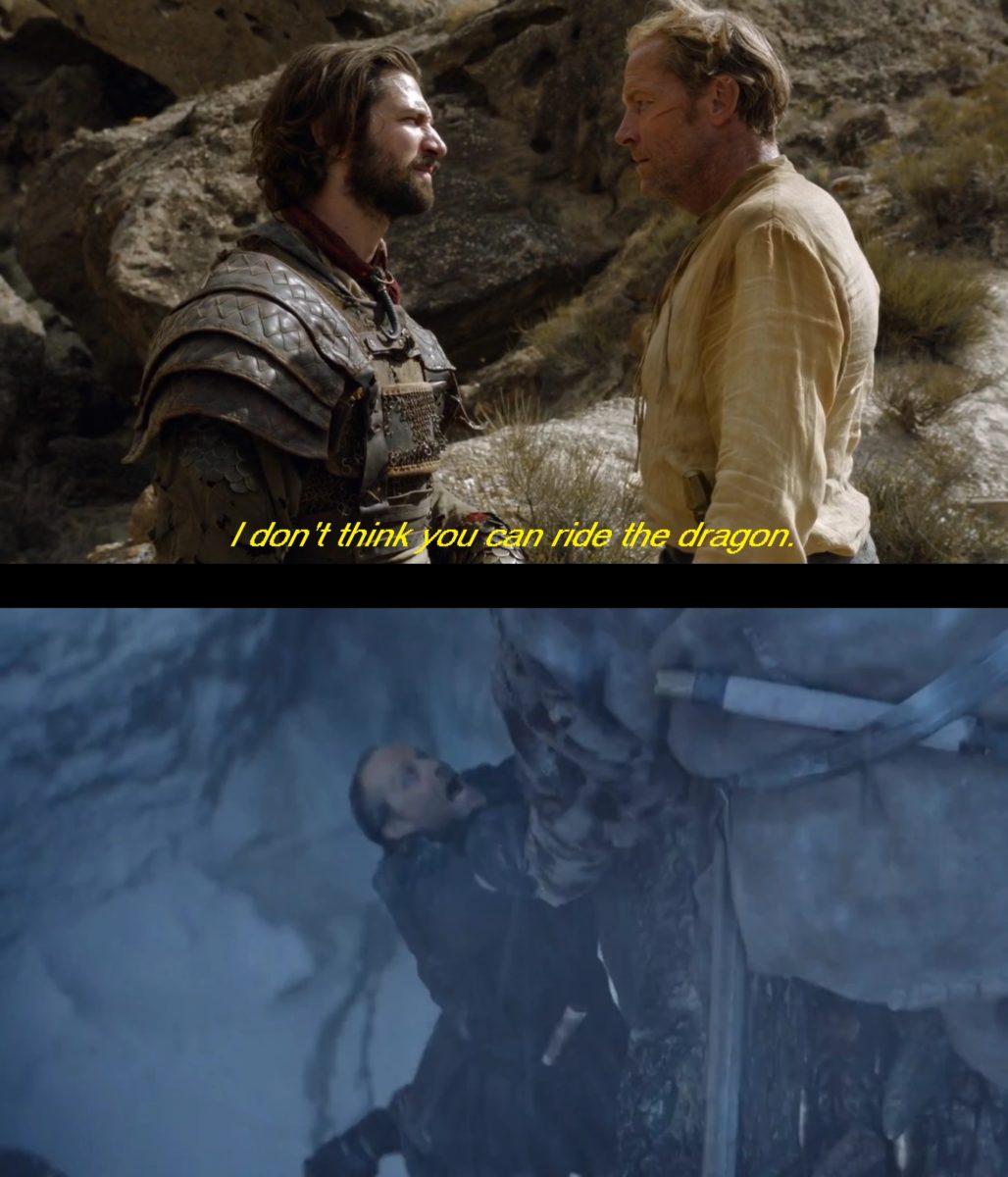 Eat your words, Daario. He rode that dragon, indeed.
Creepy Chat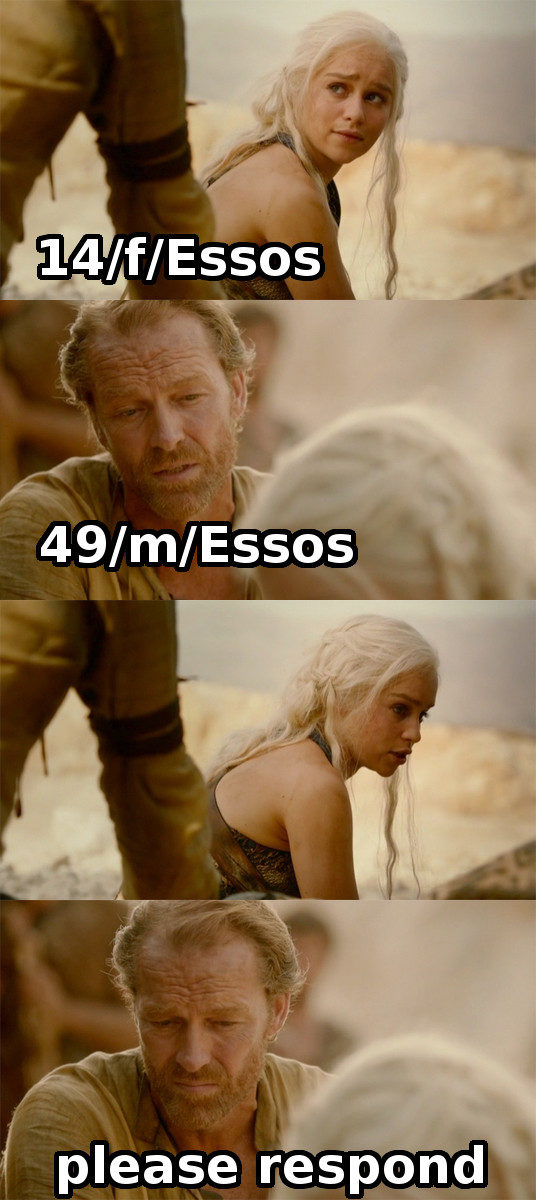 We've all been there – chatrooms. Doesn't seem like Jorah will have any luck in attracting a girl who is 35 years younger than him when she can have any gorgeous man she wants (ahem, Jon and Daario).
Natural Stance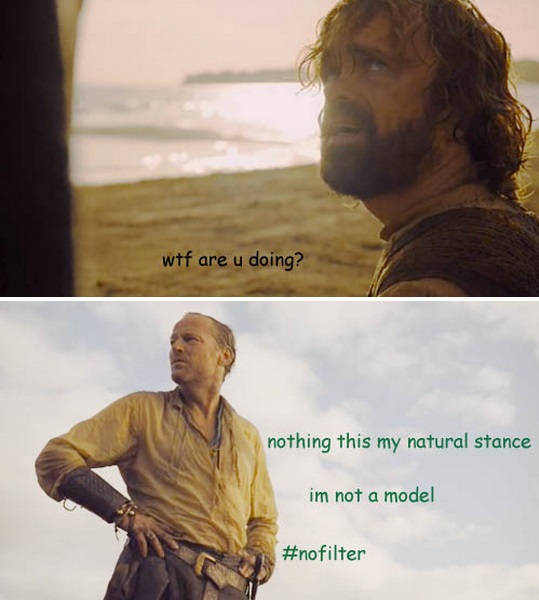 Here we have a Jorah Mormont in his natural habitat and pose, always on the lookout for Daenerys, and always hopeful that she will love him.
Be Strong, J Bear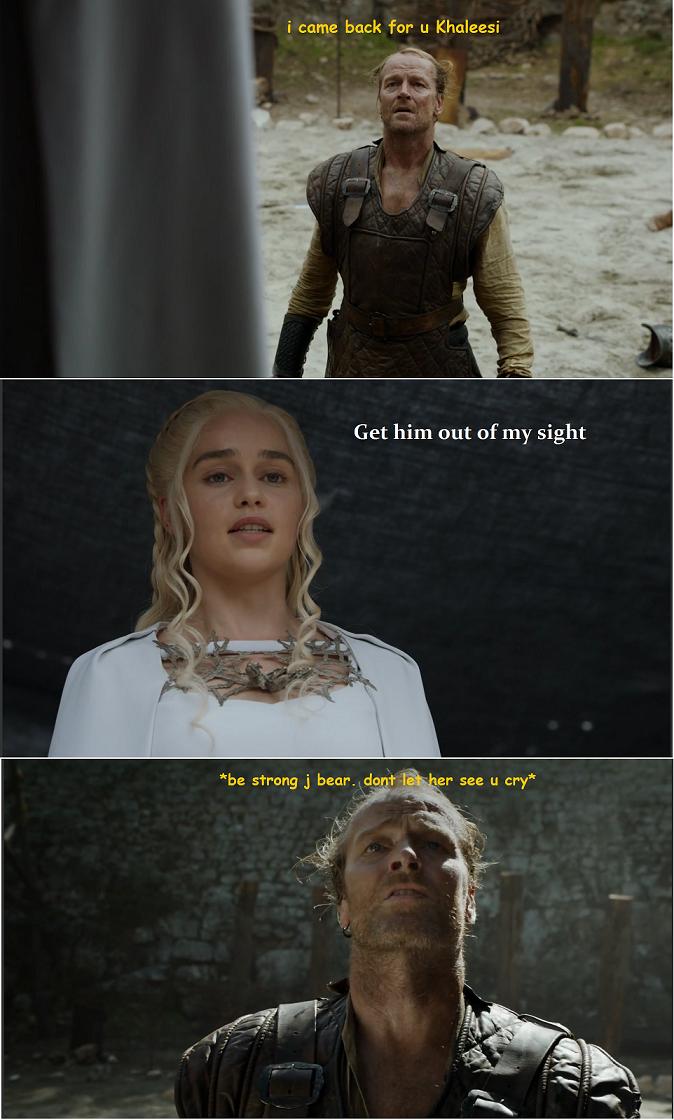 Jorah, also known as J Bear, has an inner dialogue with himself. Stay strong, J Bear. You shall prevail!
Puntastic Sub-Meereens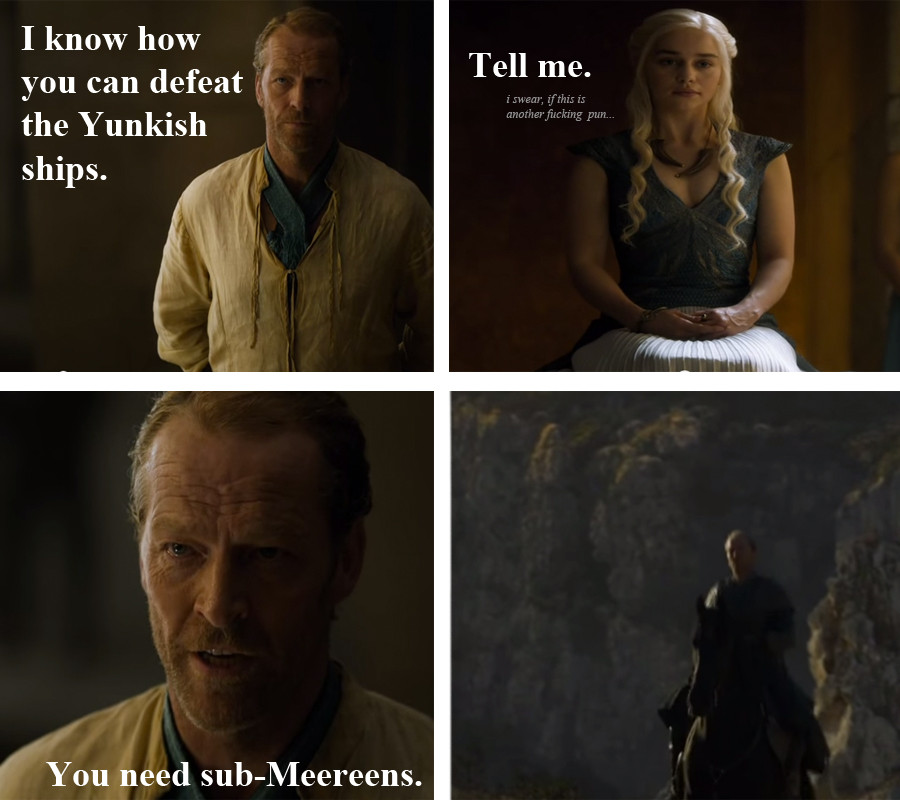 … Get out of our sight, Jorah.
Look At Me

In today's episode of "I Should Have Said Something", we see Jorah struggling with his inability to state the obvious and tell Daenerys he loves her. It's ok, J Bear. We're pretty sure she knows.
Released From Friendzone (with a Twist)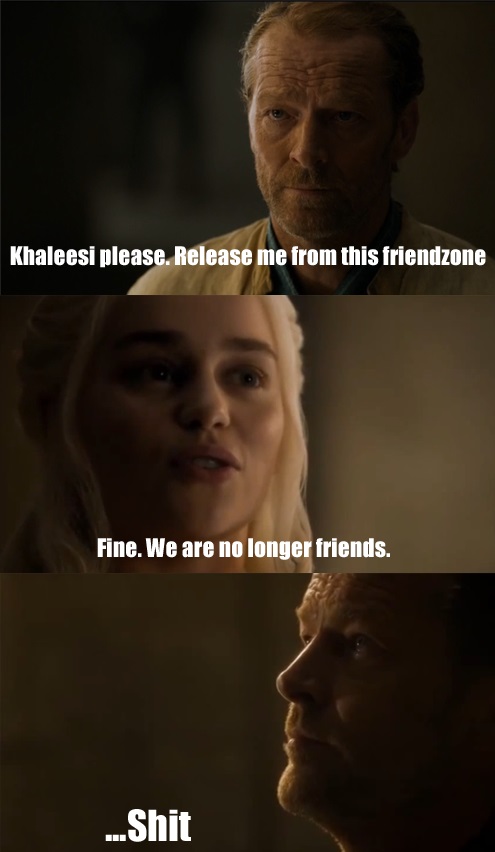 Oops. I believe this is not the kind of release he wanted from the friendzone…
"Milady" – Hipster Jorah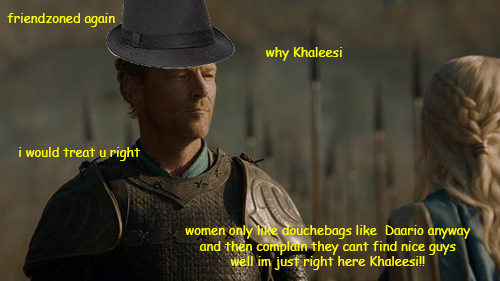 Dear Milady, respect the Fedora. He's clearly a sweet man who has much respect for you and has made his wrongs right. Don't friendzone J Bear!
500 Miles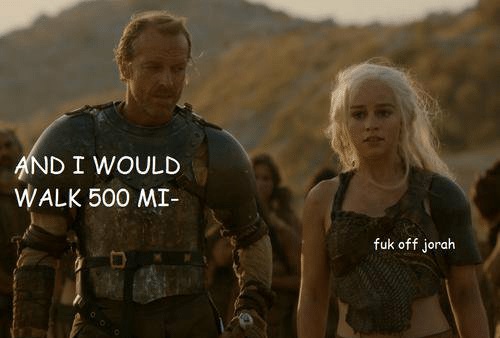 Fun fact – The Proclaimers had a huge hit back in Westeros. Jorah made sure to memorize the lyrics and do exactly what they say – walk (and saild) about a thousand miles back and forth to her.
Senpai Noticed Me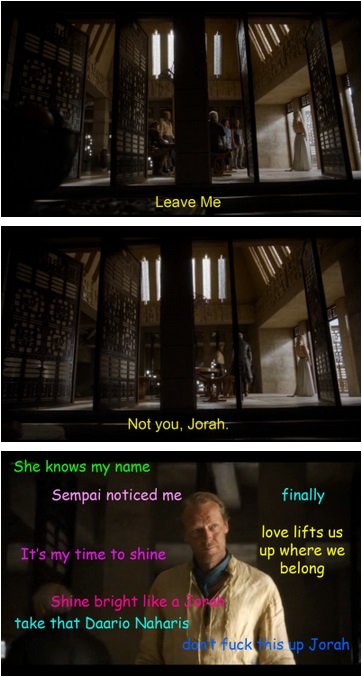 Remember that time in high school where your crush actually acknowledged your existence? Remember how special you felt? Love lifts us high where we belong, indeed.
Aario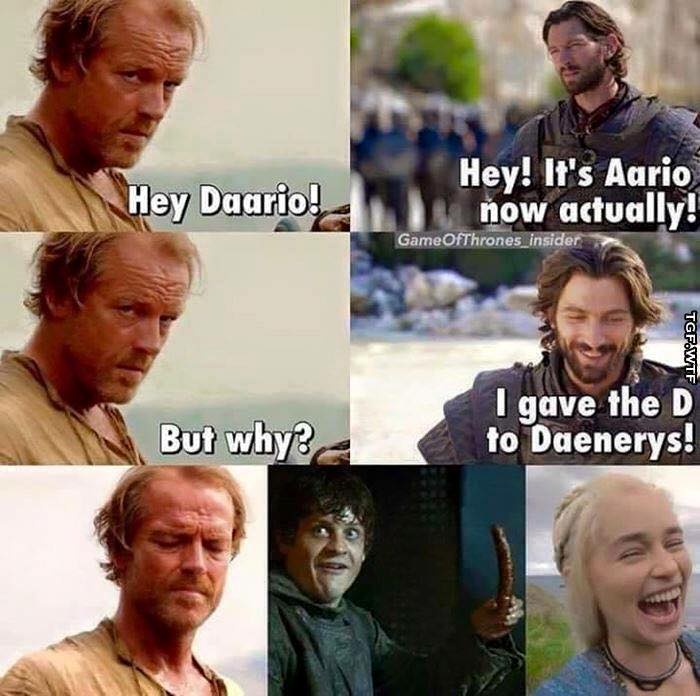 This… is just brutal. Poor Jorah has to be reminded that the love of his life has slept with men after men, but never him. Don't cry, J Bear.
The Burn Book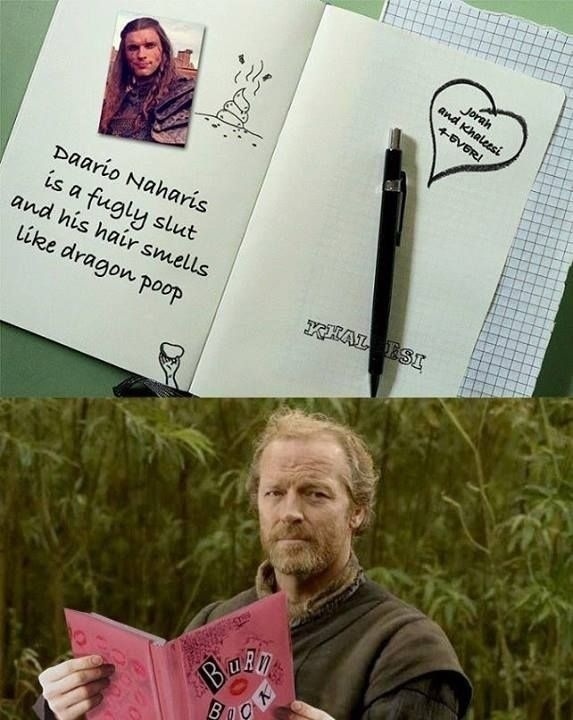 How cute, J Bear has a Burn Book. What a Mean Boy. This is seriously reminding me of high school.
Why Books When You Can Have a Horse?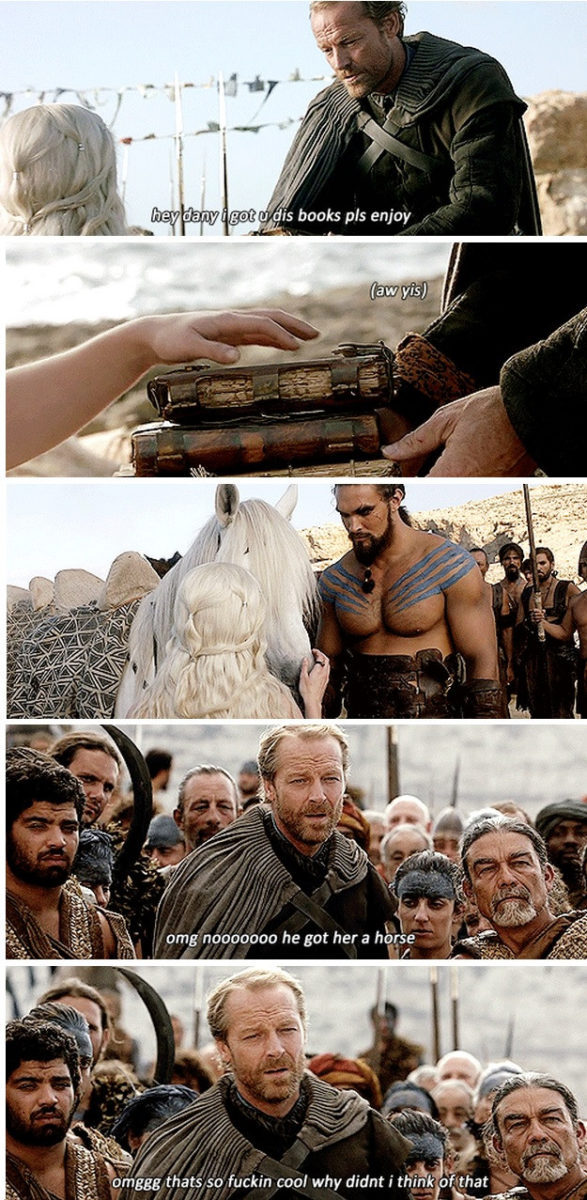 Daenerys clearly accepted the wrong presents here – books are much better presents than a horse… if you live in a castle or somewhere where things are close by. Also, look at Drogo's muscles. He could give her a banana peel and she's still take it over anything Jorah gave her.
Get It Together, Jorah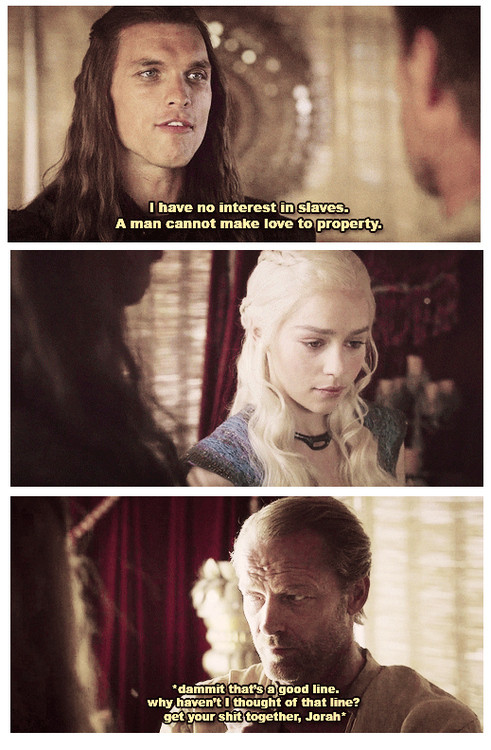 Jorah has all the right intentions yet none of the right vocabulary for love. Get it together, J Bear!
Khaleesi, Plz!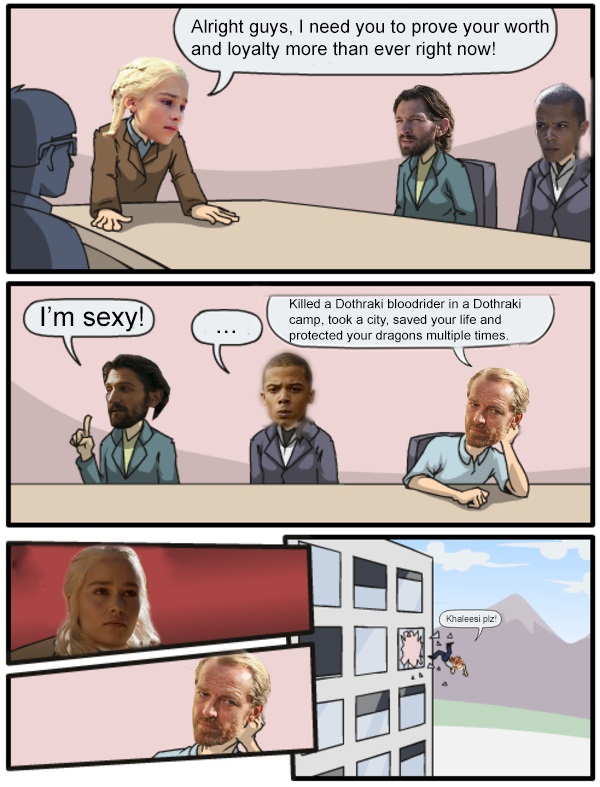 Being sexy and a stoic killing machine definitely wins over having someone risk their life for you, right? I mean, Jorah did betray her trust in the beginning, but that was a long time ago! Give him a chance, Khaleesi!
Dany's FB Moments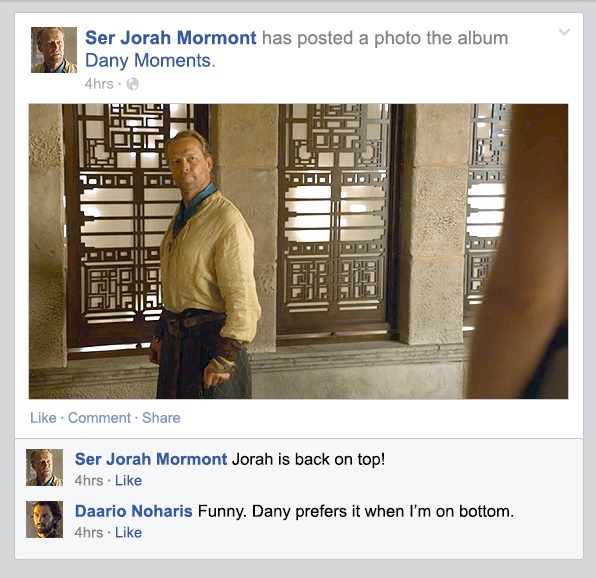 Oof. Does anyone have some Aloe Vera Jorah can borrow? Forget Greyscale, this burn will scar forever.