Make Sure To Also Check Part 1 Called "The 15 Most Satisfying Moments In Game Of Thrones"!
Although we have already composed a list of fifteen of the most satisfying moments in Game of Thrones, there are still so many more to talk about. With the passing of seven years, many satisfying moments have happened, so here are fifteen more moments that went and tingled down our spine in Game of Thrones.
Brienne's Rescue Of Sansa & Being Knighted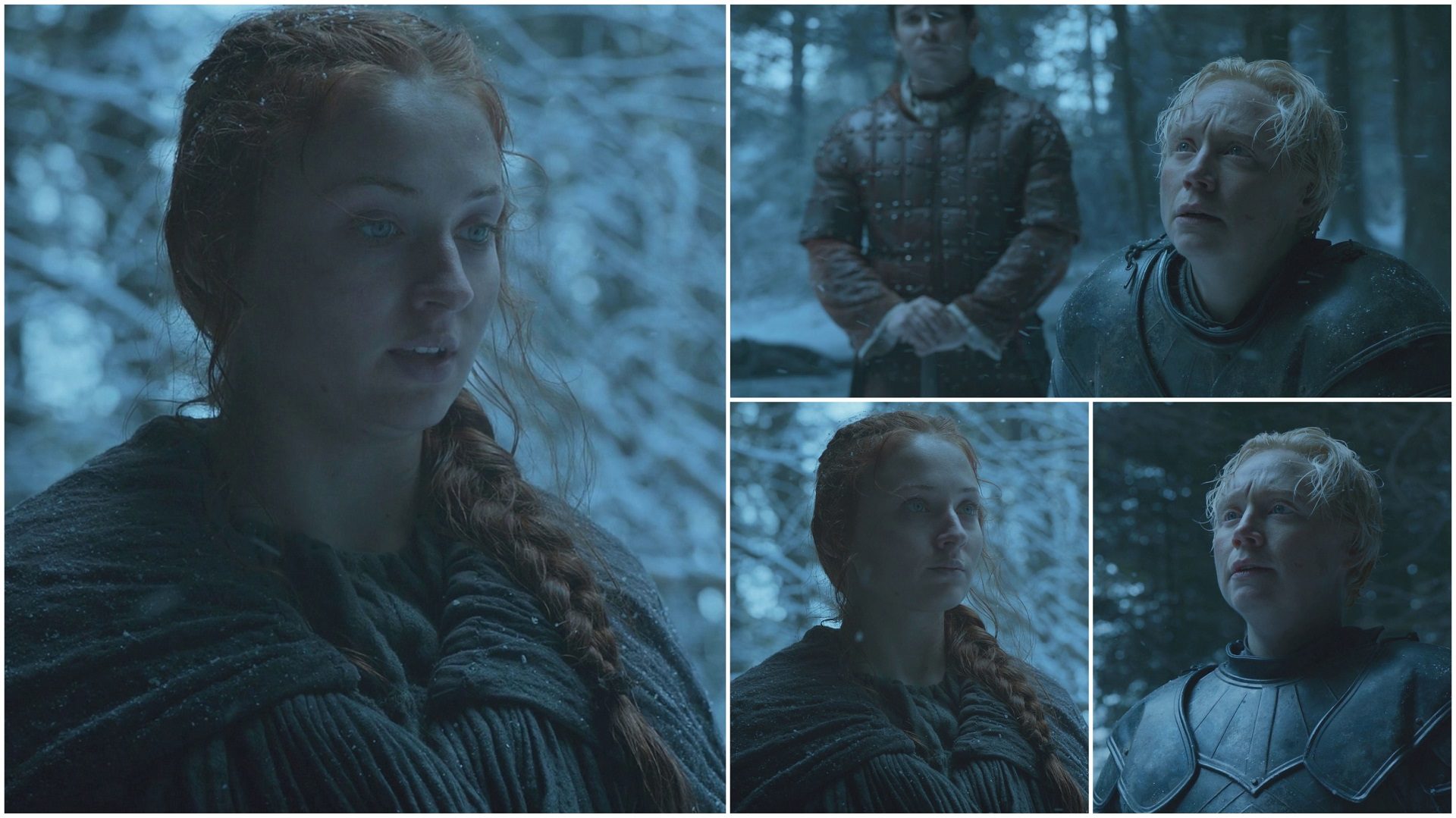 Having just missed Sansa Stark's signal, Brienne of the Tarth and her squire – Podrick Payne – went in search of her after she escaped her abusive husband, Ramsay Bolton.
Just as the Bolton men found Sansa and Theon Greyjoy – whom helped her escape from Winterfell in the last episode of season 5 of HBO's Game of Thrones – and were about to take them back to Ramsay – who would surely punish them severally – Brienne charged in on horseback and took them out with Oathkeeper – the Valyrian steel sword that Jaime Lannister gave her to rescue the Stark girls with.
Sansa knighted Brienne, with the help of Theon Greyjoy, like her mother did before her and took her into her service as her sworn sword and shield.
Jeor Mormont Offers Longclaw To Jon Snow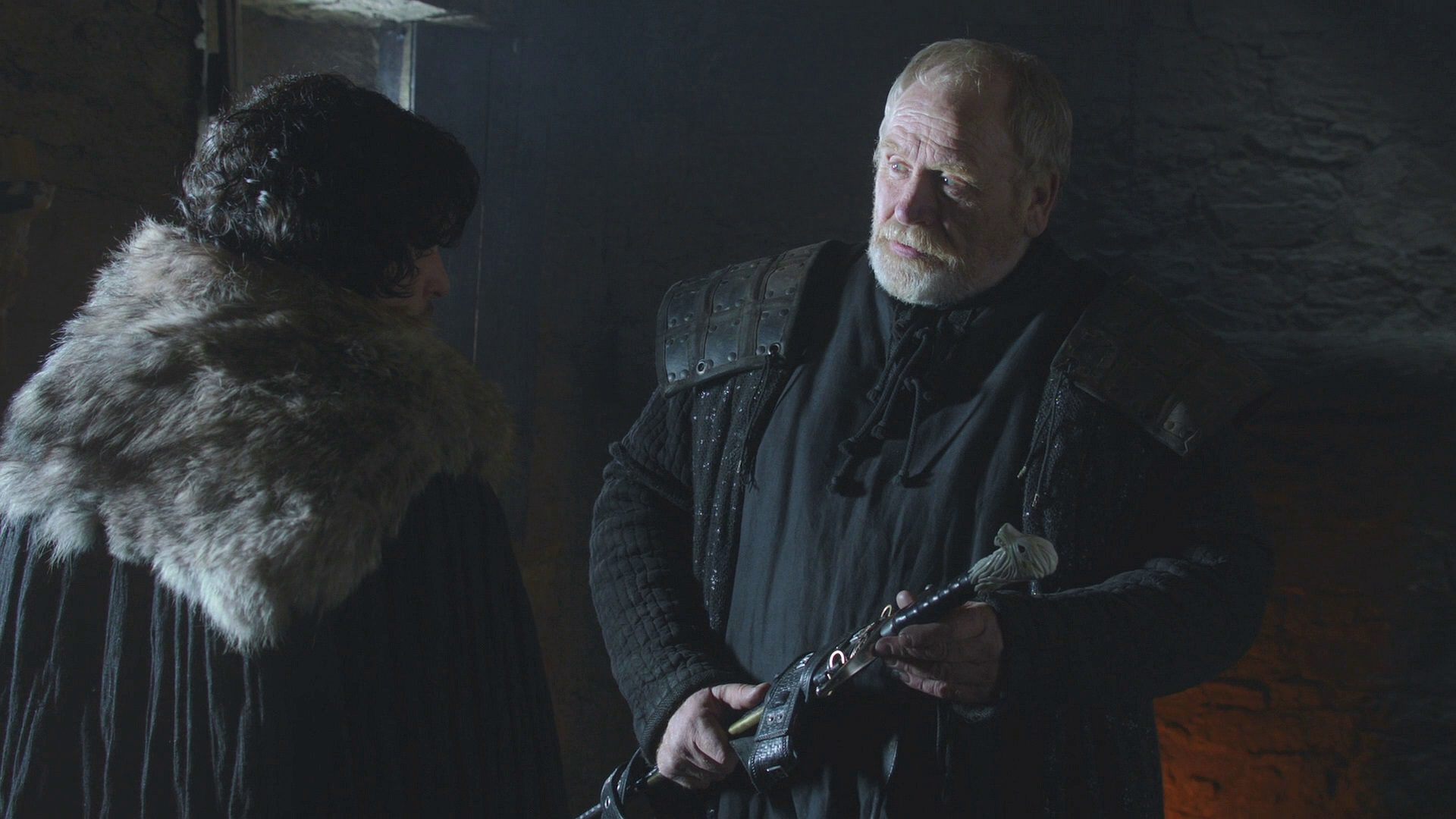 Having saved Jeor Mormont from one of the undead, Jon Snow was gifted with Longclaw – the ancestral Valyrian steel sword of House Mormont. He reveals that he had a new pommel made in the form of a wolf rather than a bear, to honour House Stark – the House of Jon's believed to be father, Ned Stark.
Jeor explained the history behind the sword and who it belonged to, and who is was meant for, before offering it to Jon. He tries to refuse, but Jeor tells him that he has earnt it by saving his life.
It emphasises the respect and gratitude that Jon earnt for his heroic act, and emphasises that he is a hero – possibly the overall hero of the entire series.
The Nights Watch Drops The Scythe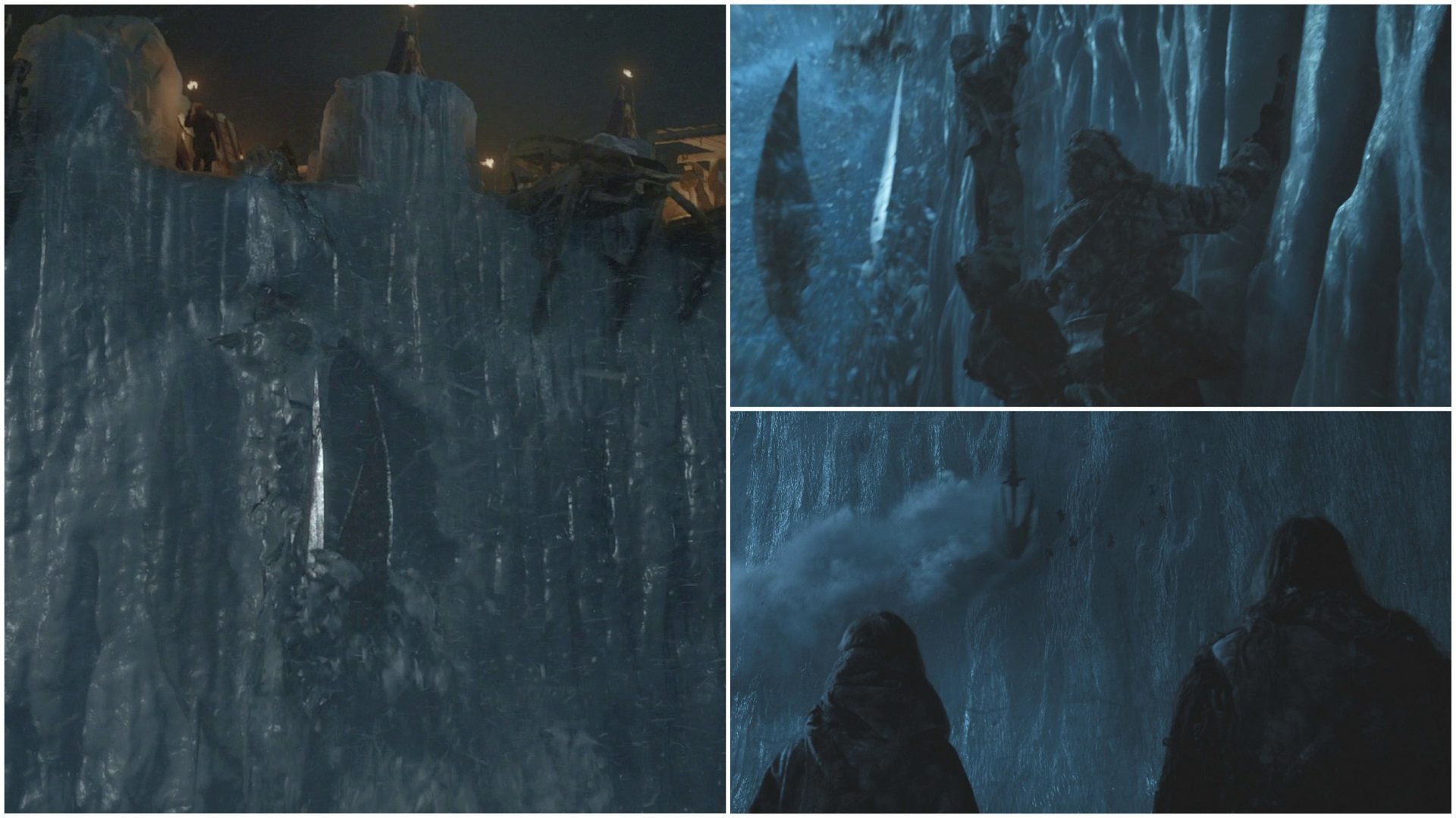 As the Wildlings were climbing the Wall, Ed gave the order for the Scythe to be dropped in order to prevent them from crossing the Wall and venturing south to raid and kill people.
The Nights Watch Brother followed his command and dropped it. The large, anchor looking metal weapon was dropped from the top of the Wall and left to swing across the side.
The large, metal weapon scraped into the Wall as it did so and took out all of the Wildlings. They screamed and cried out as it crushed them and knocked them from the Wall.
Daenerys Getting Laid On Her Own Terms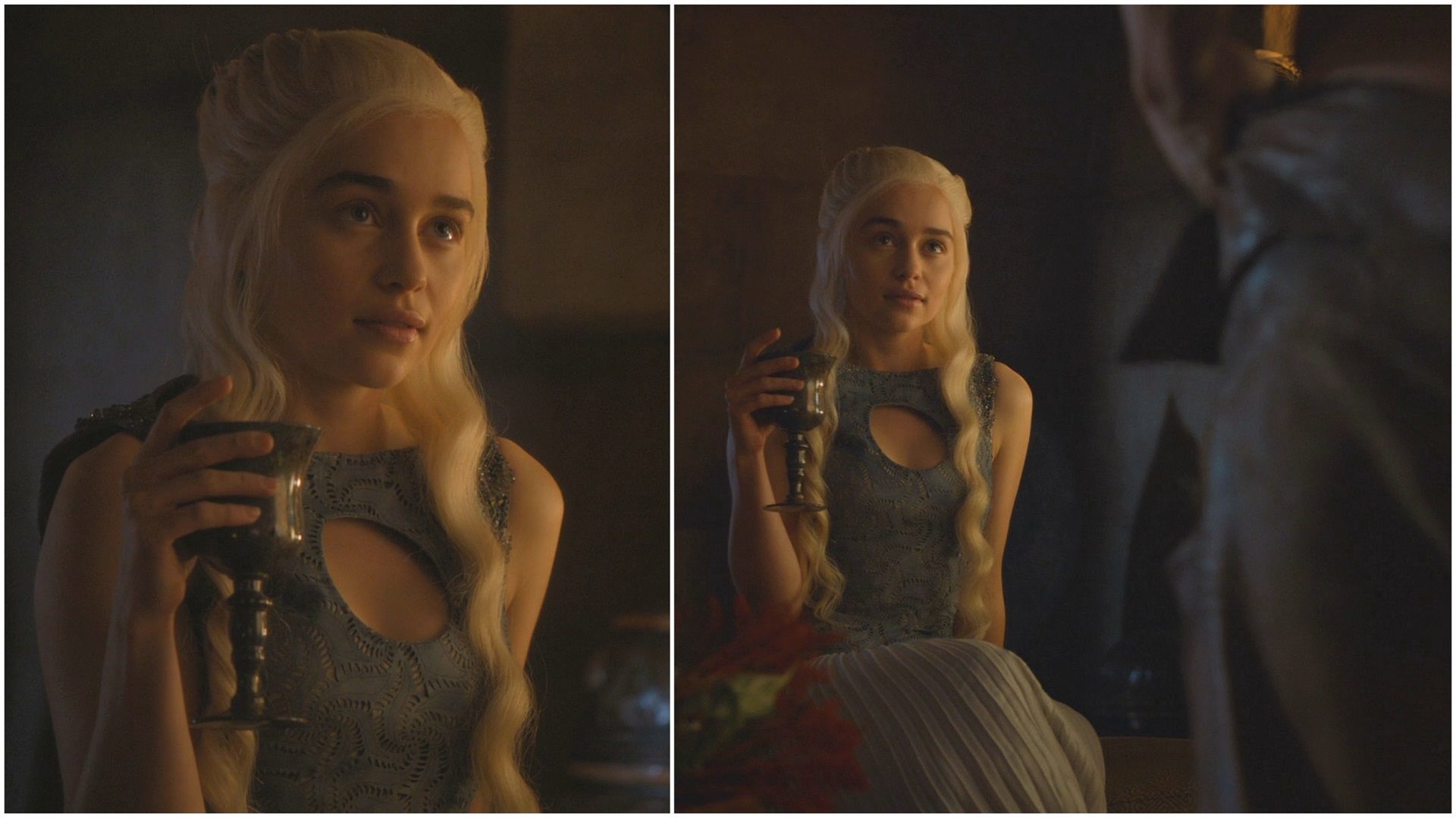 Having not had a romantic or sexual partner since season 1 of HBO's Game of Thrones, Daenerys Targaryen gave into her desires in season 4 when Daario Naharis – whom she had chemistry and tension with since meeting – came to her chambers.
After pouring herself a glass of red wine and sitting in her chair in a seductive manner, she told Daario to take off his clothes since that was what he did best.
Jon Snow & Sam Tarly Losing Their Virginity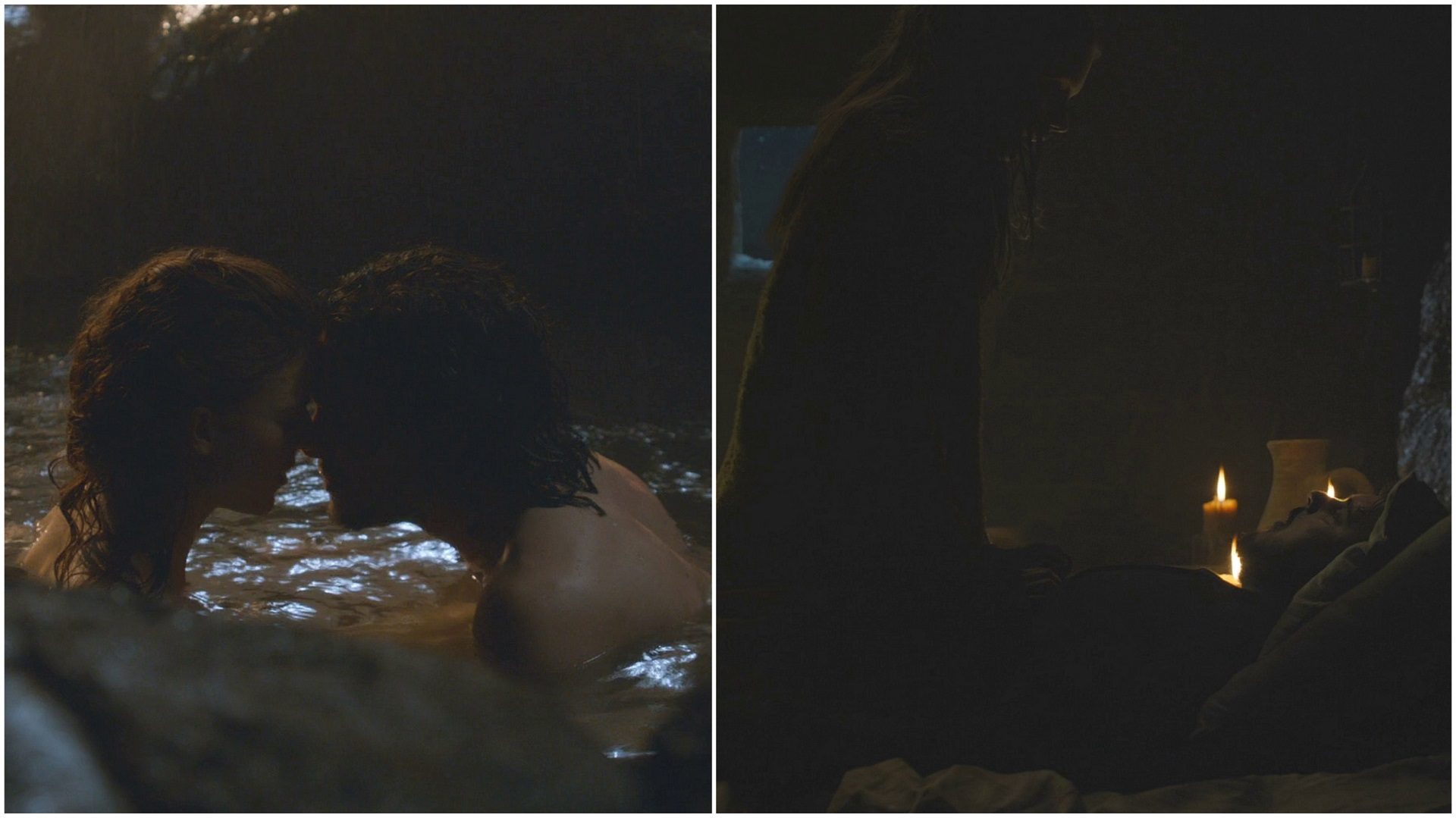 Both of the brothers of the Nights Watch, were inexperienced with the opposite sex when they came to Castle Black and thought that their vows would prevent them from ever knowing the intimacies between men and women however they both met and fell in love with wilding woman from beyond the Wall.
Jon fell in love with Ygritte, a wildling warrior woman who was at first his prisoner and then captor. Having ran off into a cave, Ygritte began to strip off her clothes before Jon Snow and asked him to break his vows. Although at first reluctant, Jon Snow soon gave into his desires and lost his virginity to Ygritte.
Sam fell in love with Gilly, a wilding woman who was forced to bear the children of her father – Craster – who gave the male children to the White Walkers. He rescued her from that life and took her back to Castle Black. After saving her from two brothers who wanted to rape her, Sam lost his virginity to Gilly.
Grey Worm & Missandei Get It On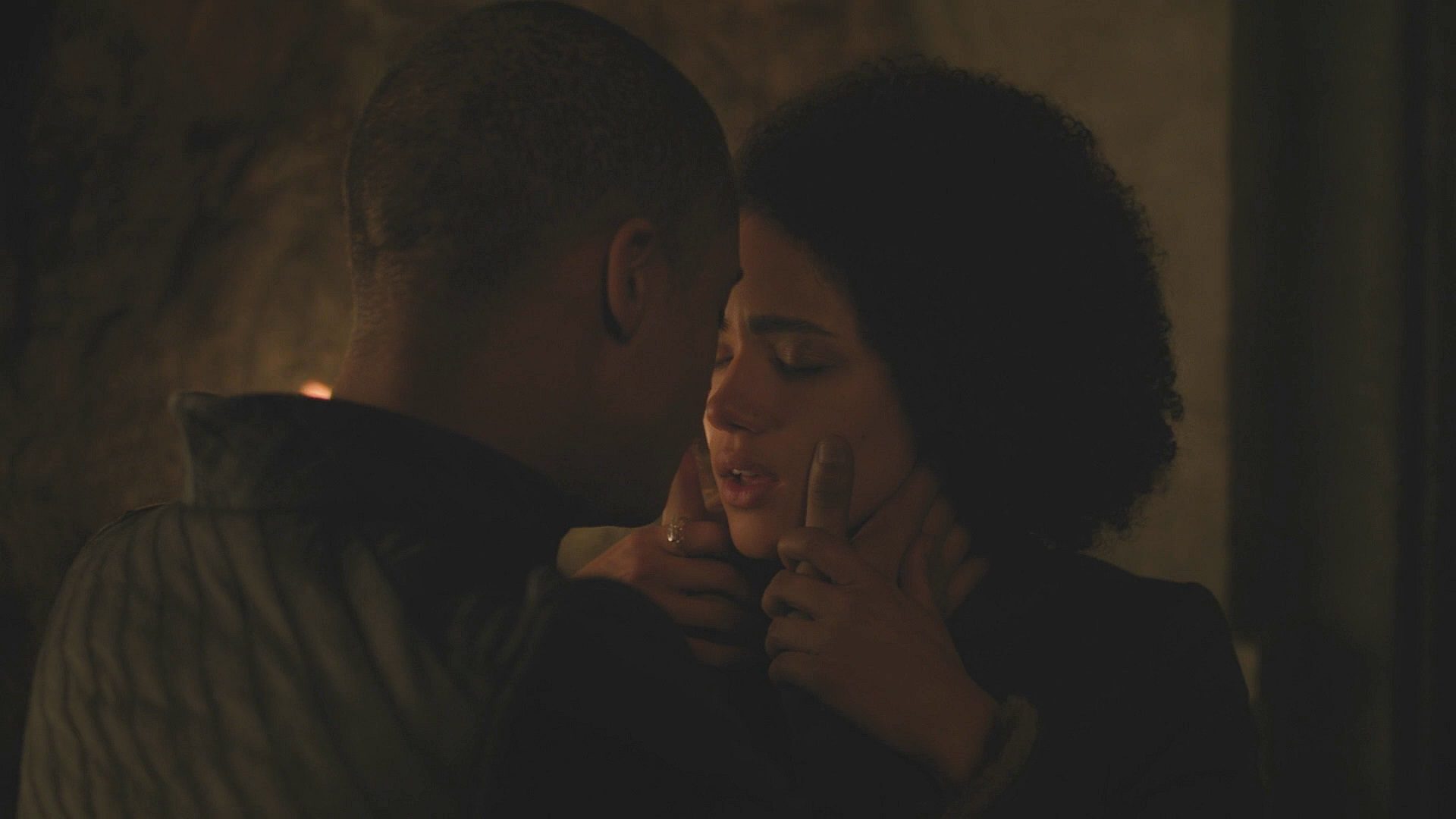 Grey Worm and Missandei have one of the most gentle and sweet relationships on the show. They consummated their tender relationship on the night before Grey Worm was set to take Casterly Rock from the Lannisters.
She goes to say goodbye to him and he explains how he feels for her, that she is his weakness because he is frightened of losing her and not seeing her again. She admits she feels the same and he, passionately yet gently, kisses her.
Following the romantic gesture, she begins to undress herself and then proceeds to undress Grey Worm but he is reluctant to let her see his naked form until she tells him she wants to see him. He allows her to and she smiles at him lovingly and begins to kiss him tenderly.
They – nervously and sweetly -consummated their relationship on what they believe could be their last night together.
Jorah Is Greeted Back By Daenerys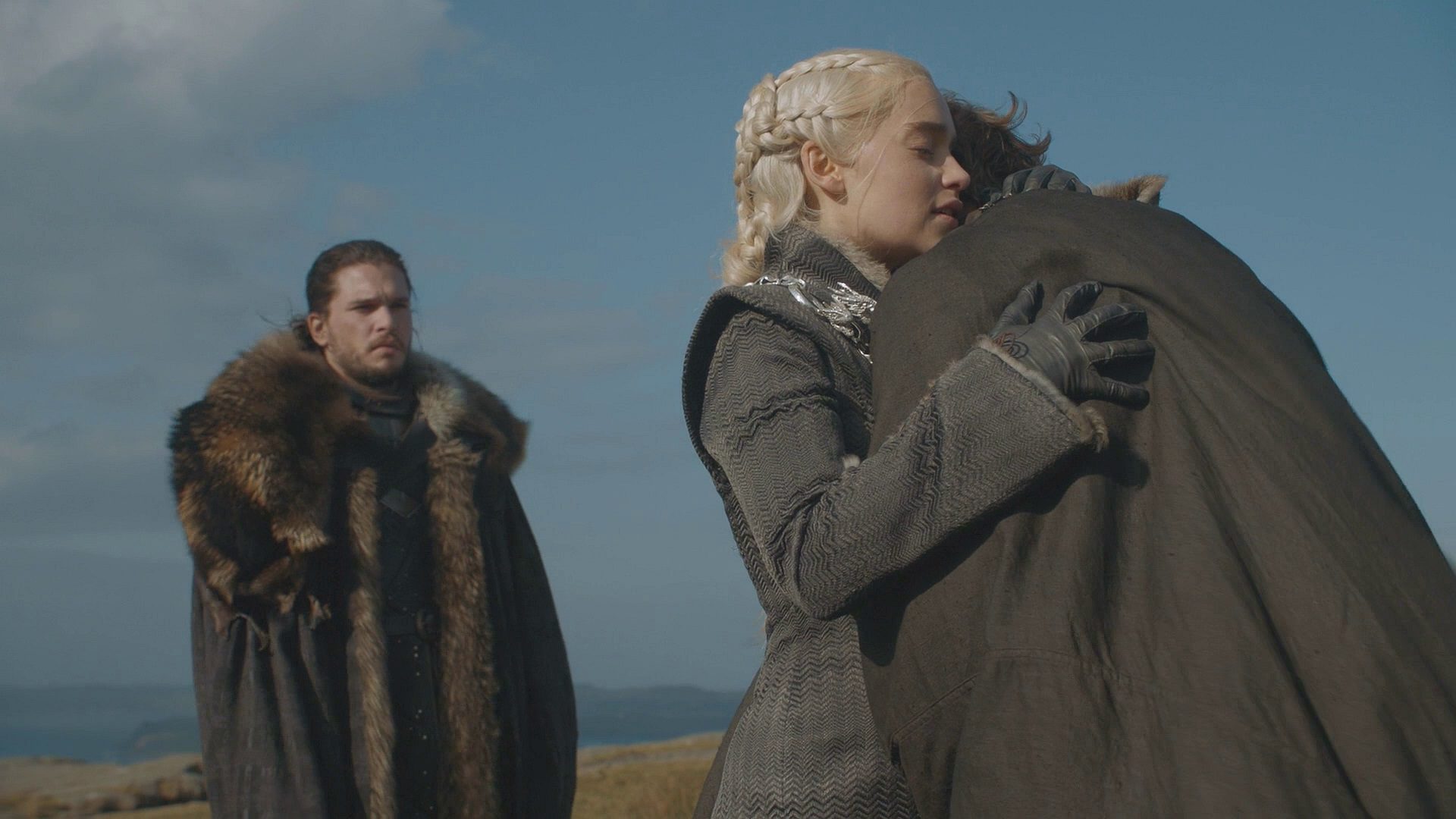 After having had an emotional goodbye with Jorah in which he confesses his love for her, Jorah returned to Daenerys after getting rid of the Greyscale that he contracted while sailing through old Valyria.
She and Jon Snow were standing atop the cliffs of Dragonstone when the Dothraki told her that a man claiming to be her friend was there. She turned to see Jorah behind them.
Daenerys looks ready to cry at the sight of her longest and most trusted friend. She informs Jon Snow of who he is and he tells Jorah that his father was a great man.
Jorah offers Daenerys his service, if she will have him. She then tells him it will be her honour and then embraces him warmly and affectionately.
Daario Kills The Champion Of Mereen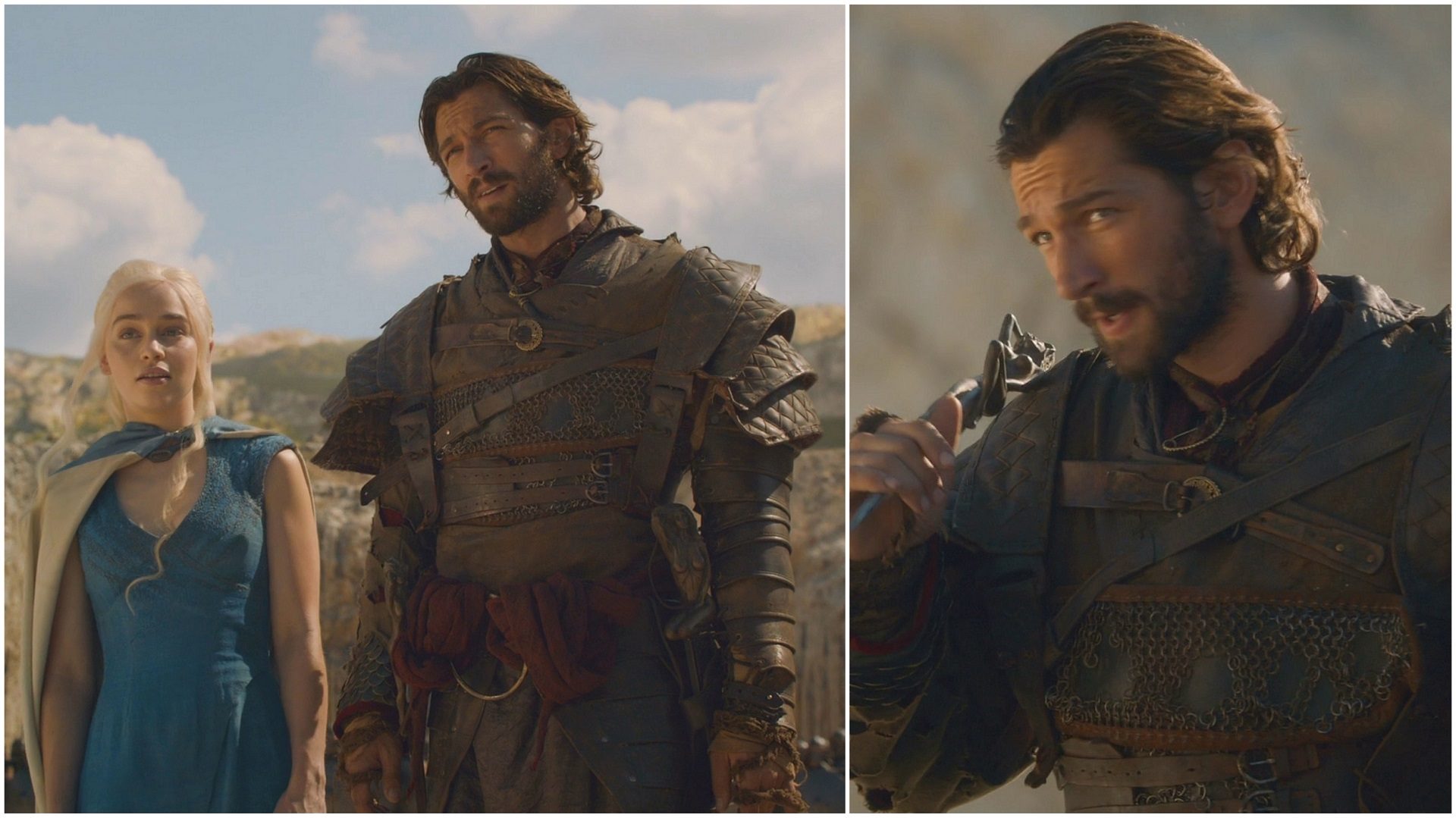 As Daenerys and her army approaches the gate of Meeren, the lords send out a single ride who Jorah explains is their champion. He further explains that they want her to put forth her own champion to fight him.
The champion of Meeren then proceeds to urinate over the floor and spouts out insults to Daenerys and her army. She and her closest allies discuss who to put forward as her champion. She struggles to choose because many of them mean a lot to her and are important to her cause.
Daario offers himself as the champion, saying he was the last to join her cause and wants to prove himself to her.
While the champion is charging towards Daario, he stands there facing him seemingly unperturbed. He draws his dagger and throws it at the horse, killing it instantly. The horses fall makes the dust swell up and the champion rises to kill Daario but he withdraws his sword and kills the champion.
The Meeren archers shot arrows at him but they all miss and he – to return the favour – urinates on them.
In the books however, it was Strong Belwas, a Book Character we'll never see in the show, that kills the champion and defecates in his corpse rather than take a leak the way Daario did…
Daenerys Sails For Westeros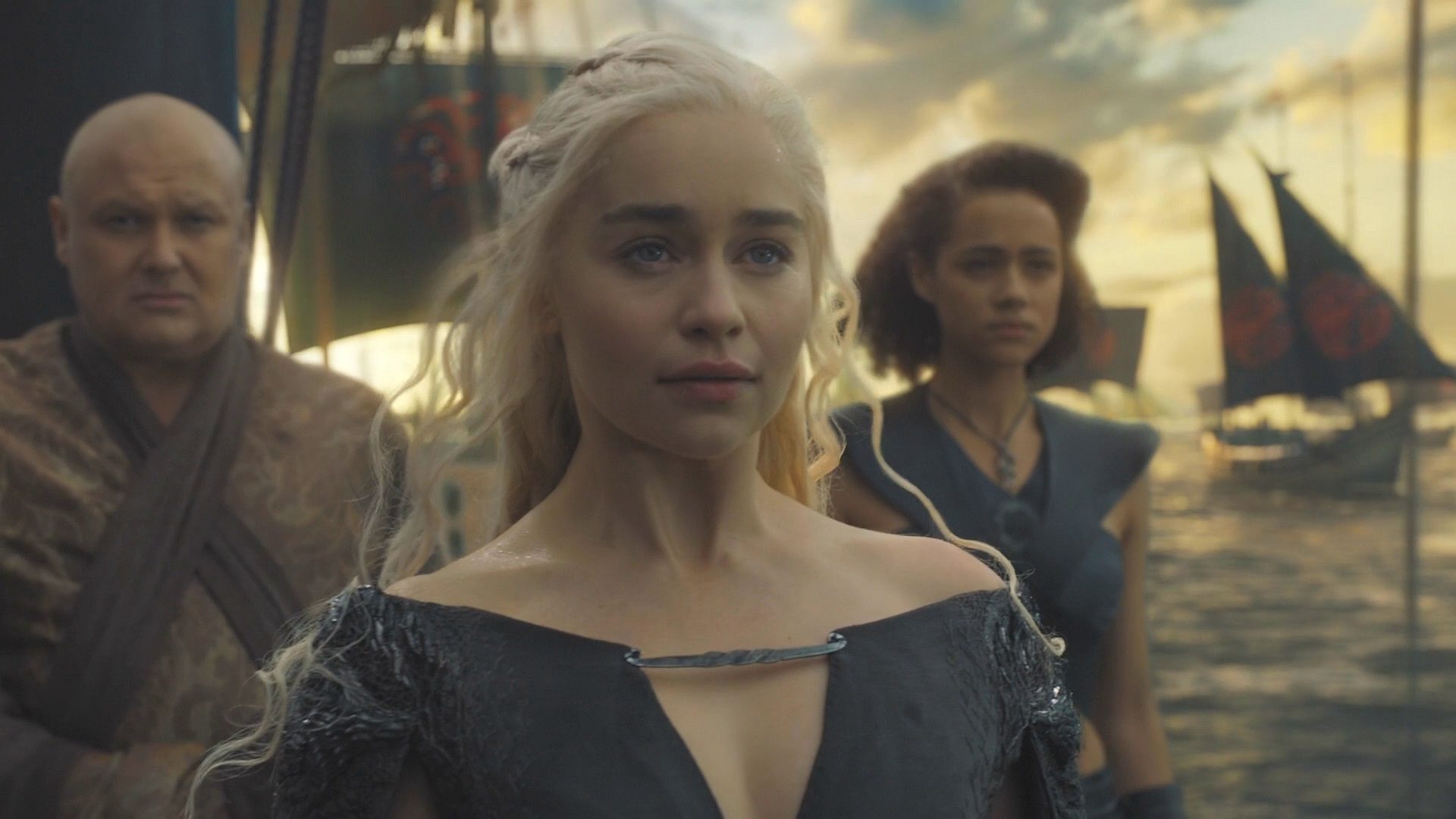 Having accumulated three dragons, an army of unsullied soldiers, a hoard of Dothraki, and the alliances of Houses Greyjoy, Martell and Tyrell – Daenerys Targaryen finally sailed for Westeros to conquer and claim the Iron Throne in the final episode of season six.
The scene began with the Greyjoy theme swelling in the background while Theon looked at the flickering Golden Kraken sail, he looks at his sister and Queen, and the pair look ahead. The camera then pans to Grey Worm on another ship with some of the unsullied. Then there is an overhead shot to emphasize the sheer amount of followers Daenerys has.
The Dothraki are shown on another ship, and then the dragons are shown gliding over the water. The camera turns – as the Targaryen theme takes over and swells – on the leading ship to reveal Daenerys and her small council; Tyrion Lannister, Missandei and Varys. Daenerys and Tyrion share a look before the three dragons fly over the ship and towards Westeros.
Bran & Rickon Were Never Killed By Theon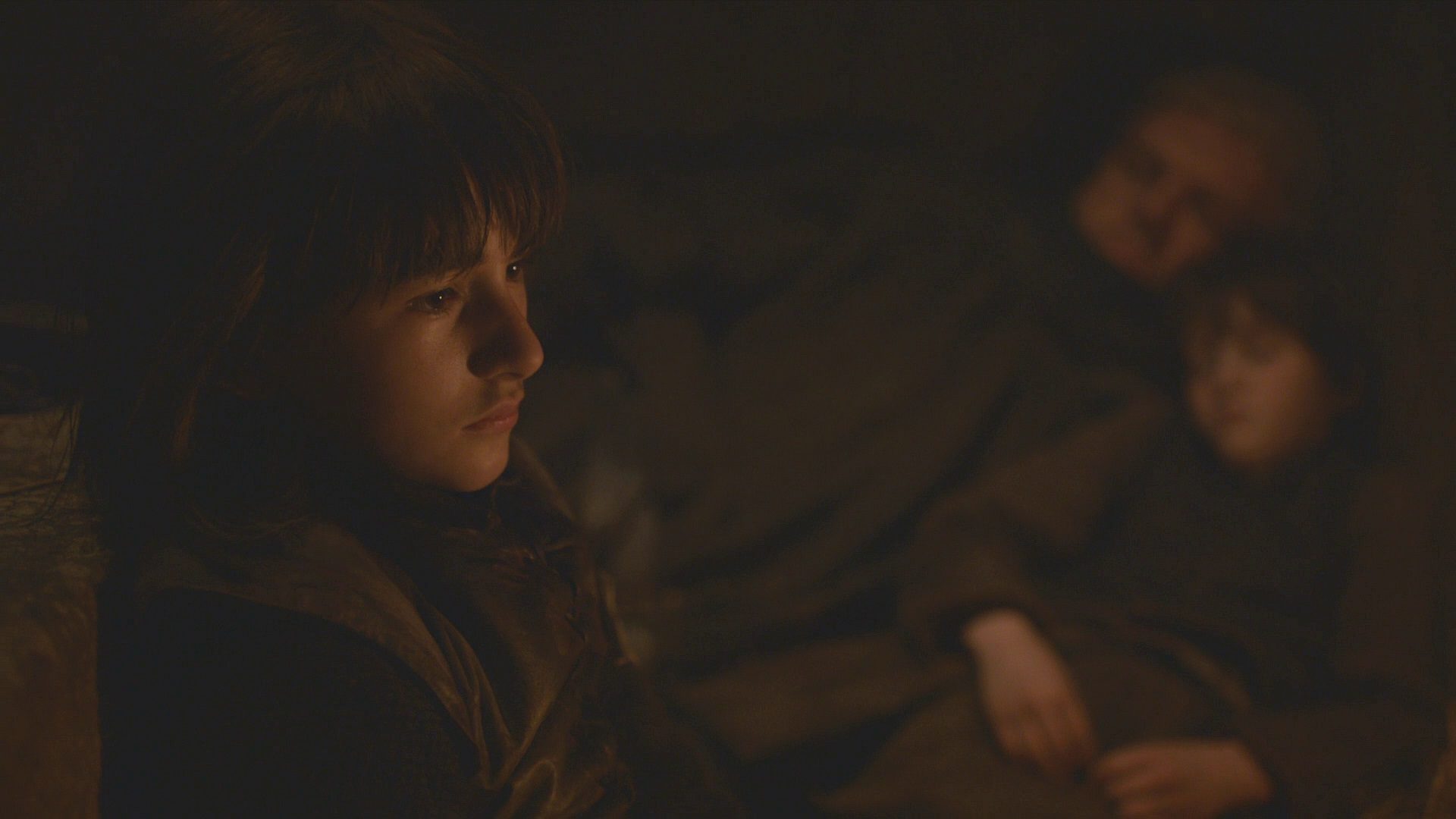 When Theon Greyjoy revealed the two burnt, hanging corpses in the courtyard of Winterfell, it was believed that Bran and Rickon Stark were dead. Maester Luwin wept, having loved the two youngest Starks deeply, and would have fallen to his knees had the Ironborn not held him up. The episode ended with Theon looking at the blacked bodies.
The next episode, while Maester Luwin is looking at the still hanging corpses solemnly, he sees Osha – the Wildling looking after the Stark boys – sneaking into the crypts of Winterfell with food. He follows her and she explains how they escaped and doubled back to Winterfell – where they would be least expected to be.
Jon Snow's Parentage Is (FINALLY) Revealed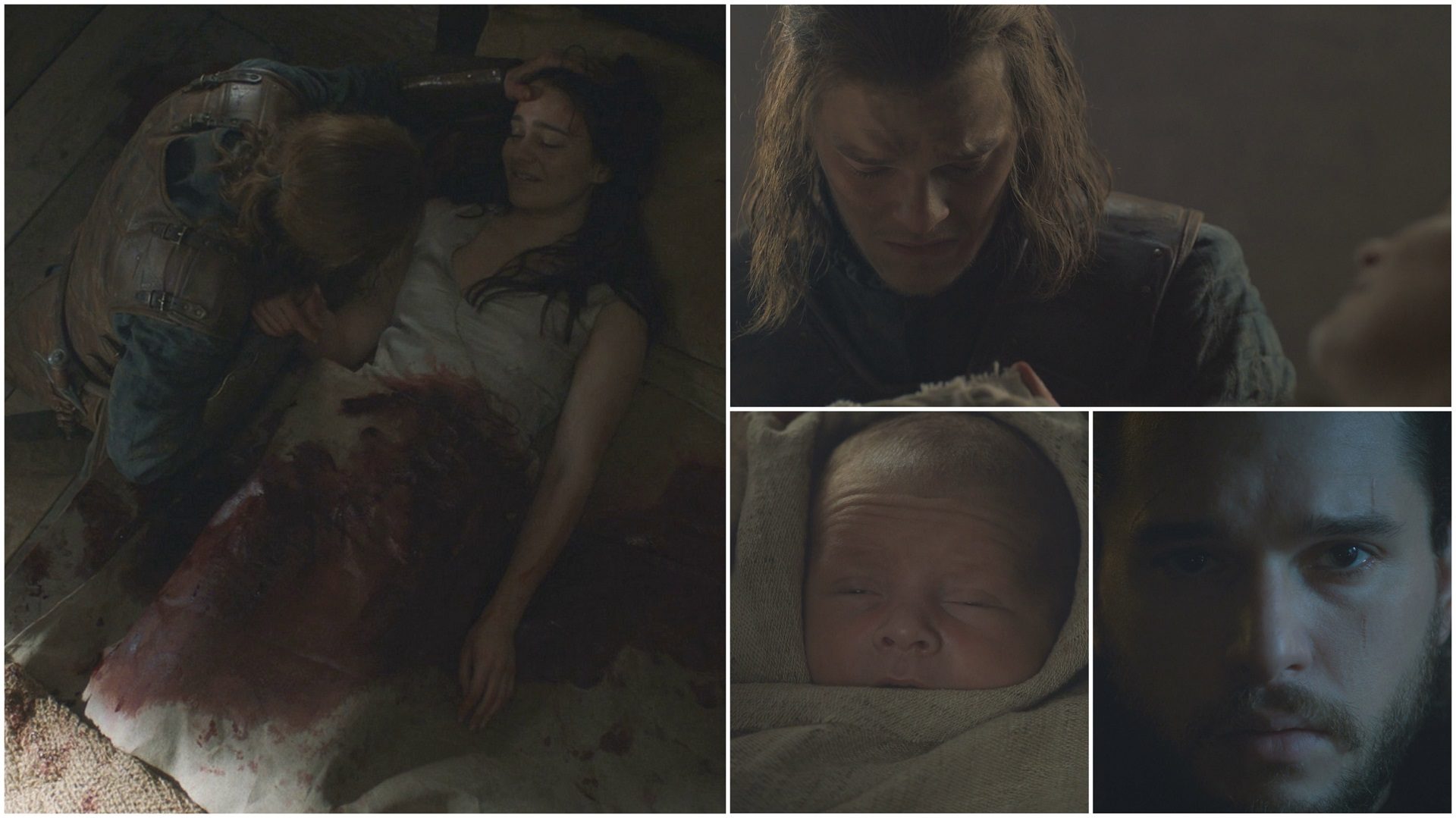 After years of speculation, and people trying to prove different theories true, it was finally revealed in the final episode of season six of HBO's Game of Thrones that Jon Snow was the son of Lyanna Stark, the she wolf of Winterfell, and Rhaegar Targaryen, the dragon blooded prince.
The show used Bran's visions as a way to flashback to Jon's birth at the Tower of Joy, in the Red Mountains of Dorne. The younger Ned Stark knelt by his dying sister, who was weak and covered in her own blood in the birthing bed, while she begged him to protect her infant son from the wrath of Robert Baratheon.
Ned was then handed the infant from the Dornish maid and he looks down at the small bundle. The camera closed in on the dark eyed infant and then transitioned to a close up shot of the adult Jon Snow.
Littlefinger Gets Executed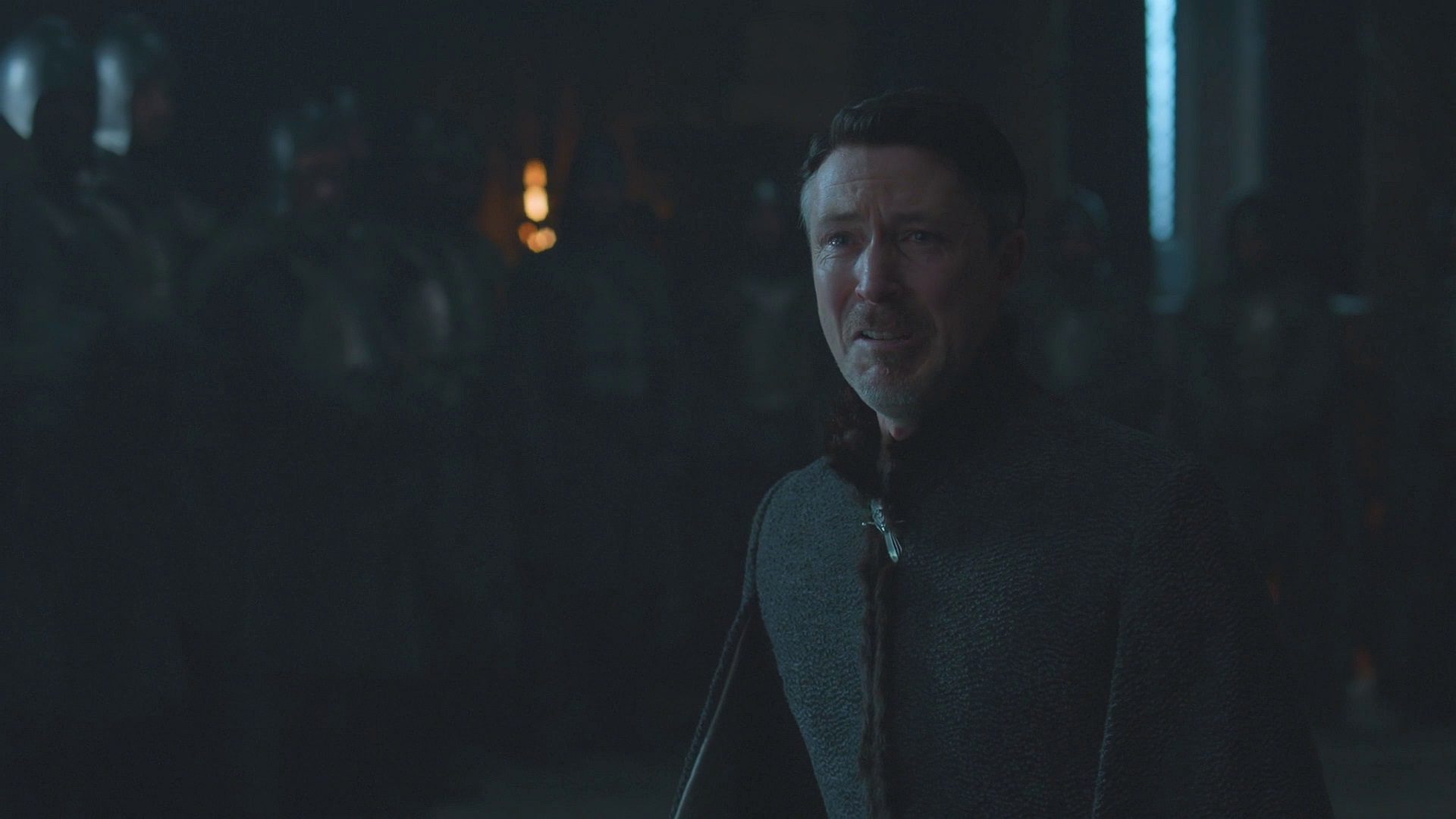 Littlefinger spent the majority of season seven trying to turn the sisters, Sansa and Arya Stark, against each other the same way he once did with their mother – Catlyn Stark – and her own sister – Lysa Arryn.
At first, it was seemingly working in his favour, with Arya accusing Sansa of treachery against her family – which she believes is punishable by death – and Sansa telling Arya that she could not have endured all that she herself did.
In the final episode of season seven, Sansa called a meeting in the Great Hall of Winterfell and called Arya forward. They discussed the matters of loyalty, family and what one should do to someone who betrayed their family. The exchange seemed as though Sansa was accusing Arya of treachery, as Littlefinger had put it in her head that Arya wanted to kill her, but after Sansa stated what the accused was being trailed for – she turned to Littlefinger and asked him how he answered to the crimes he was accused of.
Shocked at being outsmarted, he denies the crimes but Bran and Arya prove that they know he is guilty. Having been denied protection from the knights of the Vale, he pleads with Sansa for his life. She makes it clear he is going to die and Arya slits his throat with the same dagger that he had given an assassin to kill Bran with many years prior.
Jon Snow & Sam Tarly Killing White Walkers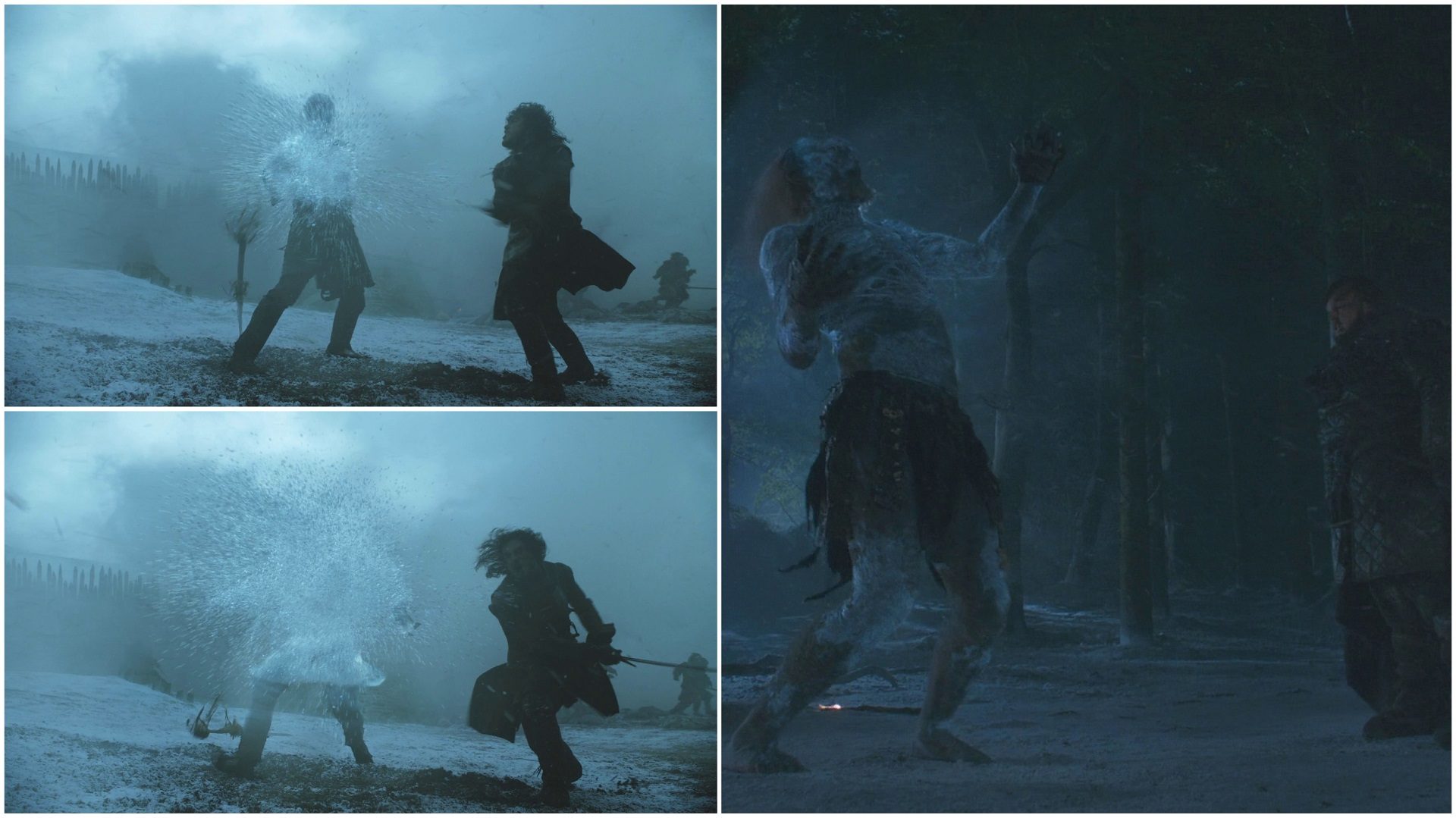 The two Nights Watch brothers – Jon Snow and Samwell Tarly – are two of the only known people who have managed to actually kill a White Walker.
Jon Snow, while trying to rescue the wildlings from Hardhome, faced the onslaught of the army of the dead as they began to savage the folk beyond the Wall. When he ran into the tent to retrieved the valuable dragonglass – that was known to kill the undead – he came face to face with one of the White Walkers. Their battled and it appeared that the Walker had the upper hand but Jon managed to slay it with Longclaw, his Valyrian steel sword that Jeor Mormont gifted him many years prior.
Sam Tarly, while trying to get Gilly and her newborn son back to safety, was forced to face a White Walker. Although terrified, he shouted at the Walker to stay back but it proceeded to attack and shattered Sam's sword. While Sam was knocked on the ground, the White Walker to attack Gilly and her baby but Sam stabbed it in the back with a piece of dragonglass and it died on impact.
Jon Snow Kills Olly & His Murderers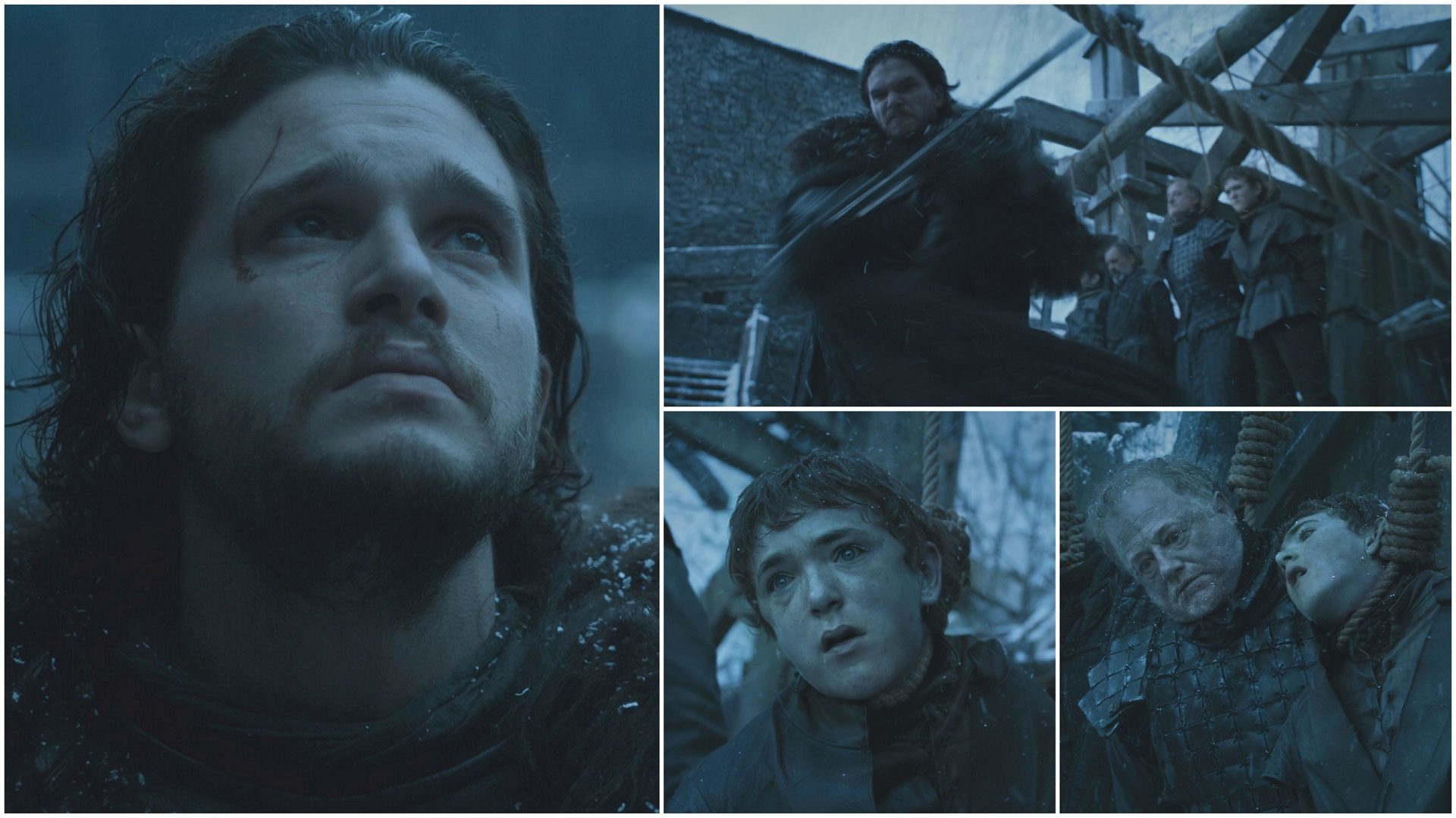 When Olly was introduced, we felt bad for the poor kid: he had just witnessed his village and family get slaughtered by Wildlings. The Magnar of Thenns even taunted him about eating his parents when the slaughter would end.
Olly killing Ygritte during the Battle of Castle Black in the same manner she had killed his parents brought a conflicting sense of justice. He had avenged his parents' death, but Jon also lost his first love; a sad moment in Game of Thrones.
But when Olly took part in the conspiracy to assassinate the Lord Commander over a difference in opinion, that's when everything changed. Giving Jon the last Stab ala Brutus to Ceasar was the tipping point where Olly was now a hated character, even spawning an infamous sub reddit called "F***Olly"
After Jon's ressurection, it made sense for him to execute Olly, Thorne and all the other conspirators, as is law in the Nights Watch. Olly didn't even have the decency to explain to Jon, nor give any last words. Just when we thought Jon would reconsider executing them, as brothers of the Nights Watch are needed for the Great War ahead, that swing of the sword brought Justice and Punishment! That closeup of Dead Olly was weird as well….
Notable Entry: Robb Is Named King In The North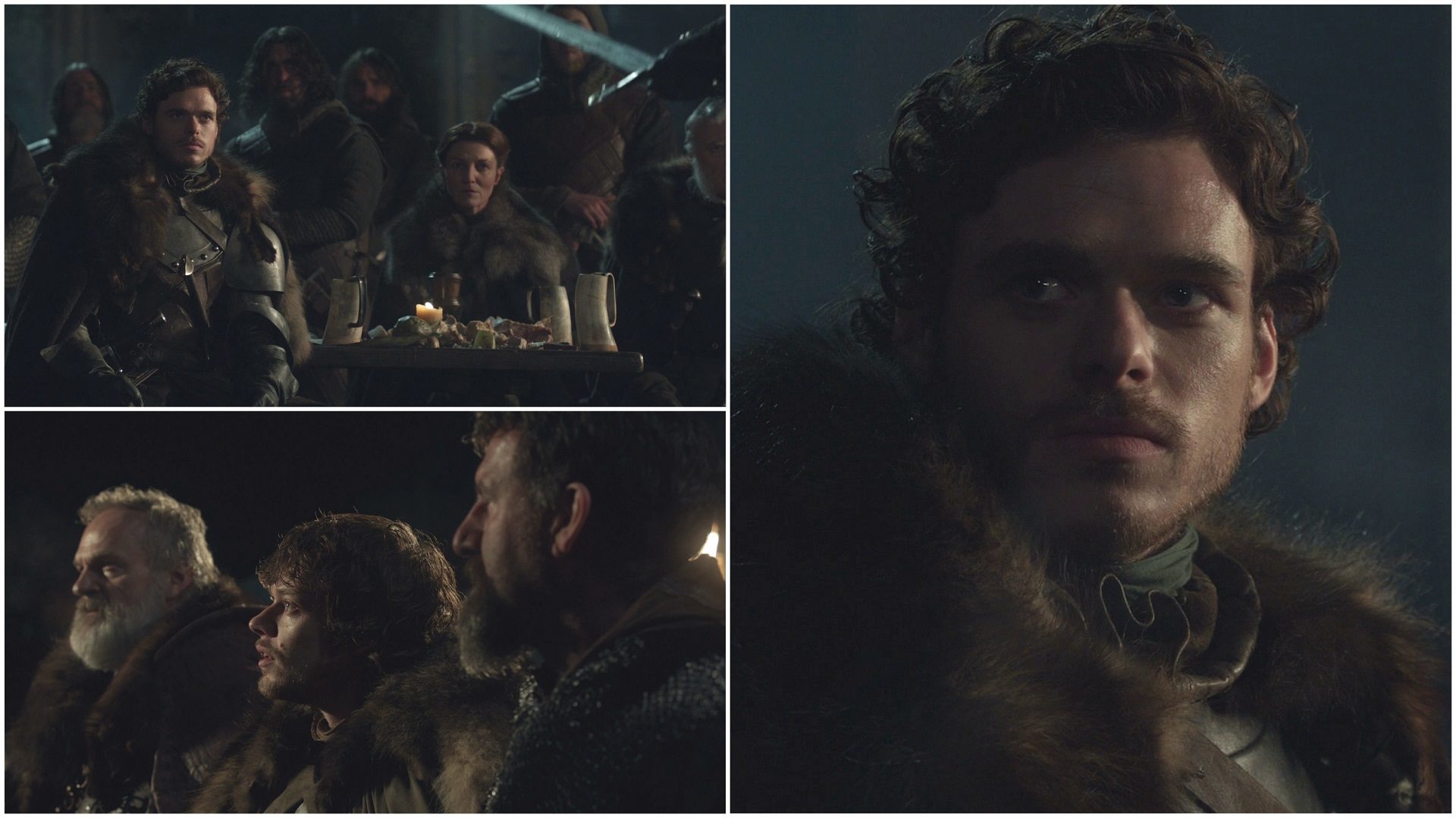 While we already had covered Jon Snow's Coronation as King In The North in Part 1 of this article, nevertheless, we figured this one should be there as well.
The northern lords gathered together to decide which king they should declare for. Despite wanting to declare for Renly, Robb Stark reminded them that just as Bran could not surface him in the succession of Winterfell, Renly could not surpass Stannis.
They argued that he could not mean to join Joffrey for he executed Ned Stark – Robbs father – but Robb repeated that Renly could not surpass Stannis. Greatjon Umber tells them all that none of the southern kings mean anything to him for they do not know anything about the north. He points his sword to Robb and declares him King in the North.
The other northern lords and Theon Greyjoy follow suit, all declaring him King in the North in unison as Catelyn Stark looked up at her son while the House Stark theme swelled in the background.
The Resurrection Of Jon Snow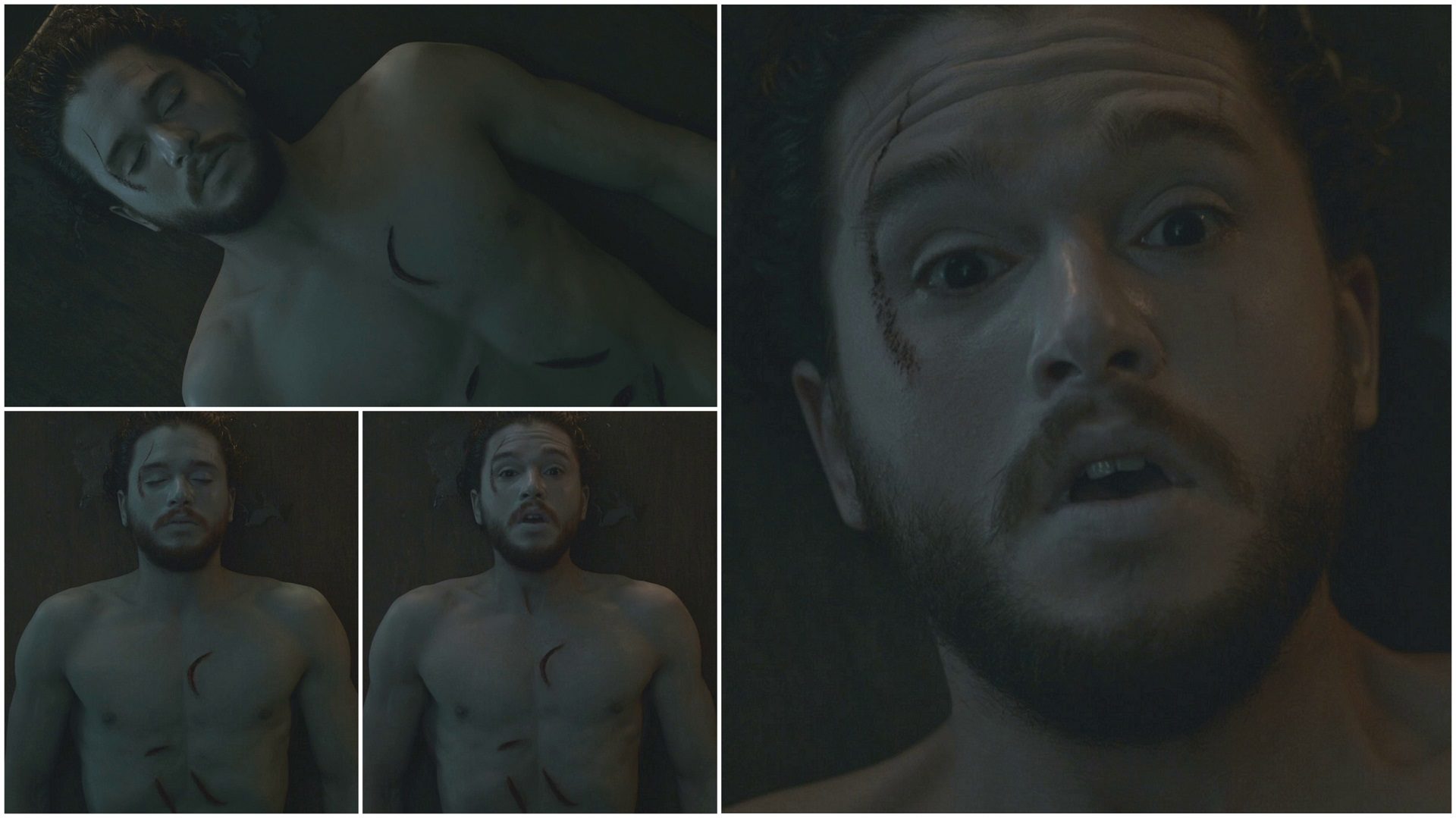 Having been murdered by his own men in a mutiny in the last episode of season 5, it was unknown for a year as to whether – the White Wolf – Jon Snow would return to HBO's Game of Thrones.
After finding his dead body, Davos, Ed and several other loyal brothers carried his body inside and brought Melisandre to him. She washed his body, cut his hair and uttered a spell while gliding her hands over him. Thinking her magic had left her, she believed that she would be able to bring him back.
Melisandre left, followed by the brothers of the Nights Watch and eventually Davos. Ghost – Jon's albino direwolf – however, perked up and looked at his owner's body. Jon's face came into view and in the last moment of the episode, he gasped and opened his eyes.