It's no secret that George R. R. Martin is not only one to believe the good guys should always win because they're "good", but he is also a genius when it comes to circumstance and situations. Nothing in his stories ever happen for no reason, and both the show and the books are full of symbolism. While some moments go unnoticed, if you look back at some character deaths and choices, there's a very pronounced connection between what they did and how they kick they bucket.
Some of these instances are shown only in the books, others in the deleted scenes feature of the Game of Thrones DVDs, and some are in plain sight – just waiting to be connected by the audience.
Here's a few of those instances that jumped at us, in no special order. These are full of spoilers, so don't read these until you're all caught up!
The Perpetrators Of The Red Wedding Meet Identical Fates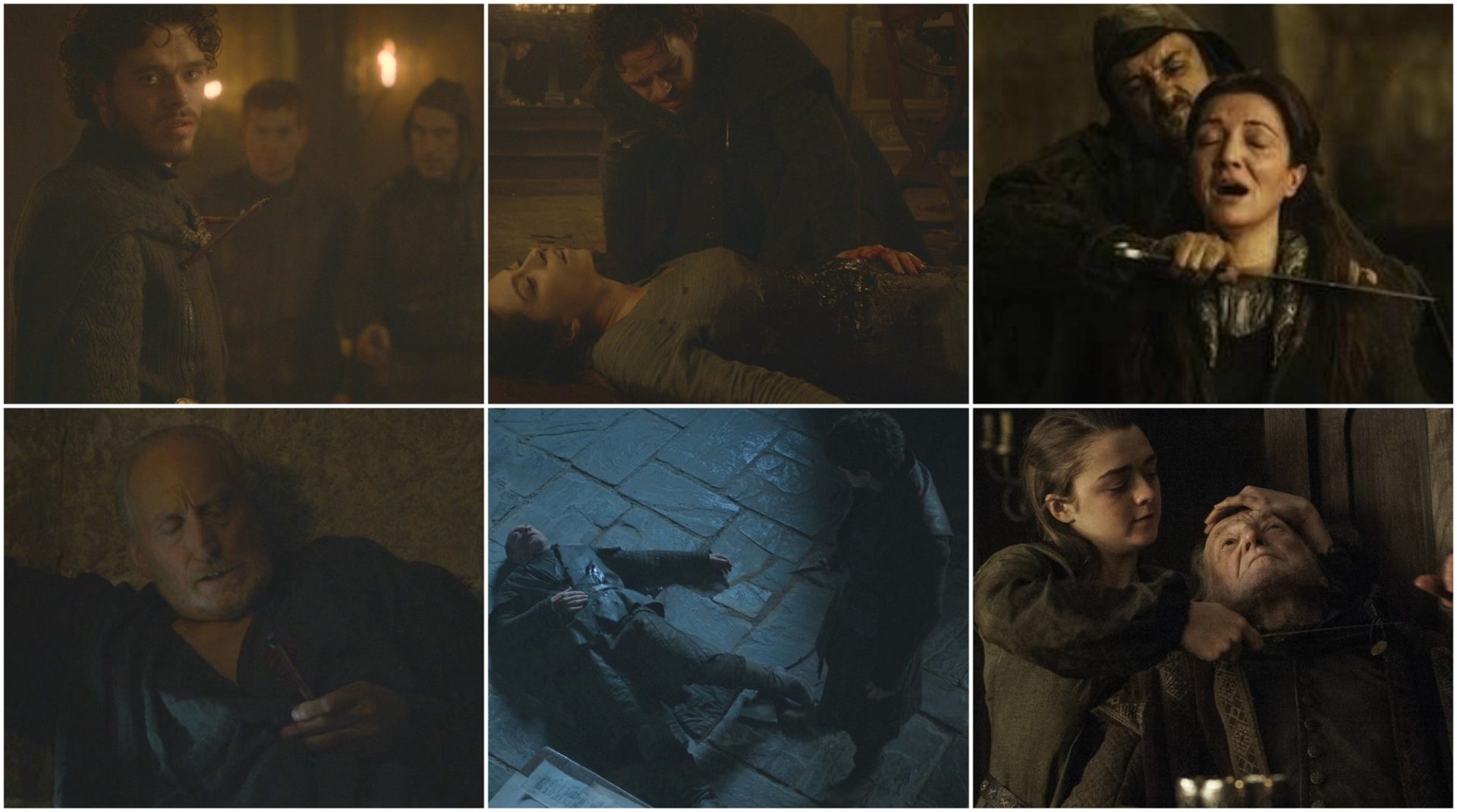 The Red Wedding still haunts us to this day. How could it not? Nobody expects their guest right to be infringed upon and be murdered by those who posed as allies. We're not the only ones haunted by that gruesome wedding, though, and it did curse its perpetrators – they each died in the ways they killed the Starks.
Take Roose Bolton, for example. He stabbed Robb Stark in the stomach, saying the Lannisters send their remarks. When his turn to die came around, his own bastard son Ramsay stabbed him in the stomach after Roose told him his little brother had been just born.
Walder Frey, head of House Frey and the host of this wedding, has Catelyn Stark's throat sliced. In turn, Arya Stark avenged her mother and brother by slicing Walder's throat.
Tywin Lannister was personally not present at the Red Wedding, but it had been the Lannisters who set in motion for the violence that took place. On his orders, Robb Stark is ultimately killed by being shot by a crossbow. Tywin also met his end by a crossbow, shot by his own son Tyrion. There's a little more to that one, and we'll come back to it in a bit.
Stannis, Renly Baratheon & Their Female Assistants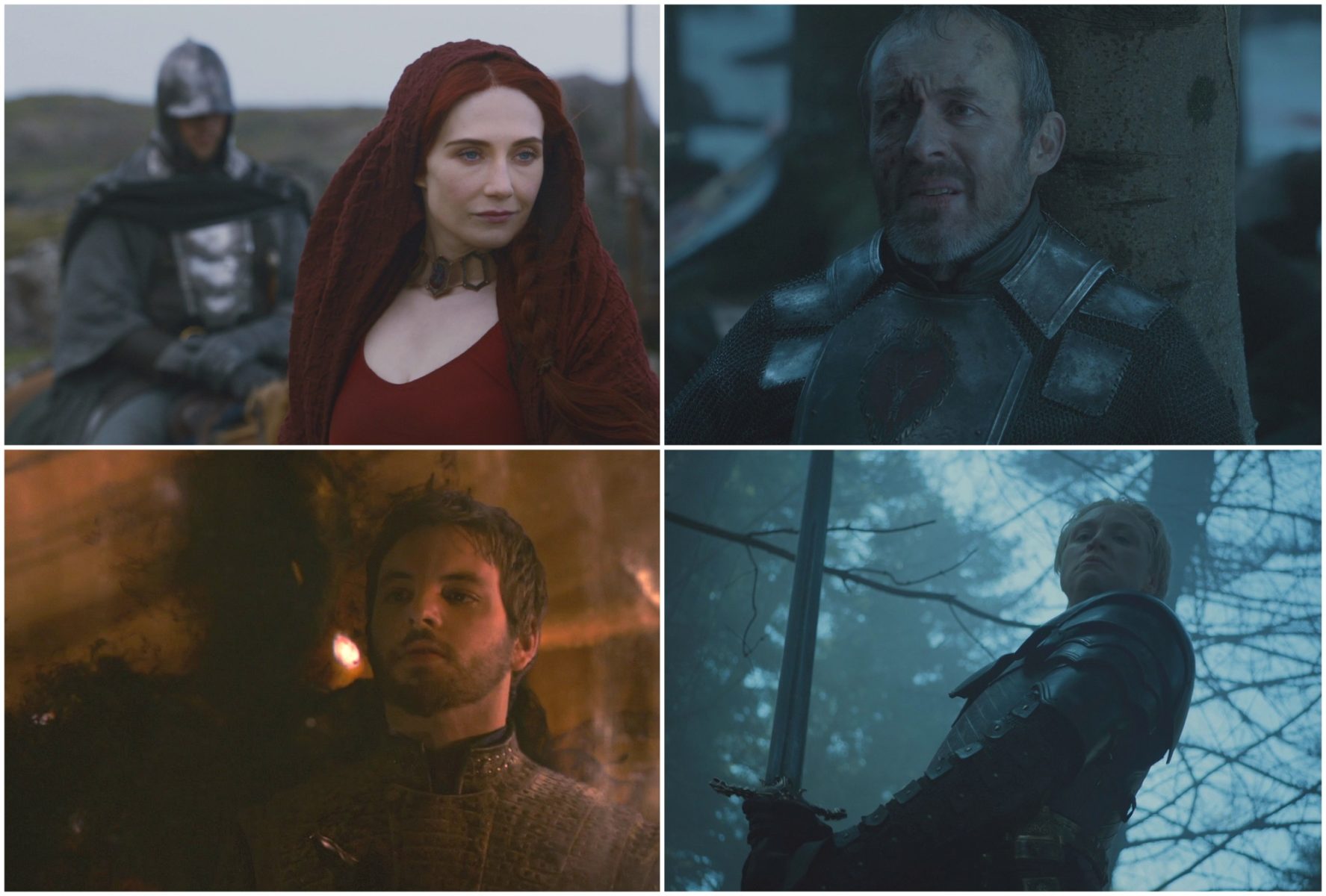 This one is a little harder to catch, but very satisfying when you do. Stannis Baratheon got his "assistant", Melisandre, pregnant with a demon who then infiltrated his younger brother Renly's encampment and killed him.
Long after Renly's death, it was Brienne of Tarth, Renly's own "assistant", who kills Stannis off after confronting him about what he had done. The lesson here is to never send out your female assistant to do your dirty job. Looking at you, Stannis.
Ygritte, Olly & Some Arrows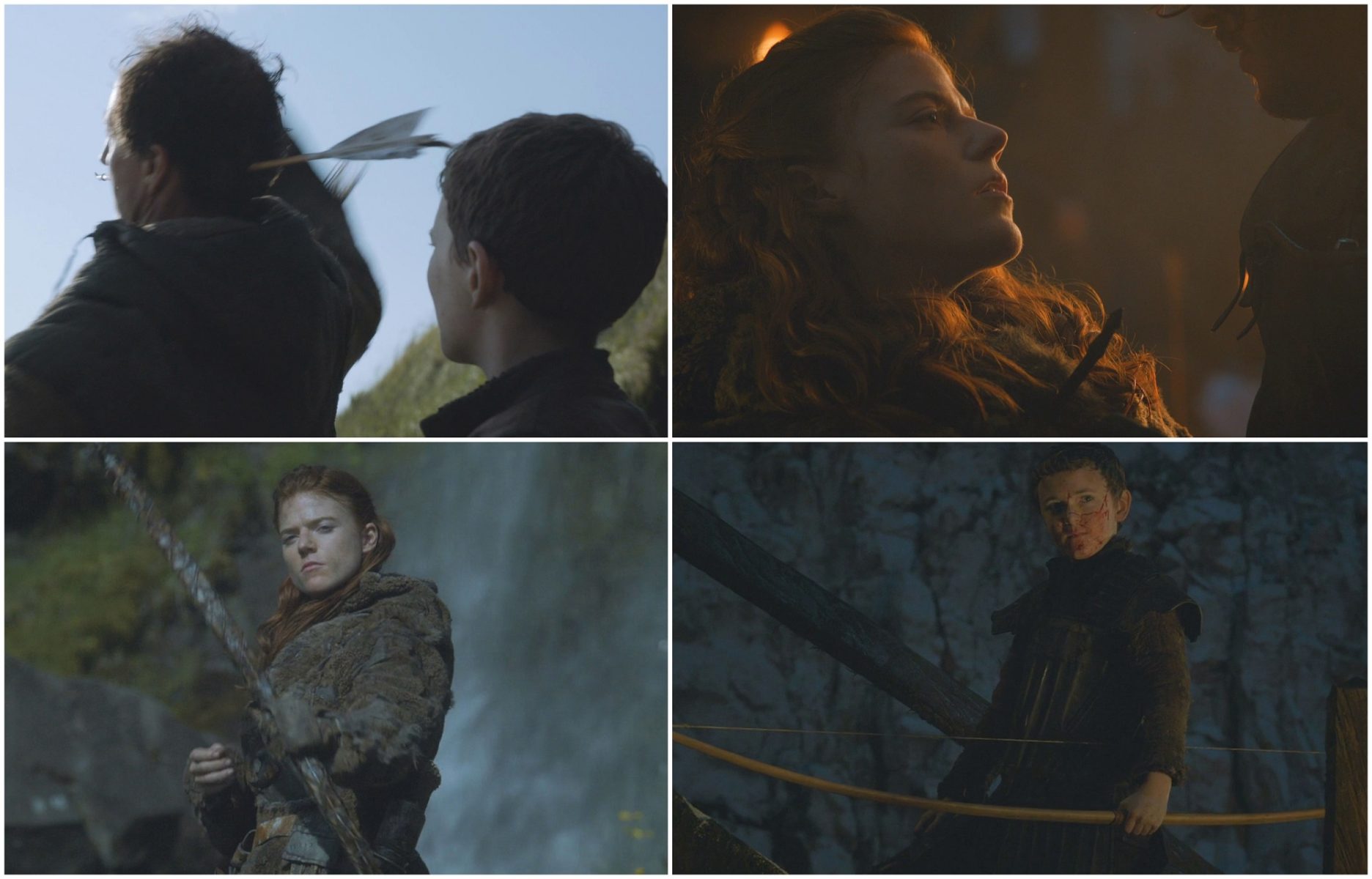 Ygritte's unfortunate and heartbreaking (not just for Jon, but to us too) death mirrors how she killed the father of little Olly, a farm boy from a village in The Gift (land controlled by the Night's Watch). She shot him through the chest with an arrow during a Wildling attack on their village.
On the night the Wildlings attack Castle Black and fight the men of the Night's Watch, Olly shoots an arrow straight through her chest, avenging his father and thinking he had protected Jon Snow from her. Poor misunderstood kid.
The Sand Snakes Each Die With Their Own Weapon Of Choice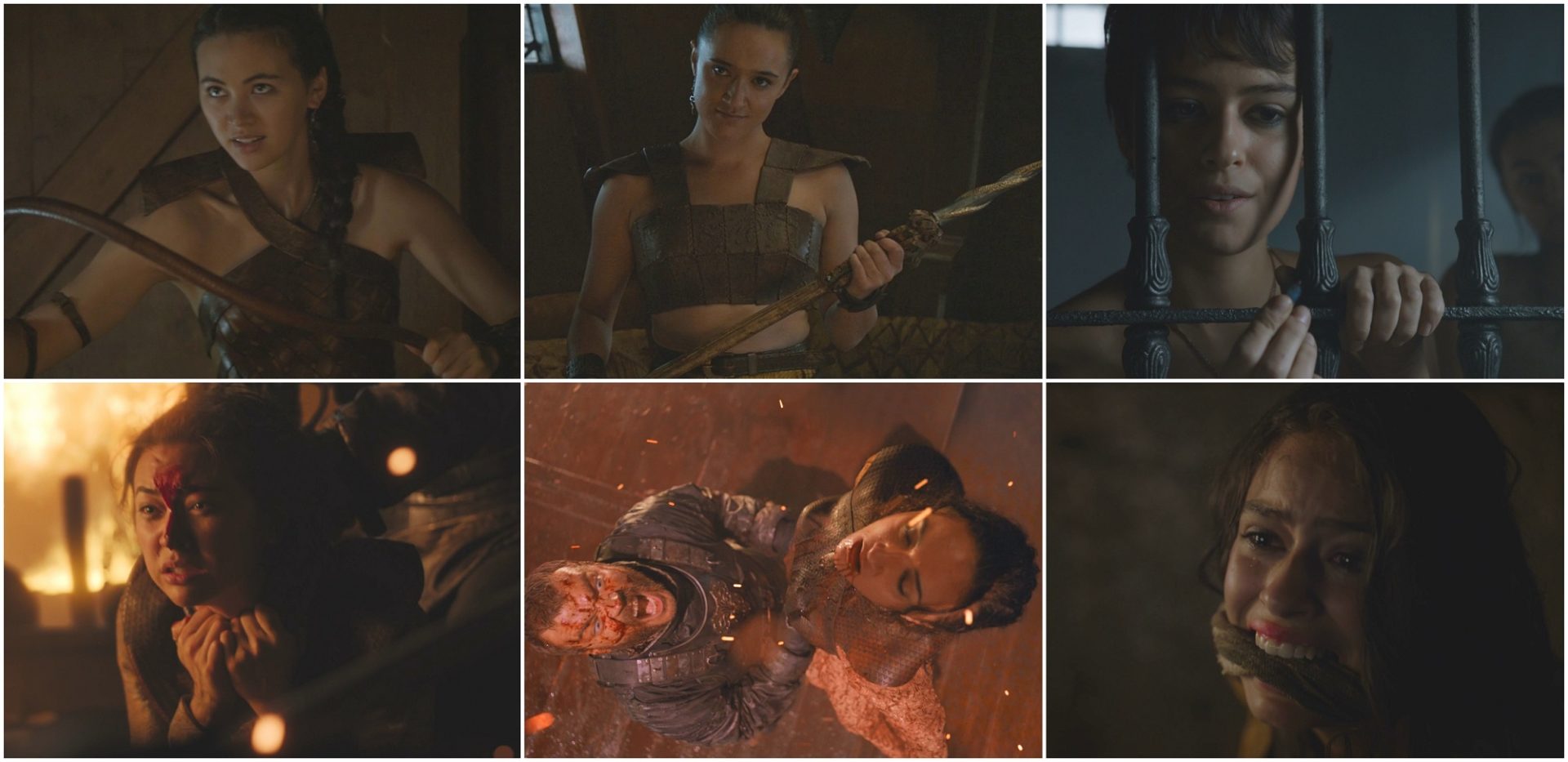 Though this is one of the most obvious instances, we can't help but point it out. The three Sand Snakes we see on the show, Oberyn Martell's bastard daughters, were killed in the same fashion as their preferred methods of combat and weapon choices.
Obara Sand, who used a spear to fight, was impaled by Euron Greyjoy with her own spear when he attacked their ship.
Nymeria Sand, who took to the whip, was strangled by Euron Greyoy in the same attack on their ship and with her own whip.
Tyene Sand, who shared her father's knowledge on poisons, was taken by Euron Greyjoy and handed to Queen Cersei, along with her mother Ellaria Sand. She's then poisoned by Cersei with the same poison she once used against Bronn in Dorne, the Long Farewell. It's also the same poison her mother, Ellaria, used to kill Cersei's daughter, Myrcella. How ironic.
Ned's Ice Cold Head Rolling Irony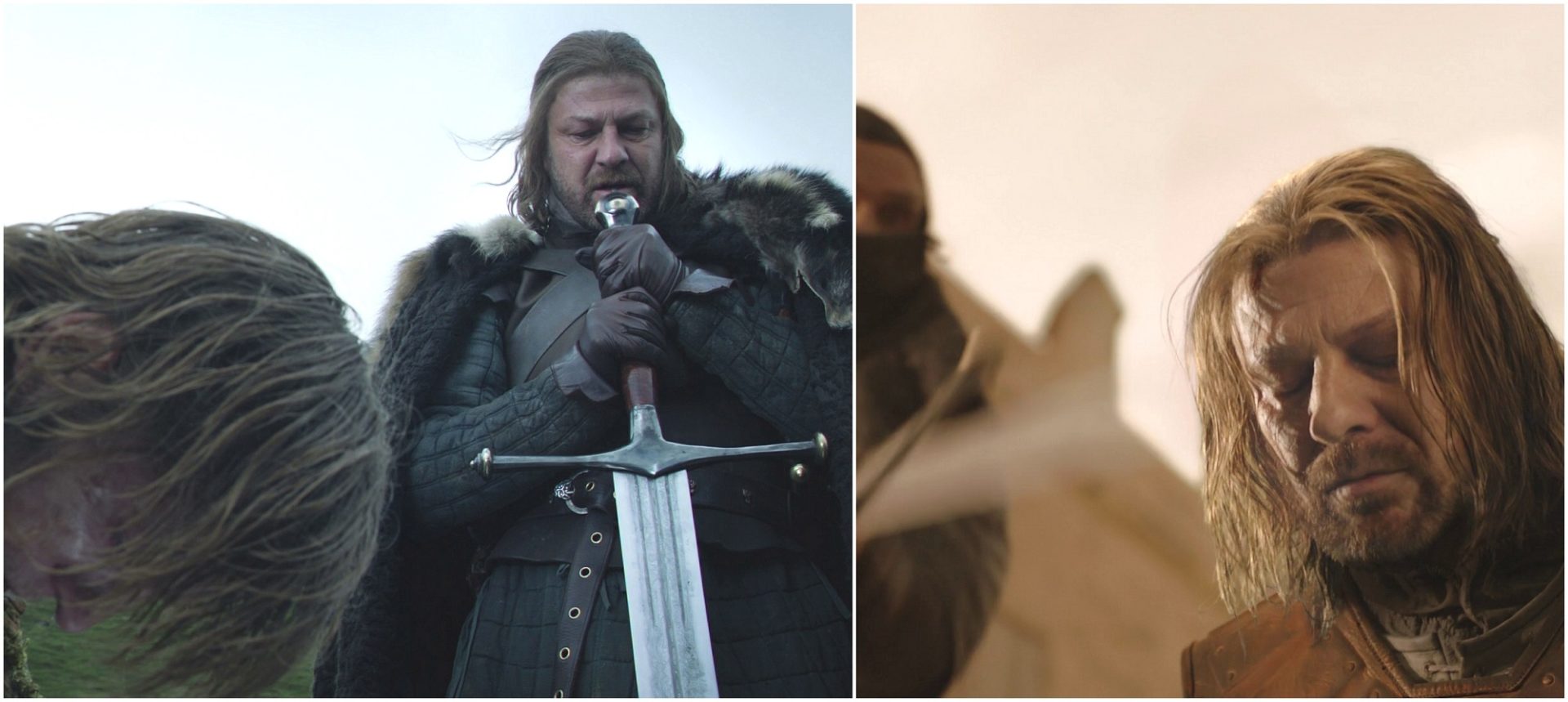 Our beloved Ned Stark was first introduced to us carrying out a beheading for a man accused of deserting the Night's Watch, with his sword Ice in hand. Nine episodes later, his very last sighting is on the chopping block, beheaded by his own sword under orders of King Joffrey Baratheon.
It would've been even more ironic if his sentence had been carried out by the King himself, as per Ned's own quote "The man who passes the sentence should swing the sword." But, we are talking about King Joffrey, and we all know he's not an honorable man whatsoever. Rest easy, Ned.
Fall Of House Stark & Baratheon Foreshadowed In The Pilot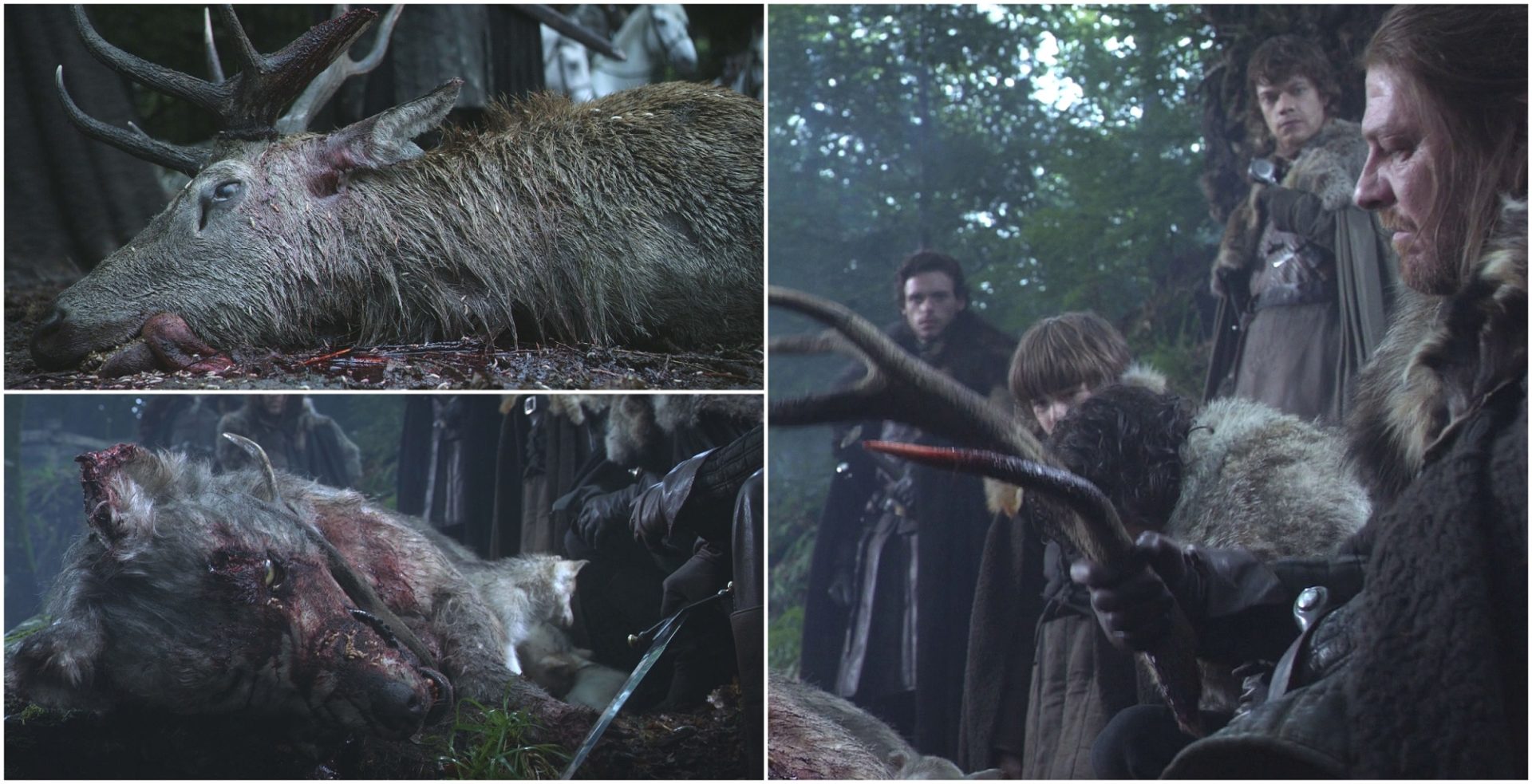 In season 1, we see this happening right in the beginning. In the first episode, when Ned is on his way back from beheading the Night's Watch deserter, they come across a dead stag and a dead Direwolf. The stag killed the Direwolf, which symbolizes two things: King Robert inevitably lead Ned Stark to his death by summoning him to King's Landing, and the fact that King Joffrey Baratheon is the one who orders Ned beheaded.
We do know Joffrey is really not a Baratheon (but an incest-produced child by Cersei and Jaime Lannister), but he still has the House name under his belt. What's even more chilling is that the stag that killed the direwolf was killed by a mountain lion, once again foreshadowing the end of House Baratheon by the Lannister infiltration in their family and their takeover of he Seven Kingdoms.
It's even weirder to think that, on the episode where Ned Stark find the direwolf pups, Theon Greyjoy holds a knife to the throat of one of the pups, symbolizing his sudden yet inevitable betrayal (if you get the non-Game of Thrones reference, high-five).
Arya, Polliver & Needle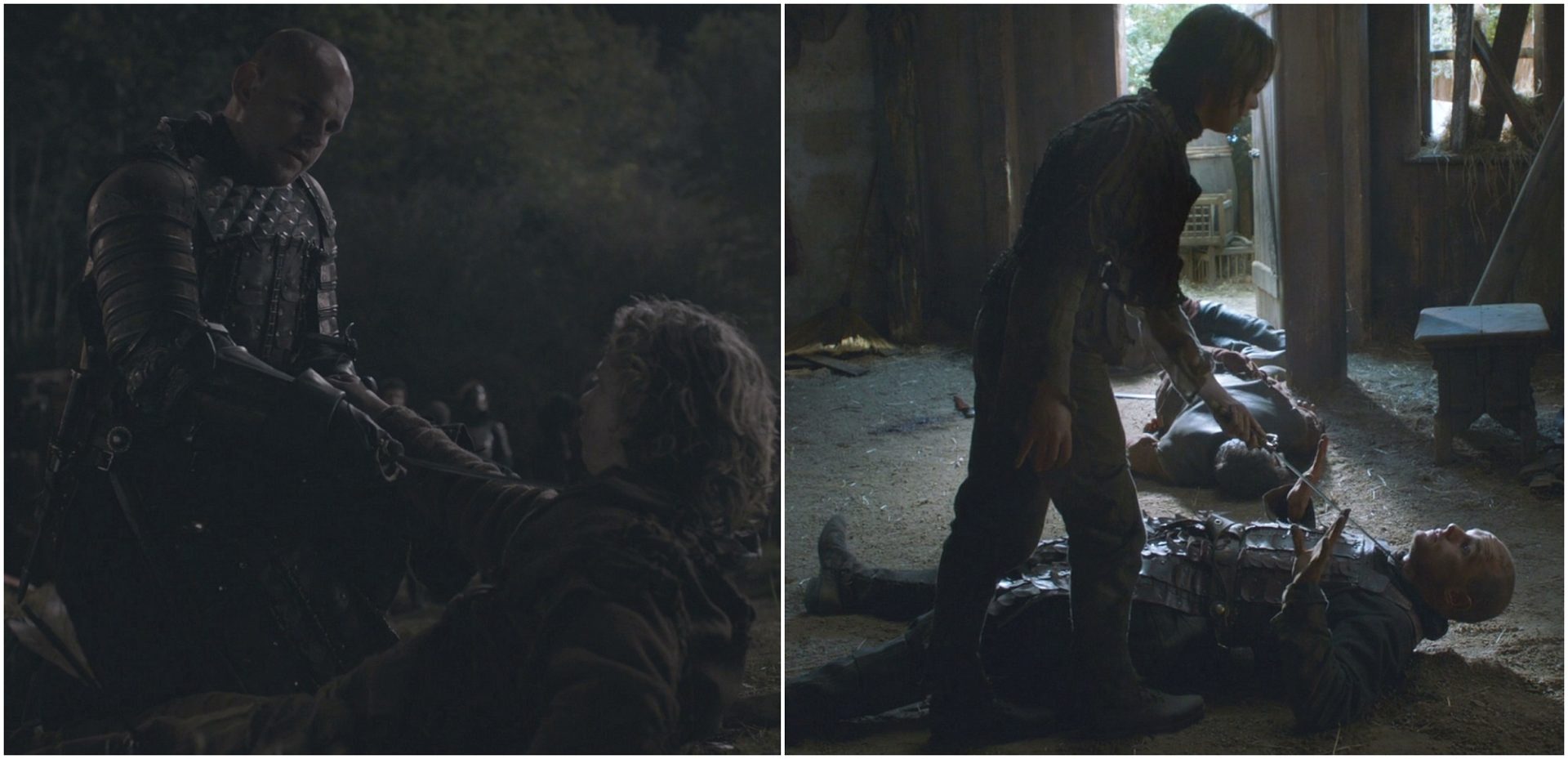 Ever since Jon Snow gave Arya her thin, small blade which she adorably named Needle, she and her trusty sword have had many adventures in Westeros. One of the most memorable and ironic deaths delivered by Needle has been Polliver.
Polliver had murdered Lommy, an orphan from King's Landing who had been captured with Arya, Gendry, and Hot Pie by Lannister men. Polliver stole Needle from Arya, hence gaining a spot on her kill list, and taunted poor Lommy, who had injured his leg, before using Needle to stab him in the throat.
Arya eventually gets Needle back and stabs Polliver in the throat in the same way, but not before using the same taunting lines he used on Lommy: "Something wrong with your leg, boy? Can you walk? I've got to carry you. Funny little blade. Maybe I'll pick my teeth with it." Arya is such a badass.
Littlefinger's Predictions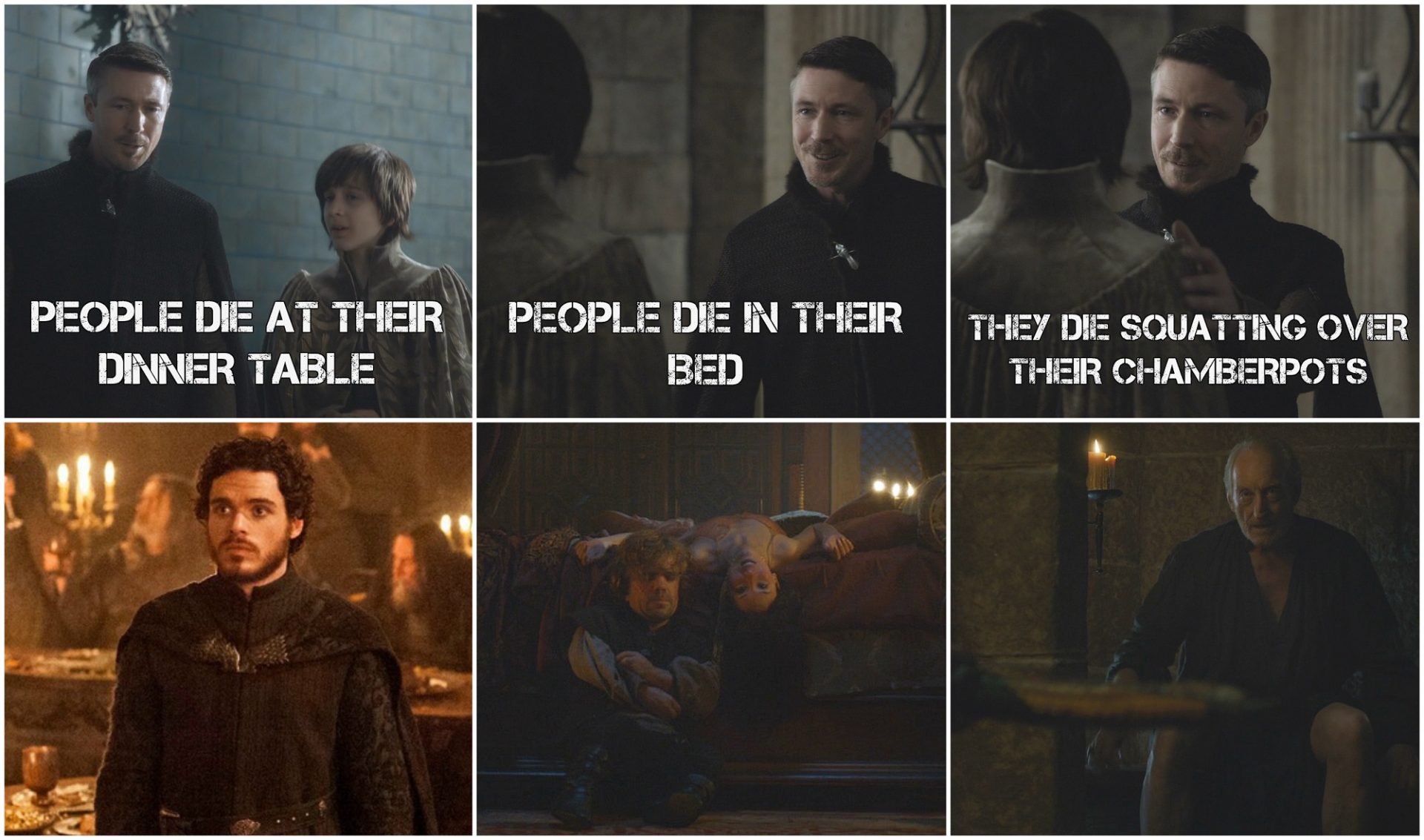 "People die at their own dinner tables, they die in their beds, they die squatting over their chamberpots. Everyone dies, sooner or later."
Littlefinger said this in season 4, and it has predicted 3 big deaths in the show: Walder Frey, Shae, and Tywin Lannister.
Sure, the "at their dinner table" could apply to Joffrey as well, but this was said after he was poisoned at his own wedding.
However, we do see Walder Frey die at his dinner table, while eating a pie made out of his sons and drinking wine. We see Shae the whore betray Tyrion at his trial and then be found and strangled by him on his own father's bed. We then see Tywin Lannister sitting on the toilet, only to be fatally shot and killed by Tyrion.
While Littlefinger had nothing to do with those three deaths, it's absolutely insane how accurate he was in his seemingly innocent predictions. Let's never forget the look in his face when he realized he was on trial in Winterfell – he never predicted that one.
Lysa Arryn & The Moon Door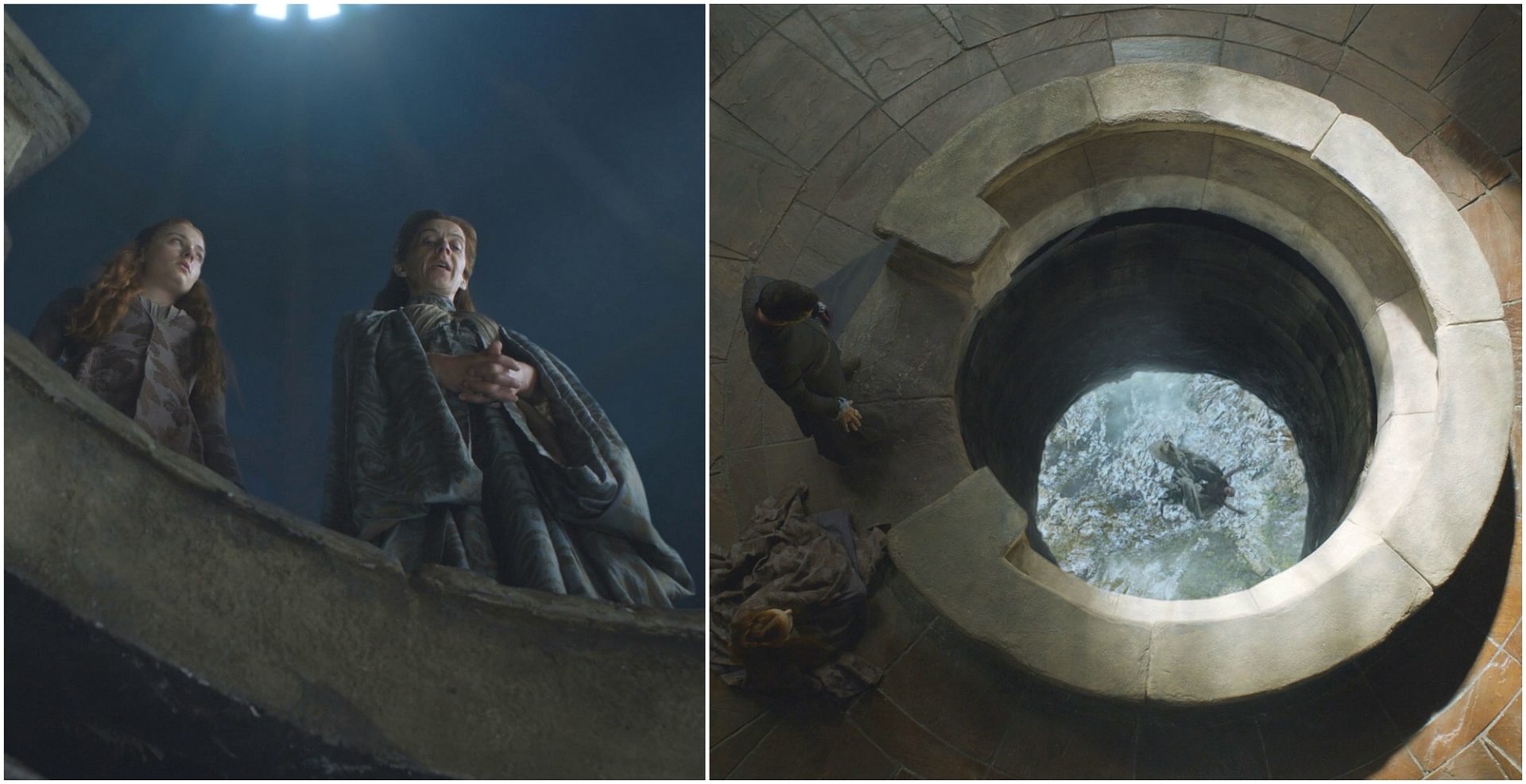 Lysa Arryn, Catelyn Stark's crazy sister, lived in the Eyrie with her son Robin. Her favorite method of execution was to throw her victims through the Moon Door, an hatch in the High Hall which opens up and provides a hefty fall down to the floor of the Vale. Ironically enough, she is thrown door the Moon Door herself by her lover-turned-momentary-husband Petyr Baelish, or Littlefinger.
Tywin Lannister Foreshadows The Demise Of Houses Baratheon & Tully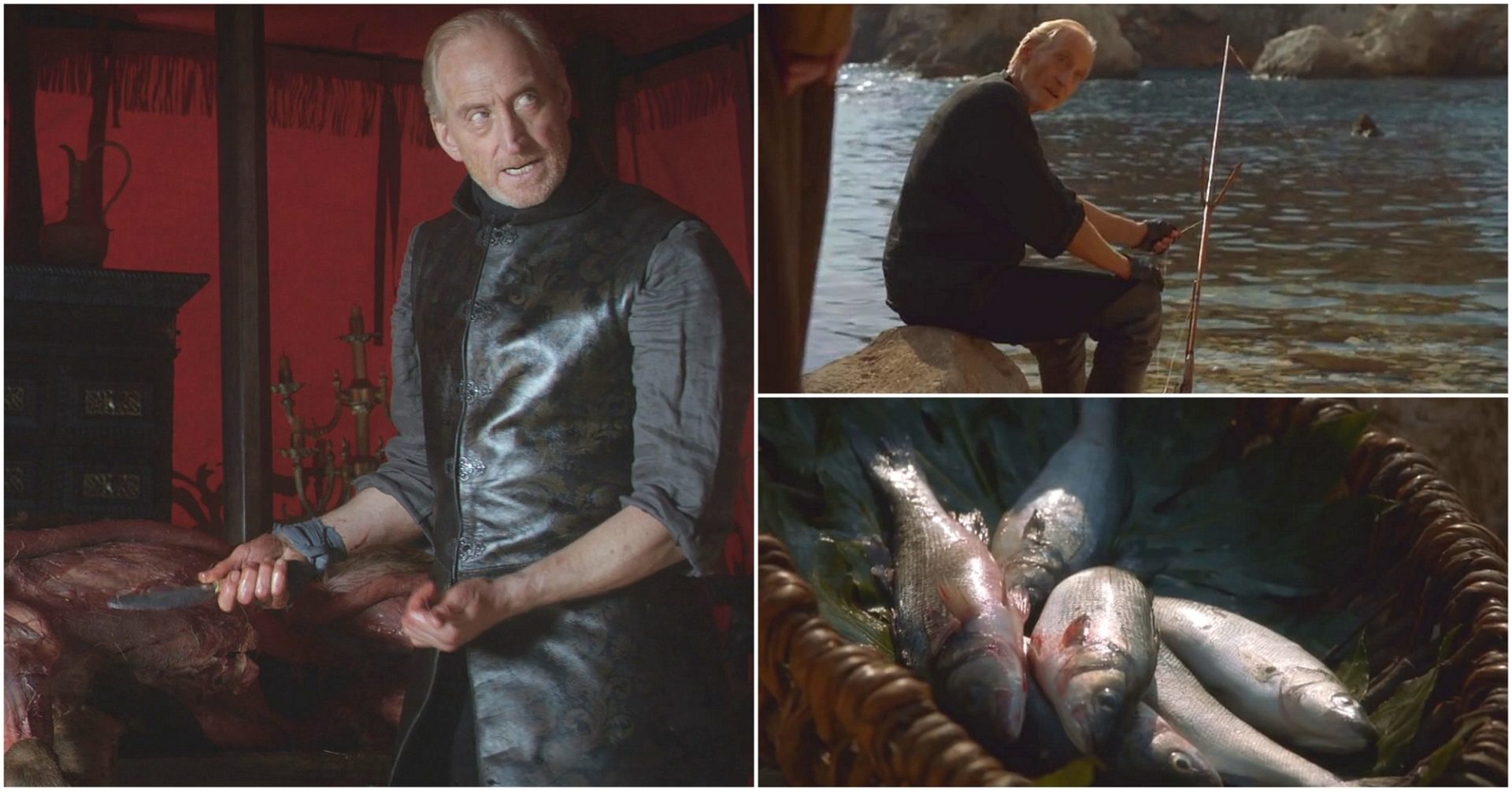 This one is full of symbolism from Seasons 1 & 3. Specifically, we're talking about Tywin Lannister skinning a stag while talking to Jaime Lannister in their encampment as they get ready to invade the Riverlands. That is huge symbolism for the fall of House Baratheon, even though the Lannisters don't actually kill the Baratheons off with weapons. But they do in a way: the Lannisters take over the Seven Kingdoms, which was ruled by King Robert Baratheon. Though it's not known to the public at first, Cersei Lannister's children are not Robert's children – they're a product of incest between her and her twin brother Jaime. So, in a way, Tywin did kill the Baratheon House by marrying off his daughter to Robert and her disgusting acts of incest.


Also, in a deleted scene from Season 3, Tywin Lannister is seen fishing and then smashing the fish against a rock, then gutting them. The Sigil for House Tully, which Catelyn Stark came from before marrying Ned Stark, is a fish. What about it?
Remember the Red Wedding? She, her son Robb, and the majority of the attendees from both House Stark and Tully were murdered that night. Who was the mastermind behind this attack? Yep, good ol' Tywin Lannister.
The King Eats, The Hand Takes The Shit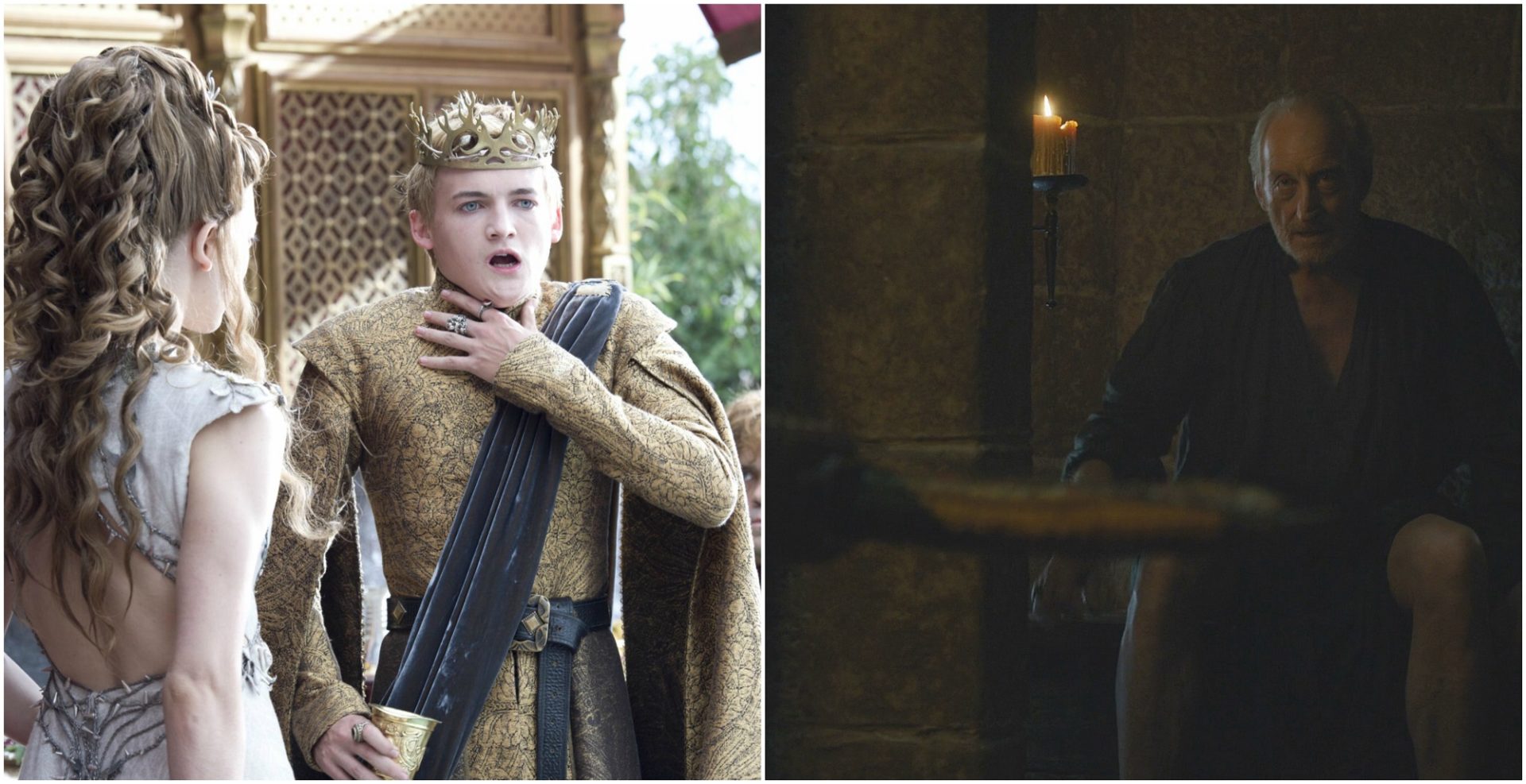 Jaime Lannister once said "The King eats, the Hand takes the shit", regarding the relationship between Kings and Hand of the Kings. Isn't it ironic that his son, King Joffrey Baratheon, literally died eating at his wedding after drinking poisoned wine and then his own father, Tywin Lannister, Hand of the King, died while taking a shit?
Couldn't be more accurate in the literal and figurative meanings of this saying.
Jamie's Guilt – "Cousincide"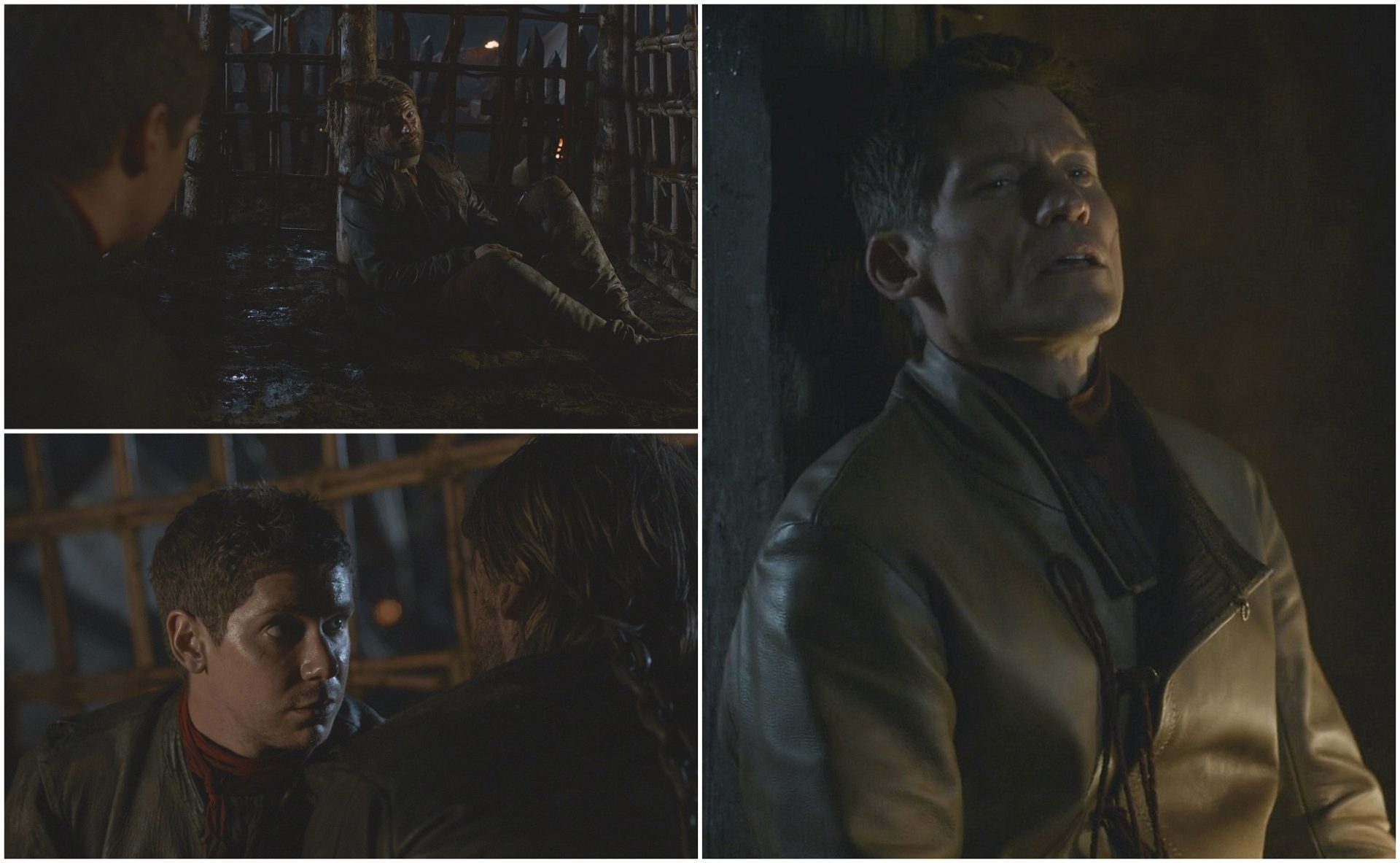 The irony here is pretty grand. Jamie Lannister killed his own cousin, Alton Lannister, in order to escape his captivity by the Northern armies. Alton had been Jamie's squire before, and they had what seemed like a nice little chat while being in the same cell. Alton asks Jamie if he ever thought of escaping, and Jamie says he has a plan.
Alton offers help and scoots closer in order to hear what he needs to do. Jamie tells him that the one thing he needs to do is to die, and so Jamie beats him to death, attracting the attention on the guards. Jamie then kills the guard and escapes.
Fast forward to season 4, when Jamie visits Tyrion in his cell right before the trial by combat fought by The Mountain and Oberyn Martell. Tyrion is running down the list of names for different kinds of familial killings and declares there's a word for every kind. Jamie displays some guilt, unseen by Tyrion, and says "cousins", to which Tyrion replies that he's right – there's no word for cousin-killing. Let's call it cousincise in honor of Alton, poor kid.
Oberyn Martell Poisoned Tywin Lannister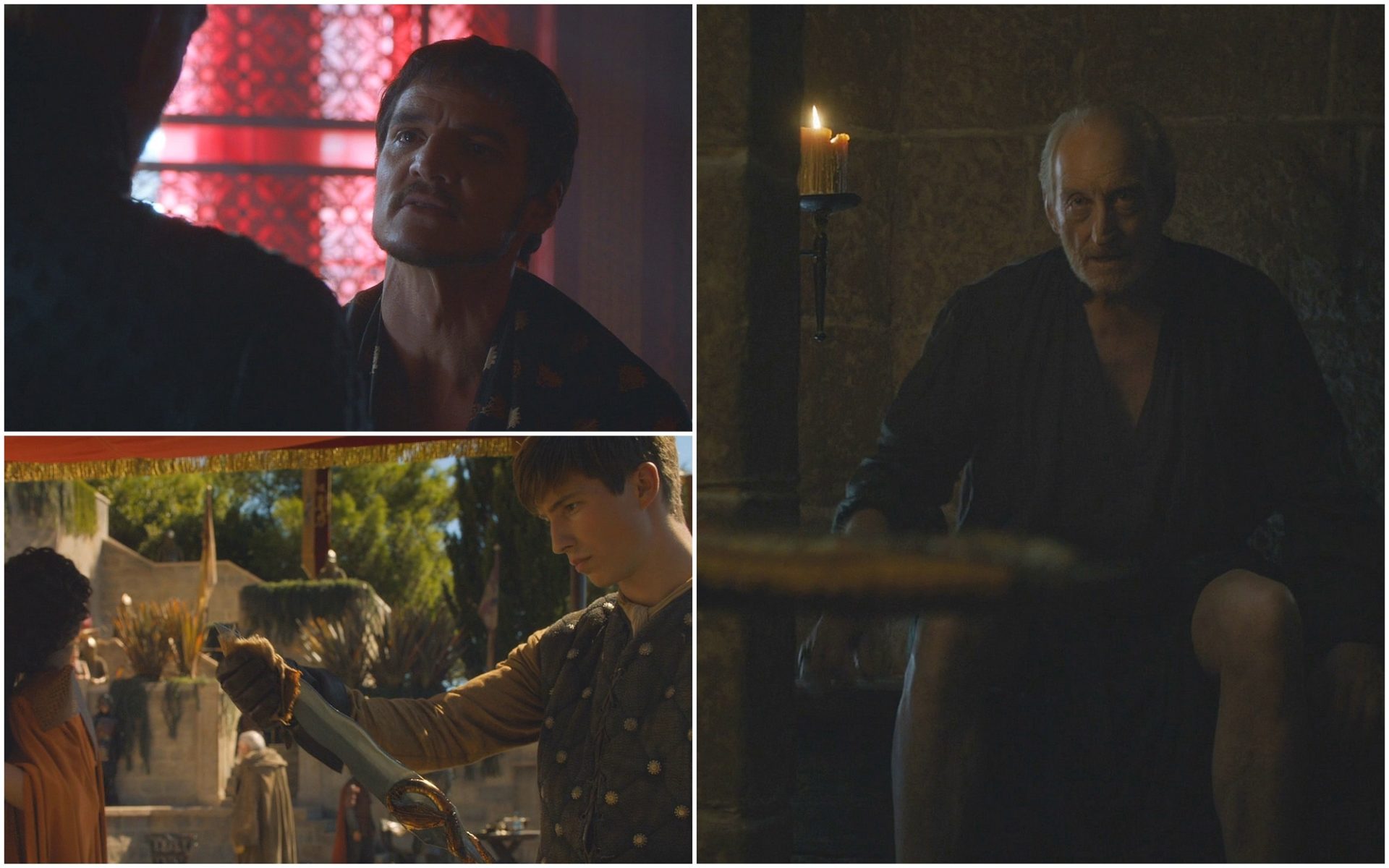 This one is a mind-blowing theory that caters more to the books then the show: what if I told you that Oberyn Martell, the handsome Prince of Dorne, master of poisons actually poisoned Tywin Lannister prior to both their deaths?
In Tyrion's trial for the murder of King Joffrey, Grand Maester Pycell shares that one of his poison vials was missing. It was "Widow's blood, this one is called, for the color. A cruel poison. It shuts down a man's bladder and bowels, until he drowns himself in his own poisons." That wasn't the poison that killed Joffrey, but someone other than Tyrion took it. Who did? Oberyn.
Go back to when Mace Tyrell, Tywin Lannister, and Oberyn are breaking bread at the solar. This was the perfect opportunity for Oberyn to poison Tywin with such an awful chemical.
This goes deeper in the book, with Oberyn stating he was thankful for Cersei blaming Tyrion for the poisoning, because he'd probable be the one accused if Tyrion wasn't immediately blamed. "Who knows more of poisons than the Red Viper of Dorne, after all?" He then follows that with a very seemingly random line. "Your father may not live forever."
Sure, nobody lives forever, but why would he bring Tywin's death into this conversation?
The description of Tyrion's thoughts after shooting his father in the toilet also point that something was foul – and not just the magnificent crap he was taking. "But the stink that filled the privy gave ample evidence that the oft-repeated jape about his father was just another lie. Lord Tywin Lannister did not, in the end, shit gold."
In the books, the details regarding Tywin's funeral after Tyrion shot him in the toilet only point more to this theory, with Tywin rotting visibly, his face greenish, eyes sunken, and a "foul white fluid was seeping through the joints of his splendid gold-and-crimson armor to pool beneath his body."
With the Widow's Blood vial missing, Oberyn present in King's Landing and breaking bread with Tywin Lannister before Tyrion's trial, and the descriptions of both Tywin's death stinks and his deterioration at his funeral, there's very little left to the imagination – though Tyrion ultimately delivered the blow that killed Tywin, Oberyn absolutely dealt him a slow and painful death ahead of time. Depending on how you look at it, Tyrion basically did his father a favor.
Karl Tanner, The Dirty Mouth Stabber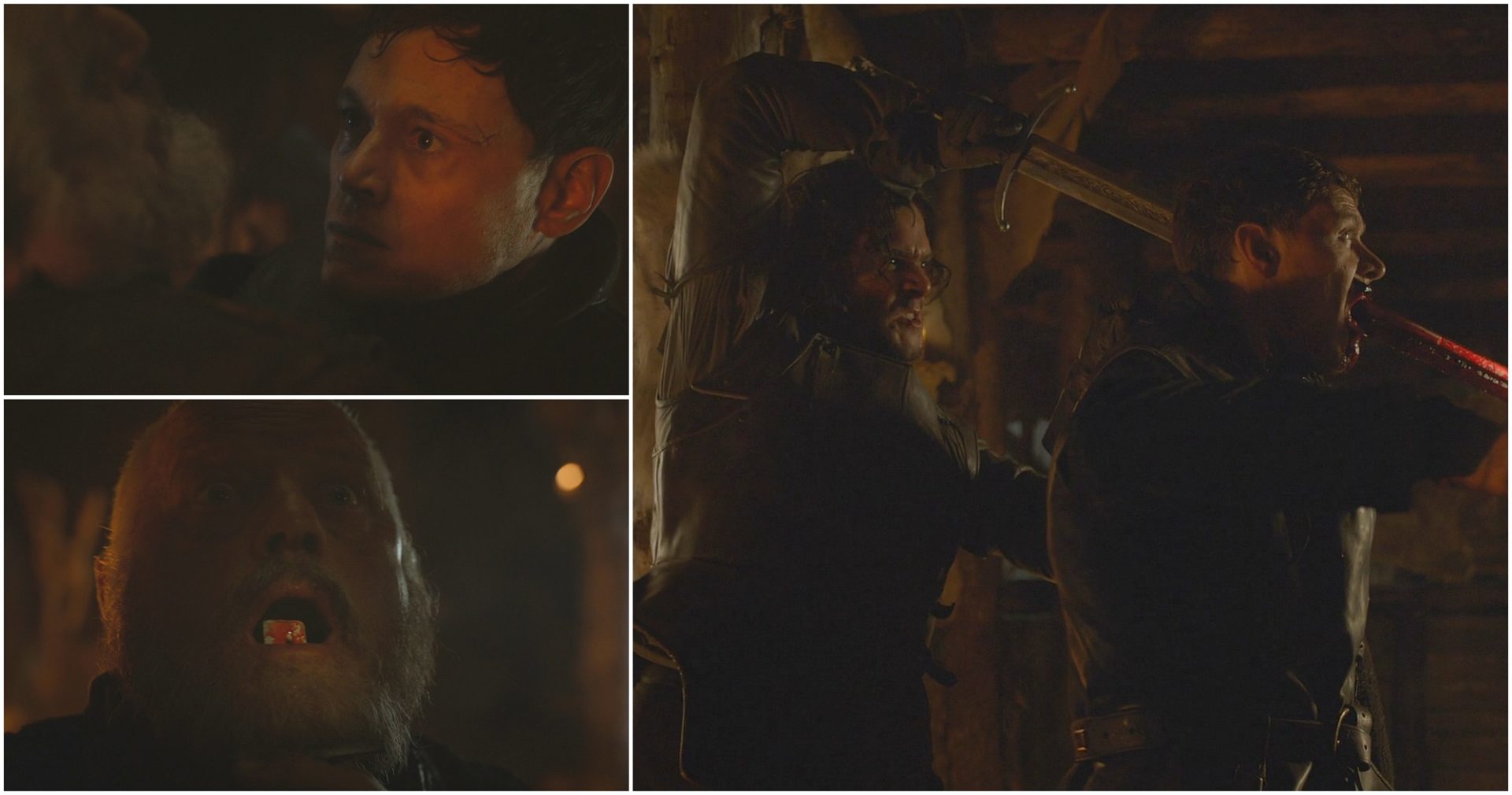 Karl Tanner, the murderous mutineer ringleader of the Night's Watch, gets the same deathblow he dealt to Craster – a lovely stab through the mouth. His style of combat also includes fighting dirty, which he also gets dealt before his death.
Jon Snow and a handful of men from the Night's Watch interrupt Karl, who is at this point despicably attempting to rape Meera after taking her, Jojen, and Bran captive, and a fight ensues. Karl fights dirty – spits in Jon's face to distract him among other tactics – until one of Craster's daughter-wives stabs him in the shoulder before he gets to finish Jon off.
Forgetting that you should never turn your back to your opponent in battle, he does just that to try and kill the girl, and Jon stabs him through the back of the head and out his mouth. Good riddance, creep.
Maester Aemon: The ONLY Character To Die Of Old Age In Game Of Thrones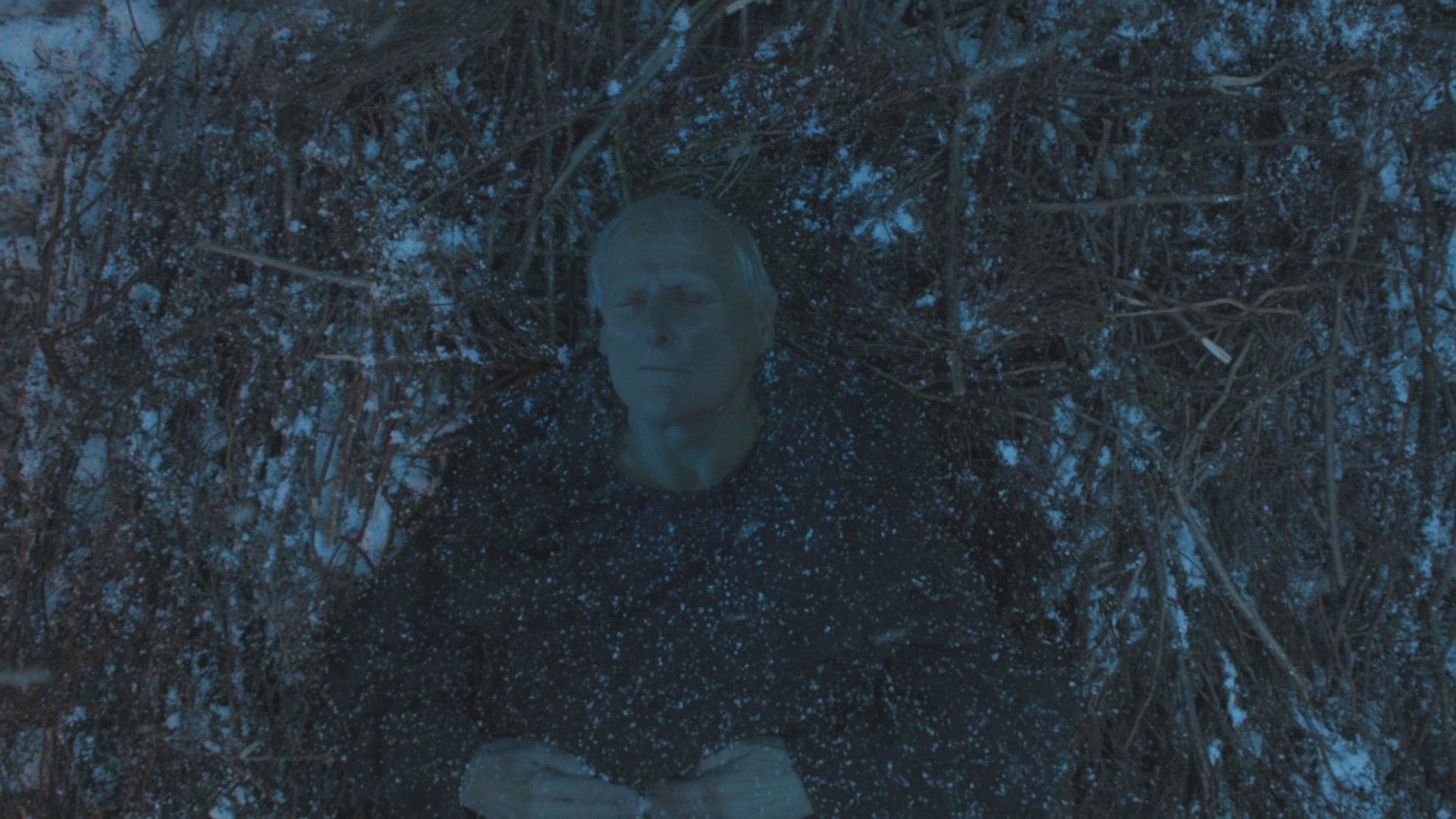 This, ladies and gents, is the only man to have died on natural causes in this show (at least that we have seen). Yep. Our beloved Maester Aemon of the Night's Watch – Aemon Targaryen, great-uncle to Daenerys Targayen, unknowingly great-great-uncle of Jon Snow (ahem Aegon Targaryen) – dies at the lovely age of 102, being the longest living person in Westeros at the time, of natural causes and old age.
Though it was beyond sad to see him go, it also gives us hope that any one of our current favorite characters can also die of natural causes and the George R. R. Martin doesn't just kill everyone off in gruesome ways. Unlikely, but hey, we can hope.