Drinking seems to be one of the most prominent activities in Game Of Thrones. It goes well before either Fighting Rival Houses and Bedding Women. The cool lads at gruszkazfartuszka.pl came up with these delicious drinks and cool photos on drinks based on each Family from the Seven Kingdoms (and Essos).
House Baratheon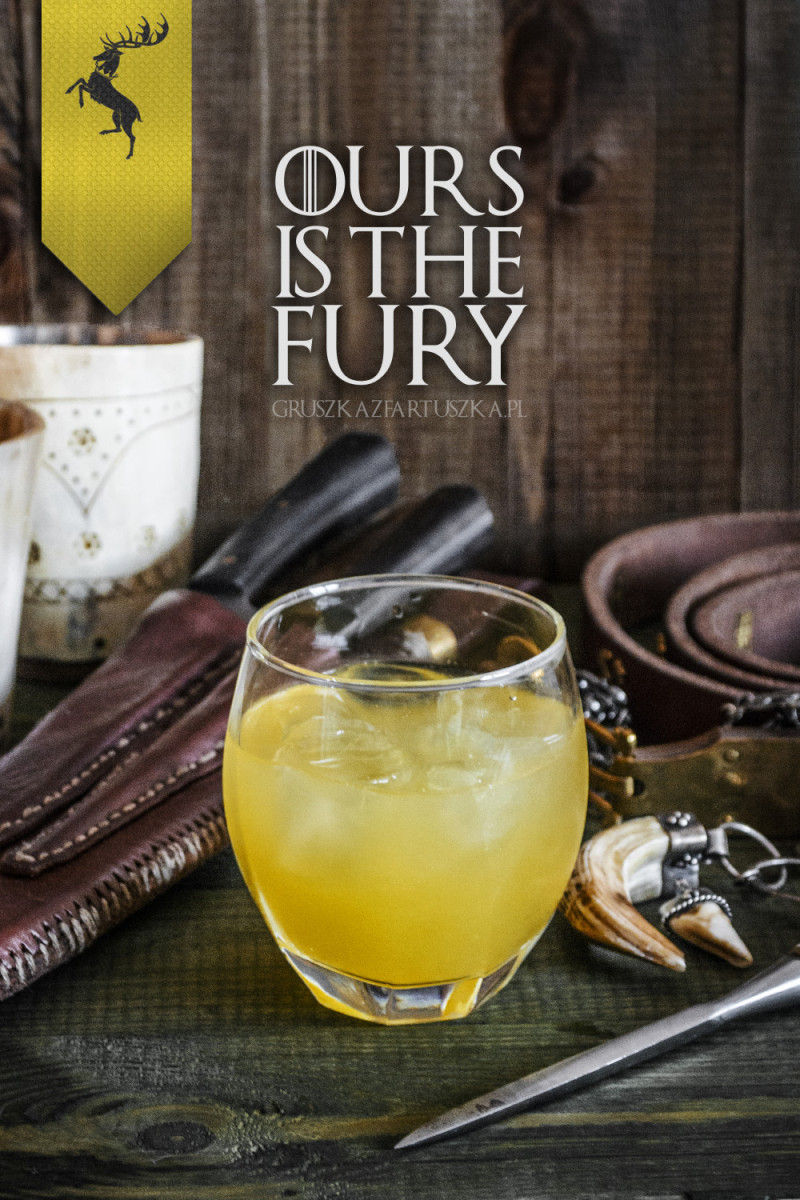 Ingredients:
– 50 ml of water
– 50 ml of honey
– 50 ml gin
– 30 ml lemon juice
– 30 ml of fresh orange juice
– Ice
For decoration:
– Orange
– Lemon
Heat up honey and water on low heat till it comes to a boil then cool it. Take 30 ml of cold syrup, our into a shaker. Add the remaining ingredients, shake and pour.
House Lannister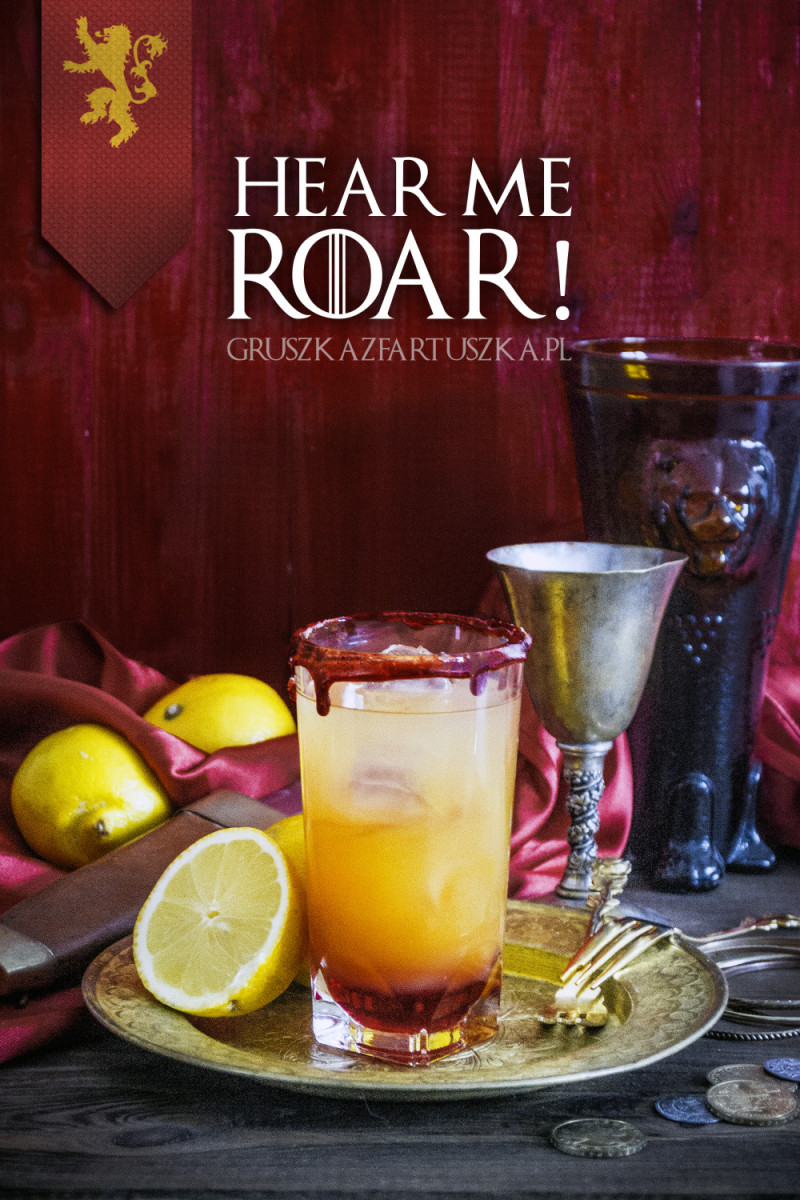 Ingredients:
– 20 ml grenadine
– 100 ml of juice with mango
– 70 ml white rum
– Ice
For decoration:
– 100 g of sugar
– 50 ml of date syrup
– 20 ml of water
Pour water, sugar and date syrup in a small saucepan. Heat on low heat until the mixture turns into a thick caramel.
Hold out the glass upside down for a moment, then turn them up and leave it to fully solidify.
Put a few ice cubes in a glass. Pour grenadine, then carefully using a teaspoon pour mango juice, so that you get two layers pretty layers. Top it off with rum.
House Stark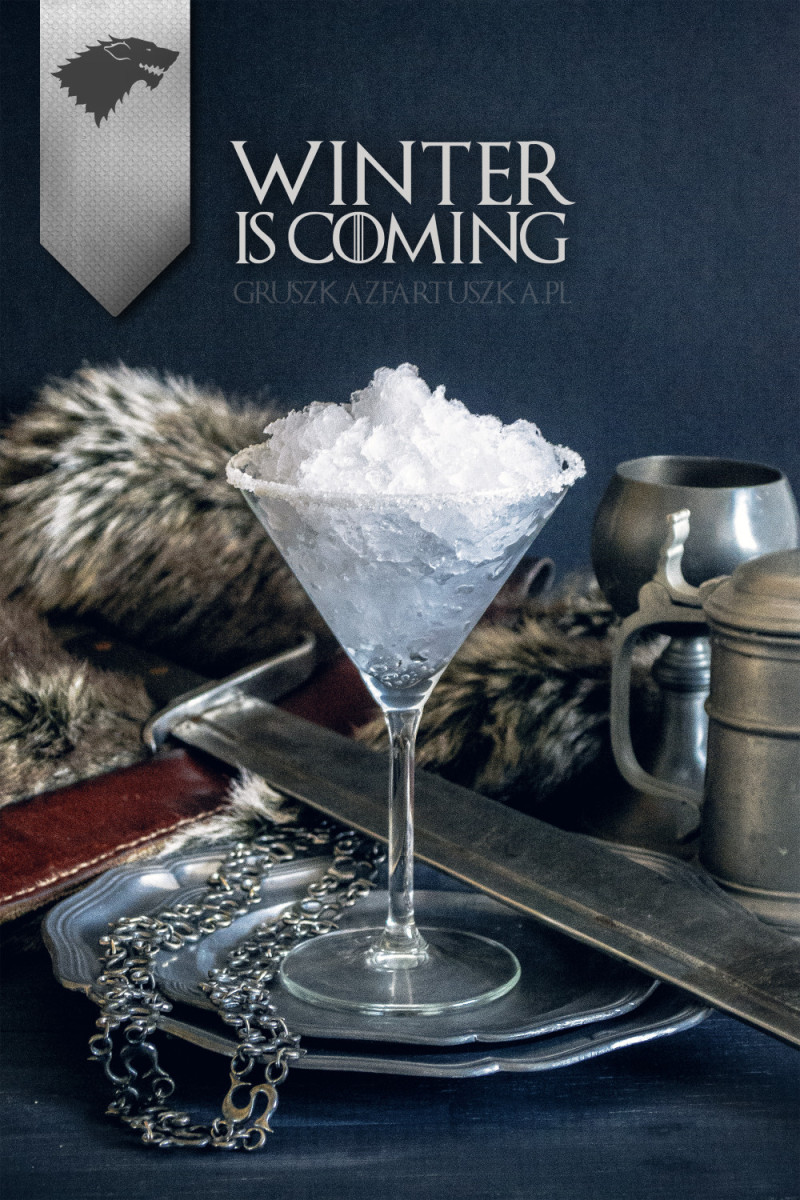 Ingredients:
– 100 ml tonic
– 30 ml gin
– 1 tablespoon lemon juice
For decoration:
– Fine sugar
– Lemon juice
Take sugar in a shallow dish, smear the edge of the glasses with a little lemon juice. Then turn the glass into the dish till the sugar sticks to the edges, leave to dry.
In the meantime, take tonic, pour into a plastic container and put in the freezer. When the tonic is completely frozen, crush it with a spoon, and put it in a (chilled) martini glasses . Add lemon juice and gin.
House Targaryen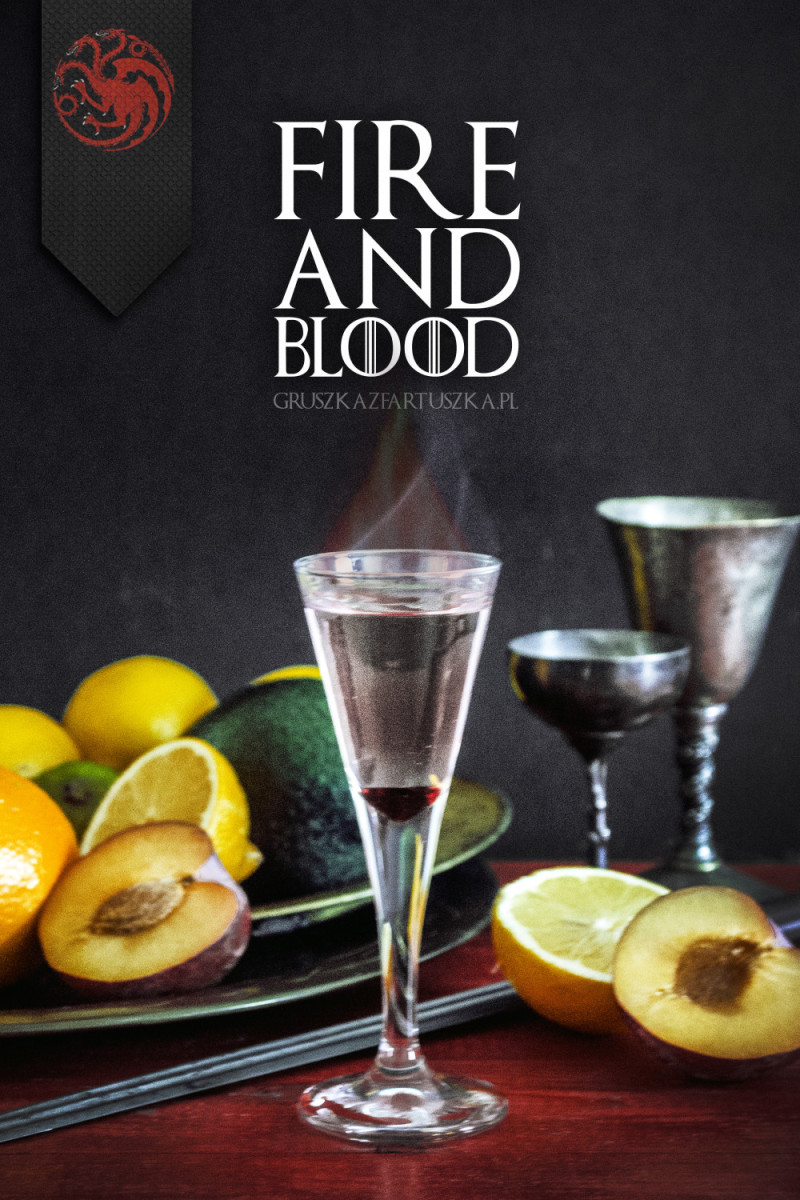 Ingredients:
– A drop of grenadine
– 50 ml of clear, strong rum
– A bit of spirit
Pour into a glass alcohol and swirl it carefully so that the alcohol cover the walls, pour away the remaining alcohol. At the bottom of a glass, pour a drop of grenadine, complement rum. Kindle the glass for effects, blow and drink
House Tully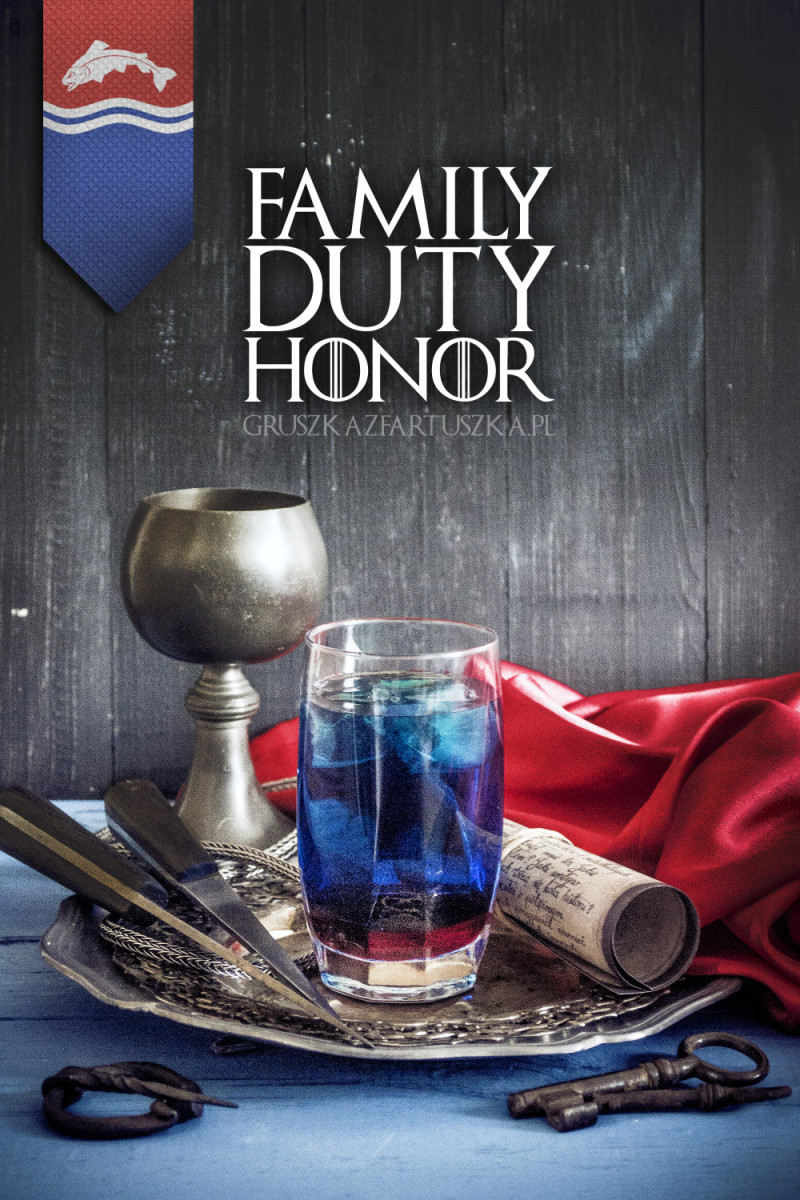 Ingredients:
– 40 ml strawberry syrup
– 50 ml Blue Curacao liqueur
– Approx. 100 ml Sprite
– Ice
Throw ice into a glass. Pour the strawberry syrup, then carefully pour a spoonful of Blue Curacao, in such a way as to create two distinct layers. Carefully complement with Sprite.
House Tyrell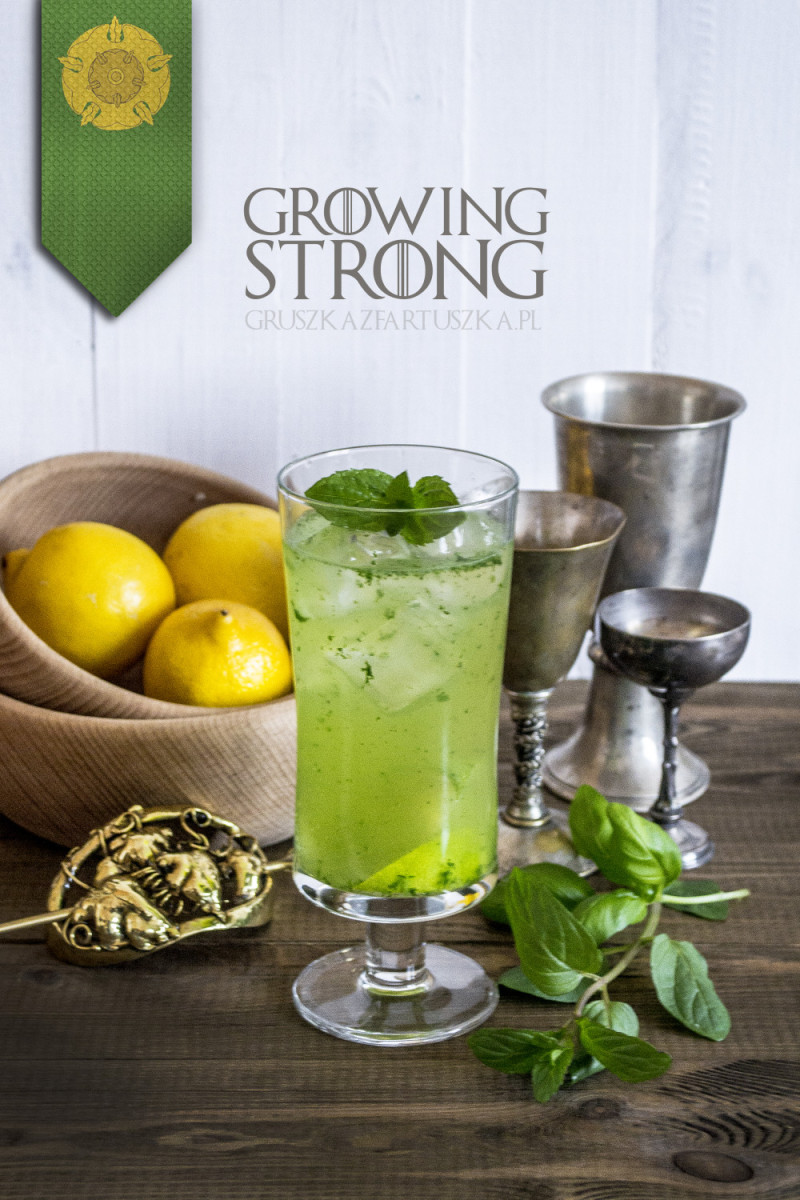 Ingredients:
– 4 mint leaves
– 4 basil leaves
– 1 tablespoon sugar
– 50 ml lime juice
– 80 ml gin
– Approx. 50-80 ml tonic
– Ice
For decoration:
– Quartered limes
– Mint leaves
– Basil leaves
Take basil, mint and sugar, thoroughly crushed. Add lime juice, gin and ice cubes. Shake it all and pour it into a glass. Complement it with Sprite. Garnish with lime particles and leaves of herbs.
House Greyjoy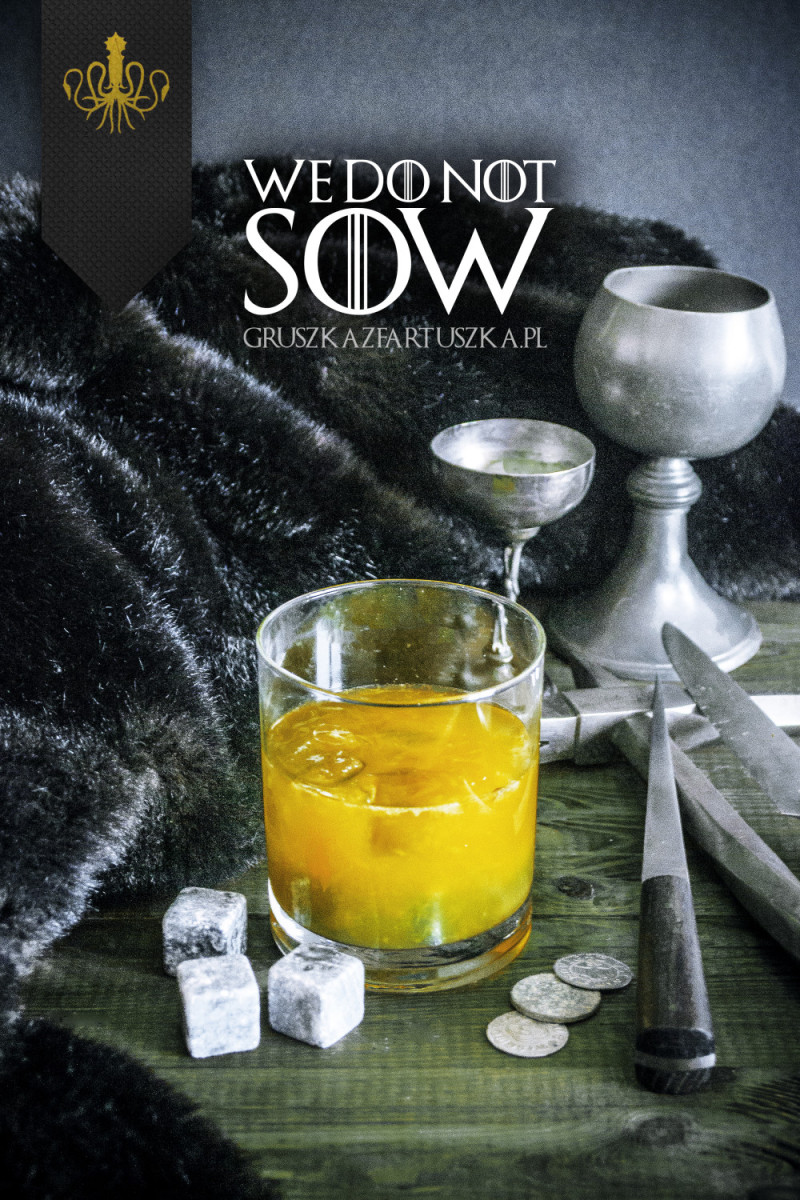 [InPostAds ad="5″]
Ingredients:
– 1/3 teaspoon freshly grated ginger
– 3 slices of orange
– 15 ml lemon juice
– 30 ml of Cointreau
– 60 ml whiskey
Put Ginger with orange into a shaker and thoroughly crush it. Add lemon juice, Cointreau and whiskey and shake it thoroughly. Pour it into a glass filled with ice cubes (better with whiskey stones) also use a strainer whilst pouring
NOTE: Although this last one sounds delicious, it has to be pointed that they missed a GREAT Opportunity to have a drink associated with House Greyjoy that uses Kraken Rum… Fits their Sigil.