With the massive global hit that "Game of Thrones" is, it should come as no surprise that the Production team, and even George R.R Martin himself got themselves inspired by other works in film and TV series. We look at 13 examples where the similarities between the scenes (or settings) are noticeable enough, yet still maintain their own identity within the grand story arc in the series.
13 – The Waif Hunts Arya In Braavos – The T-1000 Hunts John Connor In LA (Terminator 2: Judgment Day)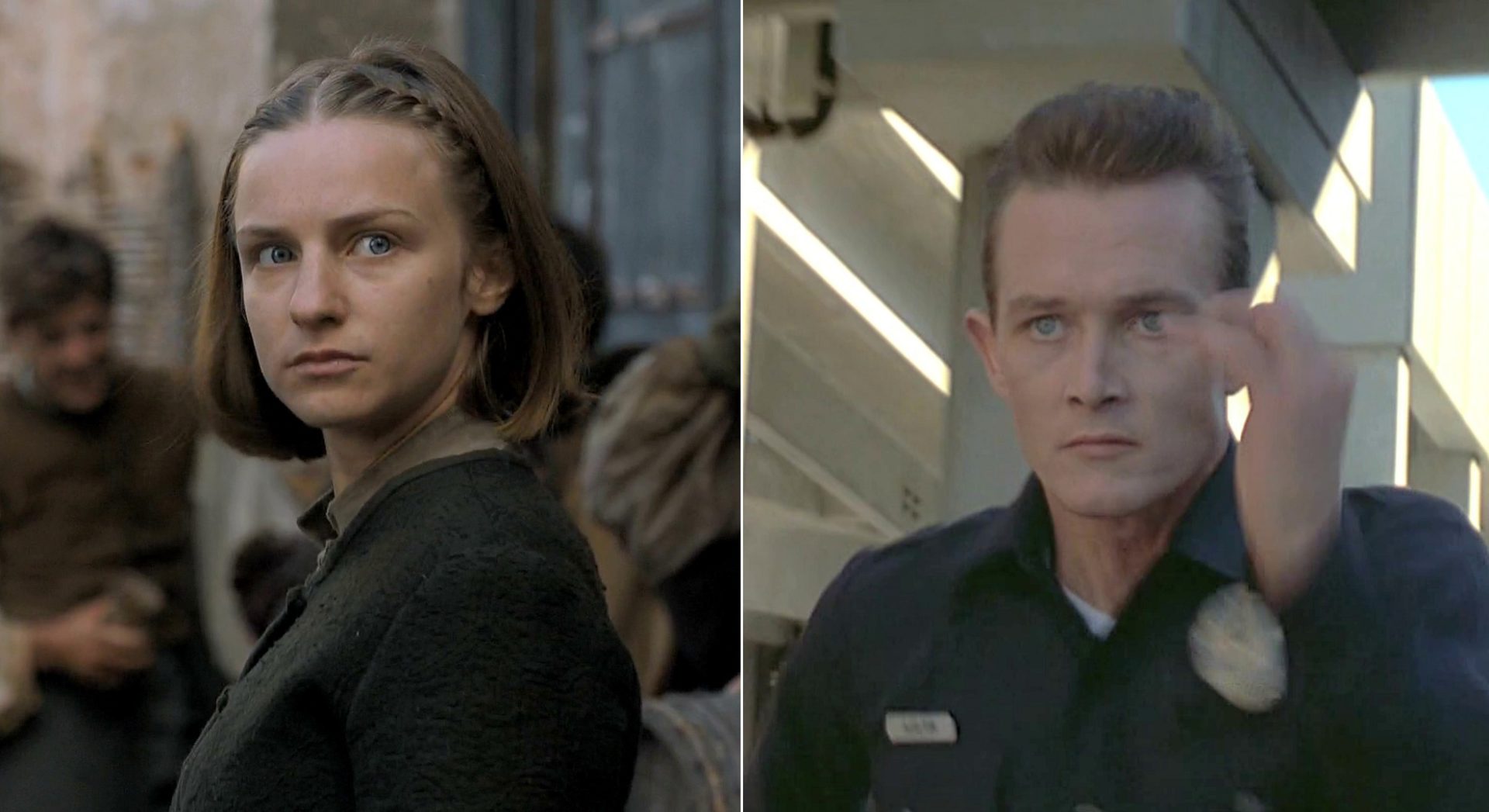 The common traits are too many. The Waif has a calm and calculating composure as she chases Arya in the streets of Braavos, in the exact same way the T-1000 chases John Connor in the Mall, and then the LA River in Terminator 2.
Some YouTubers have even matched the Chase Scene in Braavos with the actual Soundtrack of Terminator 2 (Embedding is not allowed due to copyright laws)
12 – Rickon's Run – "Run For Your Life" (Apocalypto)
Pretty straightforward: a classic execution technique the Mayans used before the Spanish Conquistadors took over. Prisoners are given a chance to escape by running straight into an open field while their captors fire arrows at them. Zig Zagging in an erratic and unpredictable pattern should come naturally as a defensive strategy to avoid getting impaled by an arrow.
Now if only Rickon had considered that very thought while Ramsey was firing at him, instead of running in a straight line…
11 – Tyrion Crashes The Small Council Meeting – The Joker Crashes The Mob Meeting (The Dark Knight)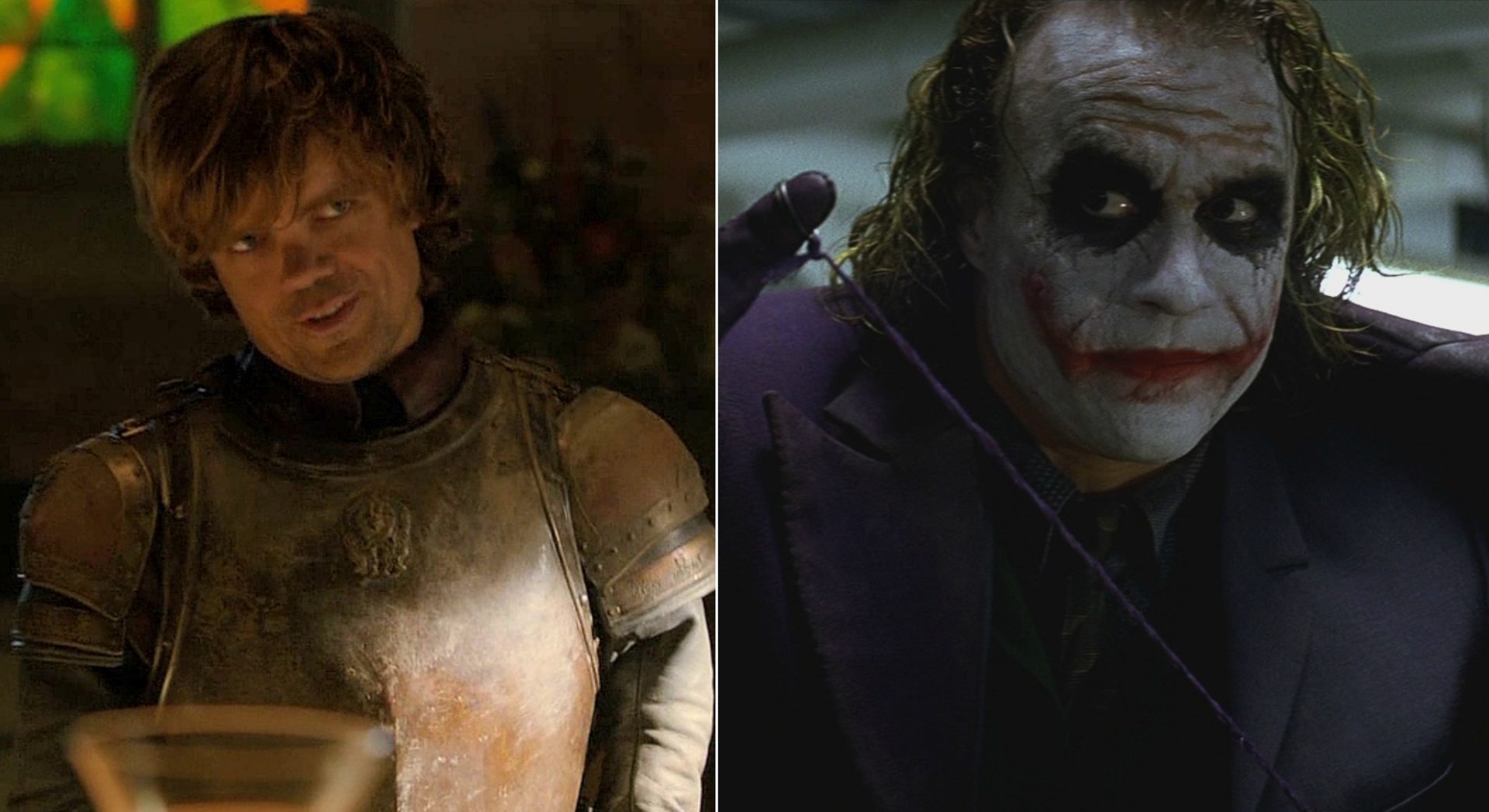 The newly appointed Hand of the King walks in during a small council meeting (humming "The Rains of Castamere" mind you, the Lannister war song) and interrupts it with his presence, only to take its lead.
Heath Ledger's Joker did the exact same thing in the broad day mob meeting in "The Dark Knight", crashing their meeting as well as taking all the attention towards him.
10 – The Hound's Confrontation At The Inn – The Basterd's Confrontation At The Inn (Inglorious Basterds)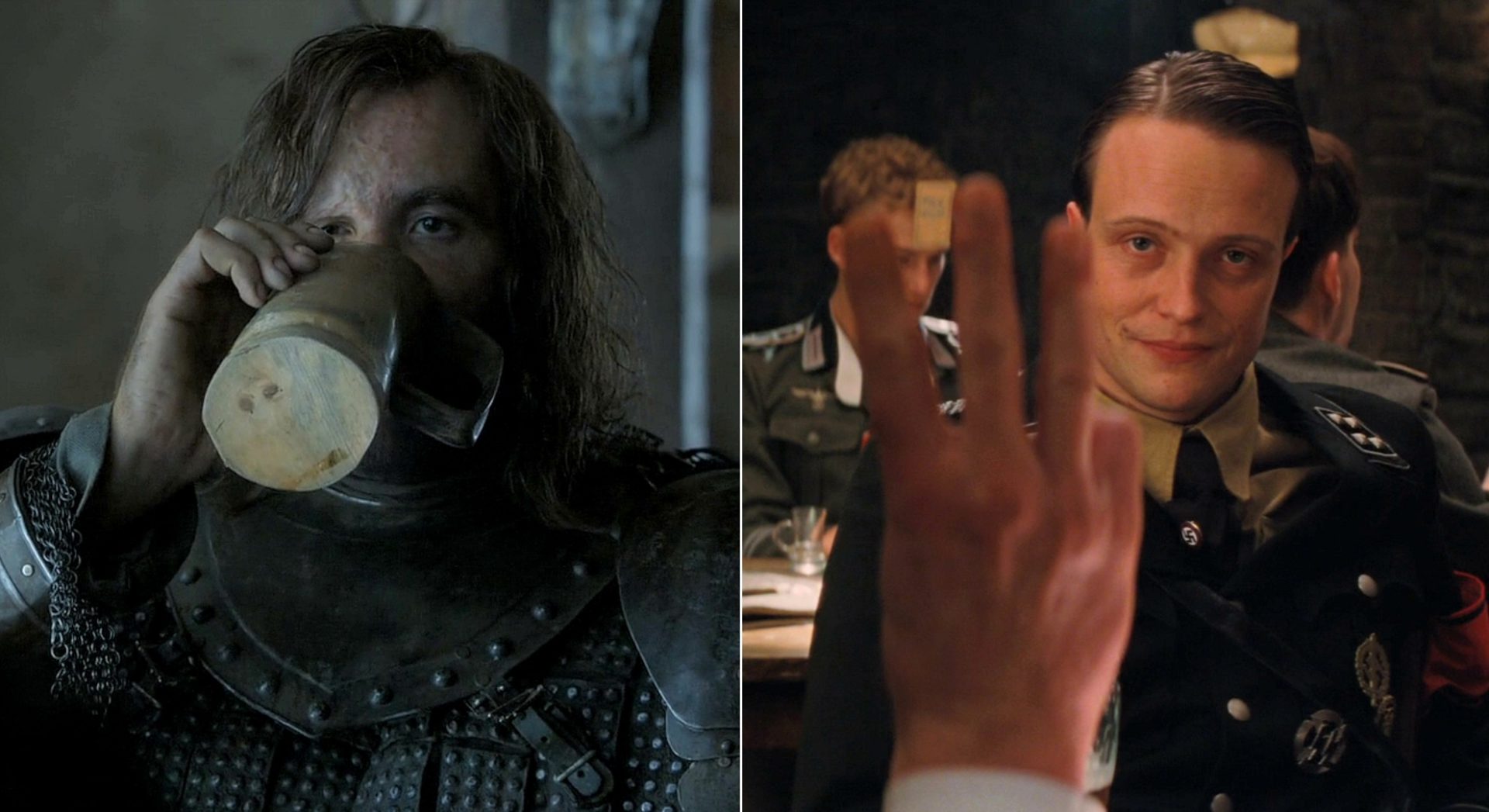 Quentin Tarantino is a genius at writing scenes where tension slowly builds up, only to end in brutal and sudden violence. Both scenes occur in an inn where one's cover is blown through long, tense, and highly entertaining dialogue. Michael Fassbender's line with regards to wasting good Scotch and the Hound's hunger for "every chicken in this room" are what classics are made of. The death toll that follows is also bloody enough to make Tarantino proud.
9 – Ser Dontos Saves Sansa At The Purple Wedding – The T-800 Saves Sarah Connor From The T-1000 (Terminator 2: Judgement Day)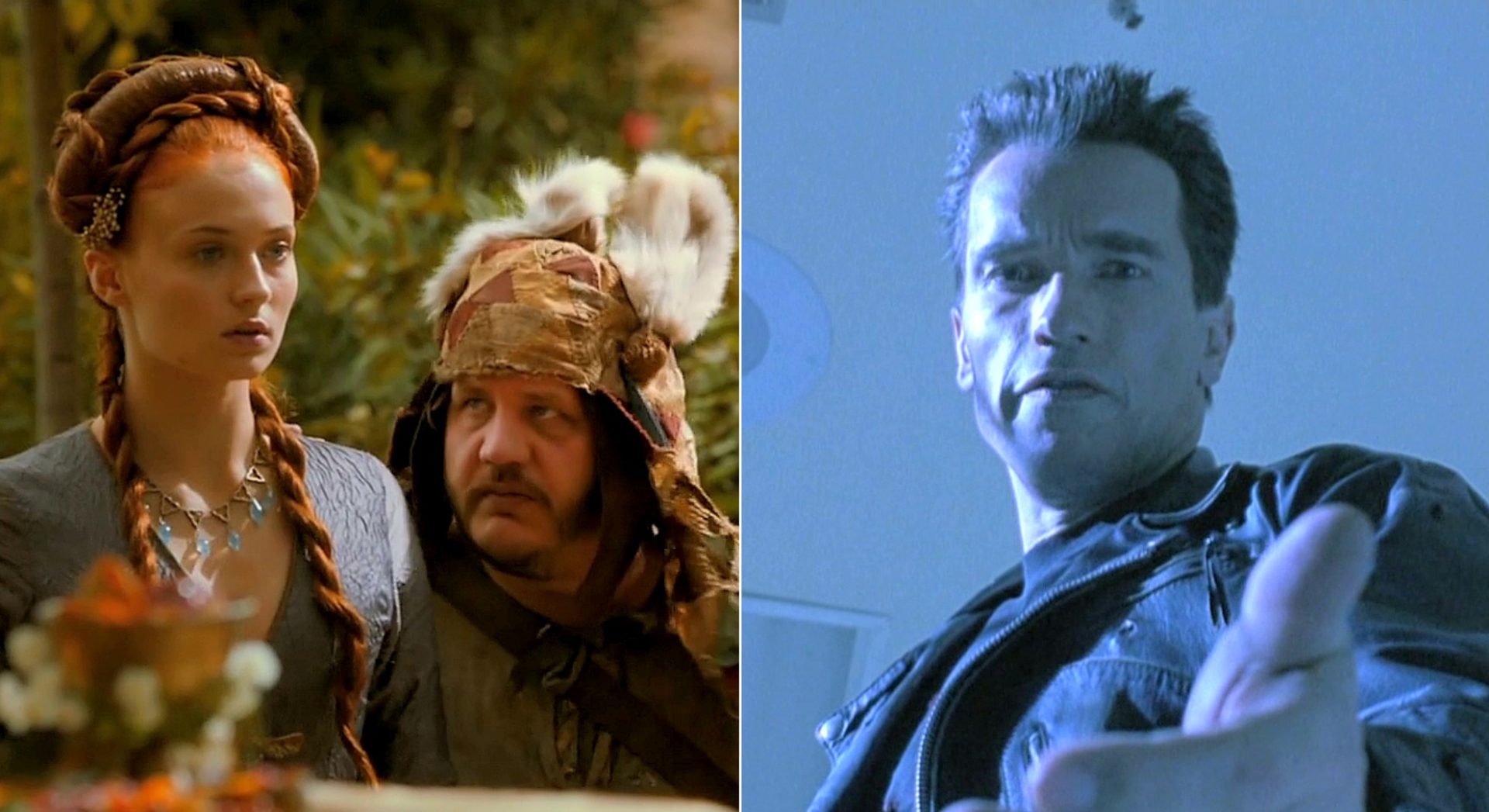 Another one inspired by Terminator 2: Ser Dontos, the King's fool walks to Sansa while everyone's attention is on Joffrey choking at his wedding and tells her: "Come with me now". Sarah Connor is being chased by a Murderous robot from the future sent to kill her, until she gets saved by Kyle Reese who tells her "Come with me if you want to live".
8 – Tormund Bites Smalljon Umber's Neck – Rick Grimes Bites Joe's Neck (The Walking Dead)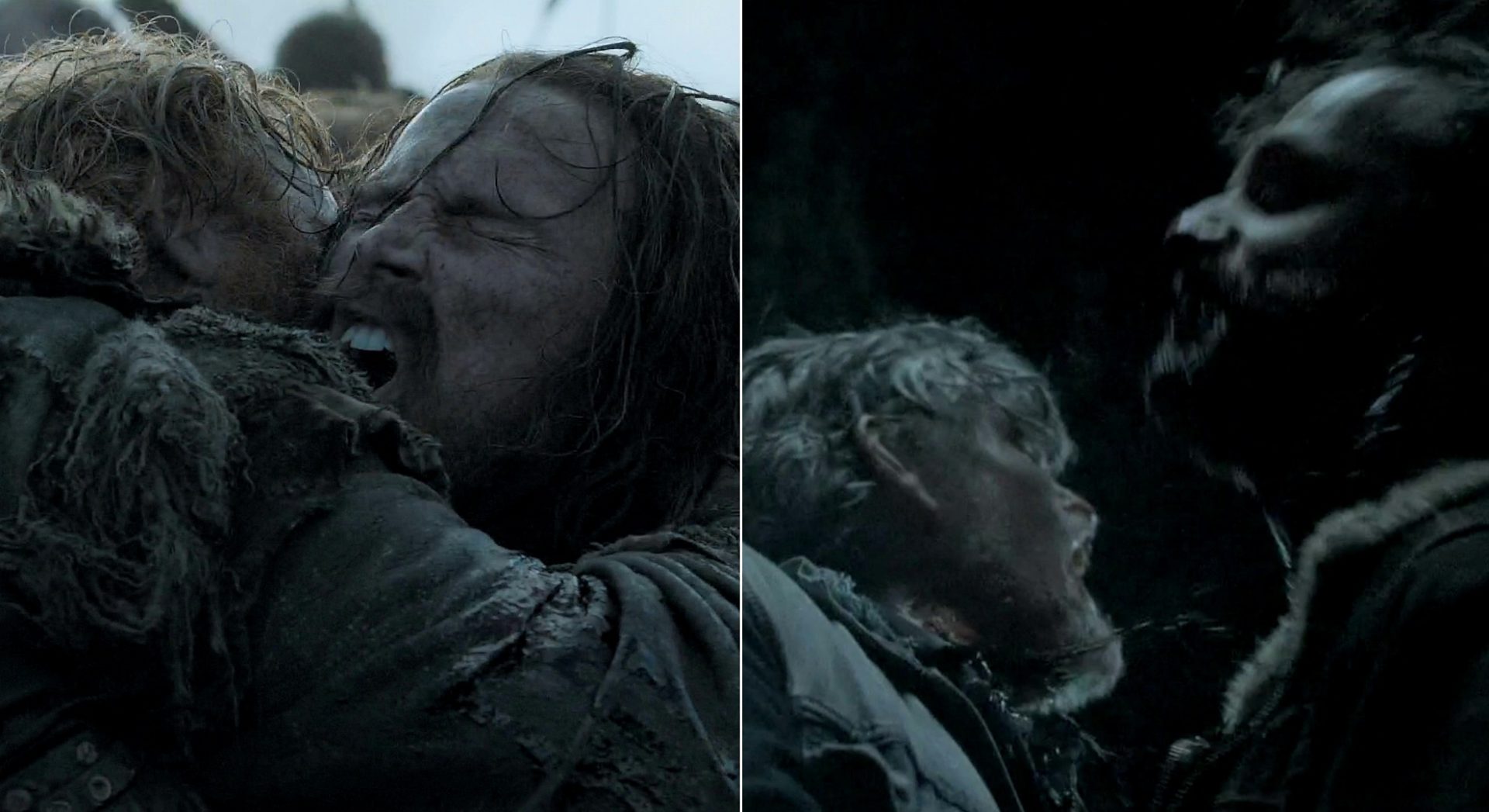 Both Characters end up in a situation where their lives are in imminent danger, one of them even sees his son about to get manhandled by one of the bandits attacking his group. Both end in extreme close quarters and go with extreme measures: by violently biting their assailant's neck and completely ripping their throat apart. Both scenes are satisfactory for the viewers as well, seeing a scumbag character get his due by one of the show's protagonists
7 – Ramsey Bolton's "Hello Sansa" – Hannibal Lecter's "Hello Clarice" (Silence of the Lambs)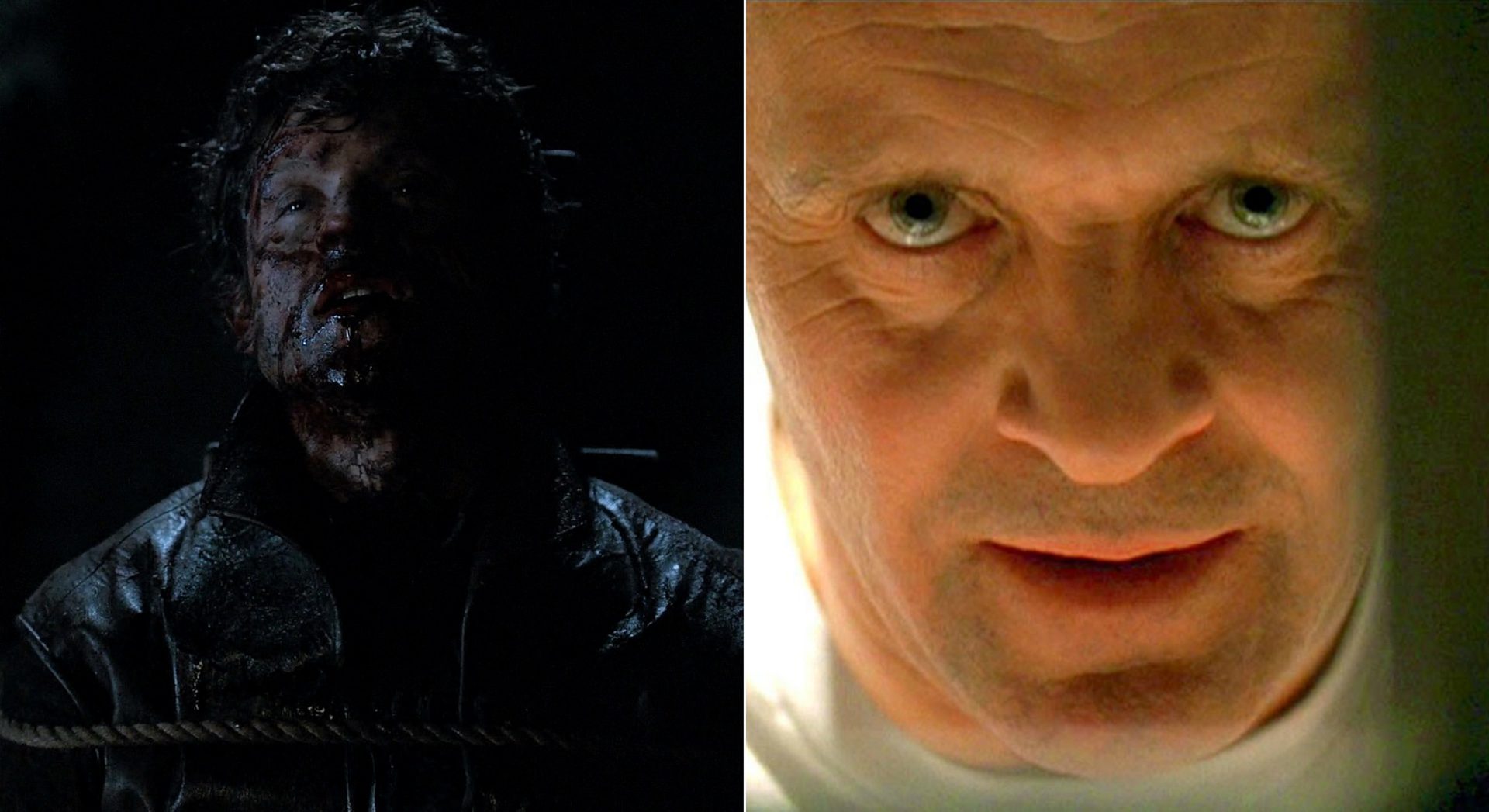 A captured psychopath, isolated in a cell, confronting a woman who's here to see him, alone. Despite being the one imprisoned, he ends up being the one playing the mind games. Hannibal Lecter does it to Clarice Starling, and Ramsey Bolton does it to Sansa Stark. Even though Ramsey gets eaten alive there, having Sansa watch the horrors of a man being eaten alive by hounds points to the fact that his savagery has now been implanted in her as well.
6 – Battle Of The Bastards – Battle Of Cannae (Hannibal – Rome's Worst Nightmare)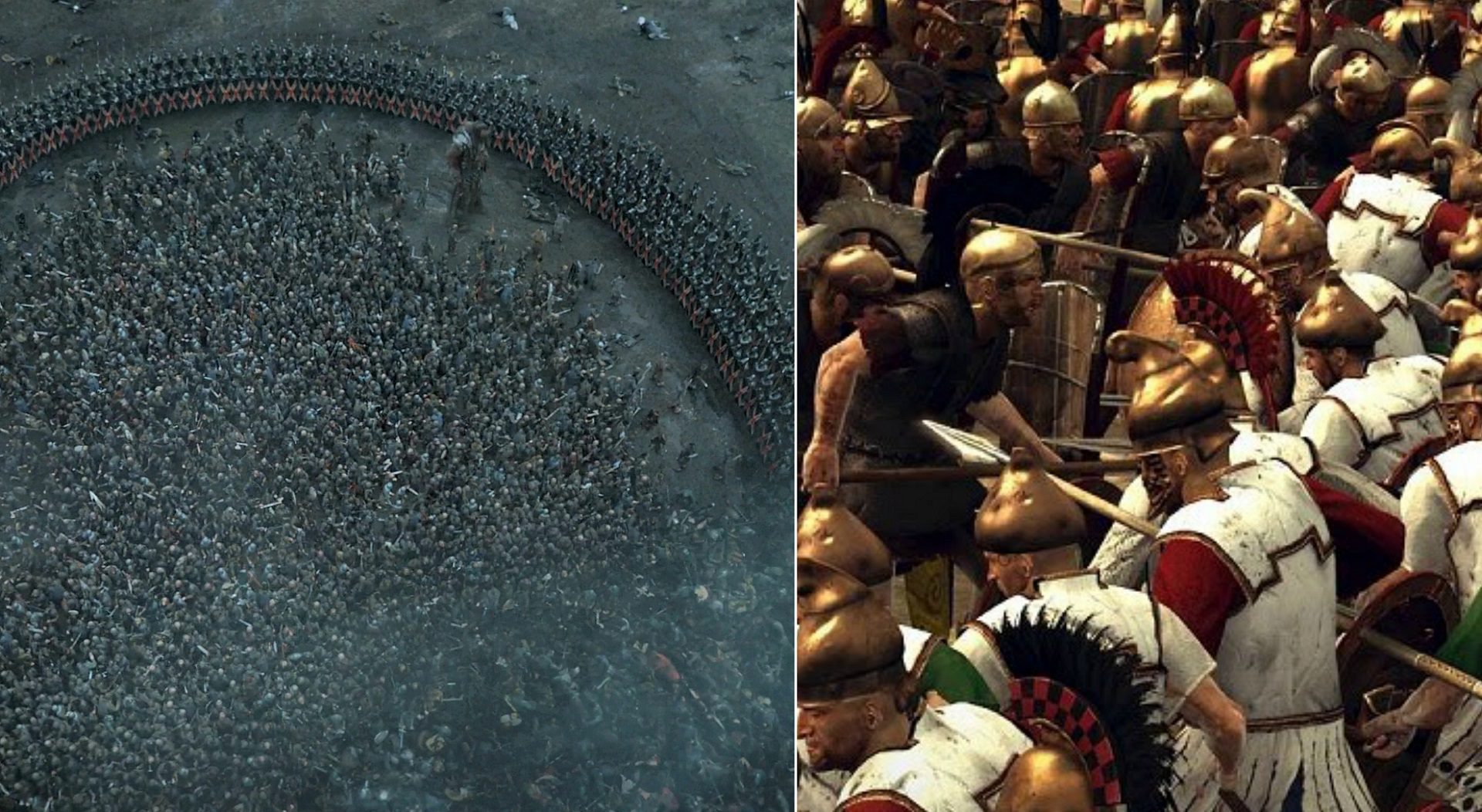 History books mention Hannibal as one of the Roman Empire's greatest threats at the time for how he handled the Battle of Cannae, one of the Roman Empire's most devastating defeats. Even though the Romans outnumbered them, he was able to trap them in a pincer move where most of the Roman Legion ended up being trapped by the rival forces' cavalry.
Ramsey Bolton uses a similar tactic and locks Jon Snow and his army with shielded soldiers, while they are blocked by a wall of cadavers from the first cavalry offensive. If it wasn't for the Knights of the Vale coming and storming through the Bolton Phalanx, Jon and his men would have perished.
5 – Jorah In The Fighting Pits – (Gladiator)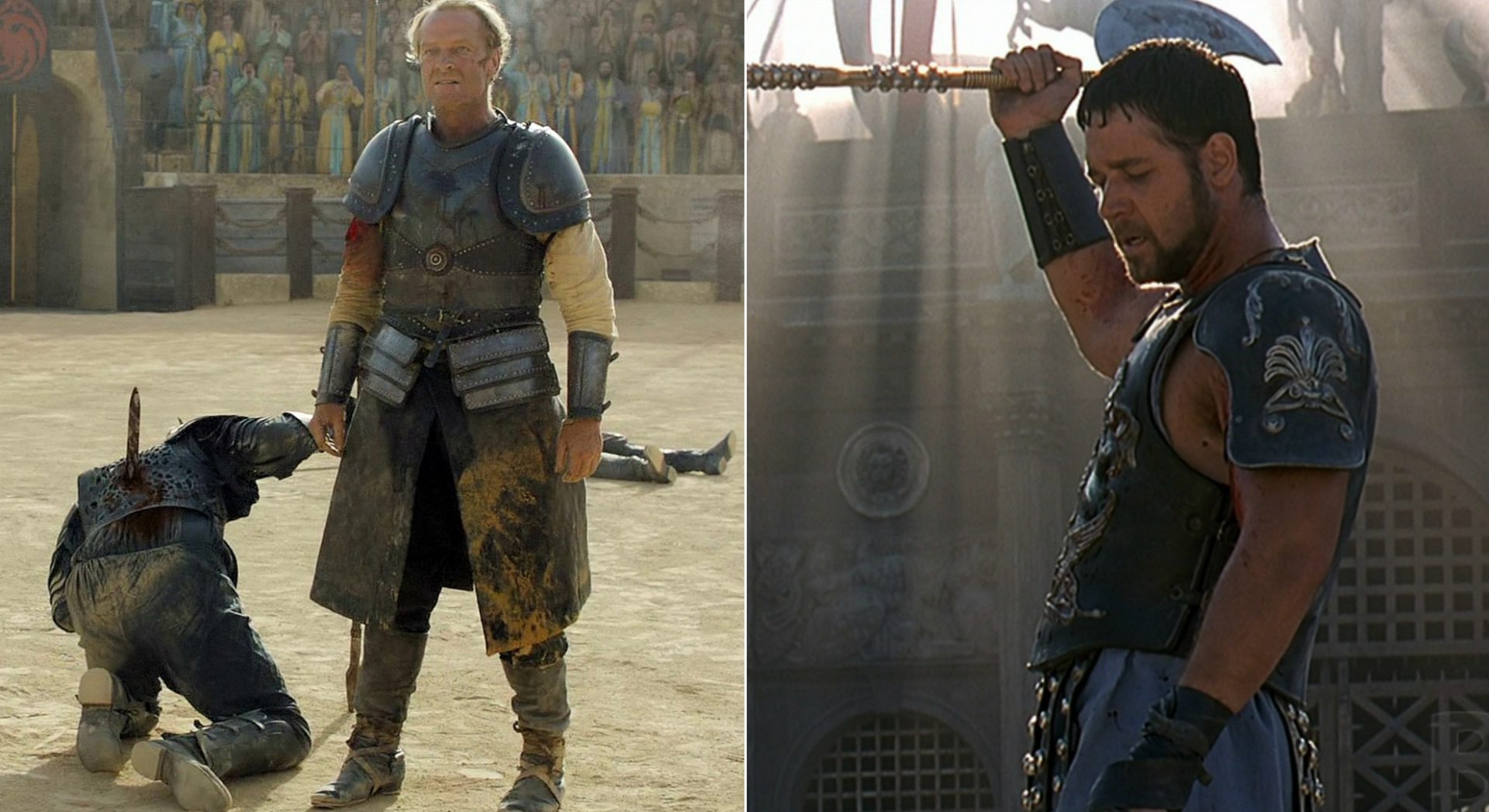 Jorah and Maximus both enter the arena to confront a gauntlet of opponents solely to entertain citizens of Rome/Mereen. But both have ulterior motives for fighting, as the Emperor/Khaleesi is watching, and they want to make sure they get their attention as they slaughter and defeat each opponent that comes in their path. Both give fantastic performances and win the respect of the crowd, despite being foreign to them.
4 – Drogon Saves Dany – The Neverending Story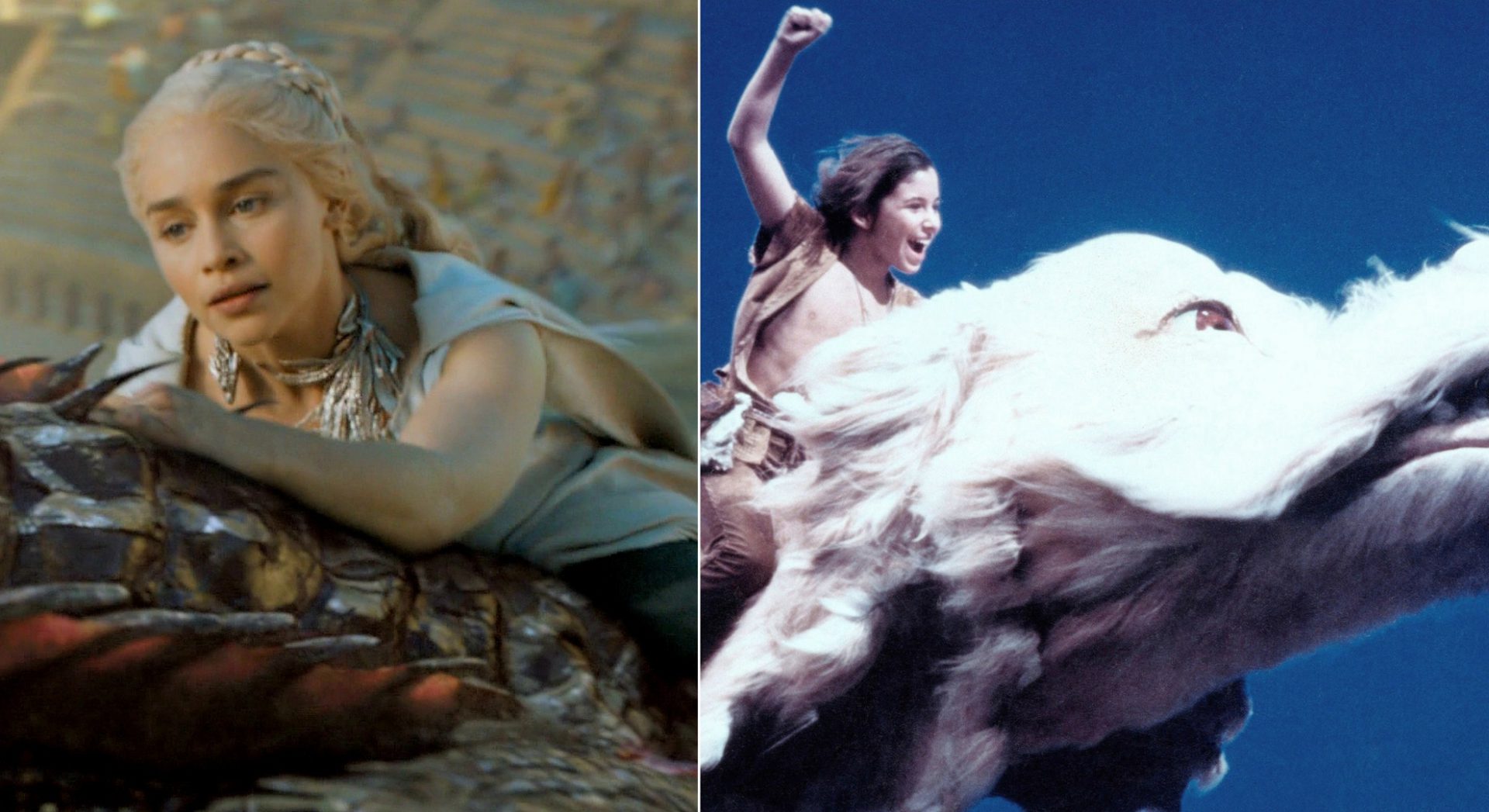 Another very straightforward one: How many viewers thought of Falcor Flying in "The Neverending Story" just as Drogon was flying away from the Fighting Pits of Mereen with Daenerys riding on him?
3 – Robert's Rebellion – The Iliad (Troy)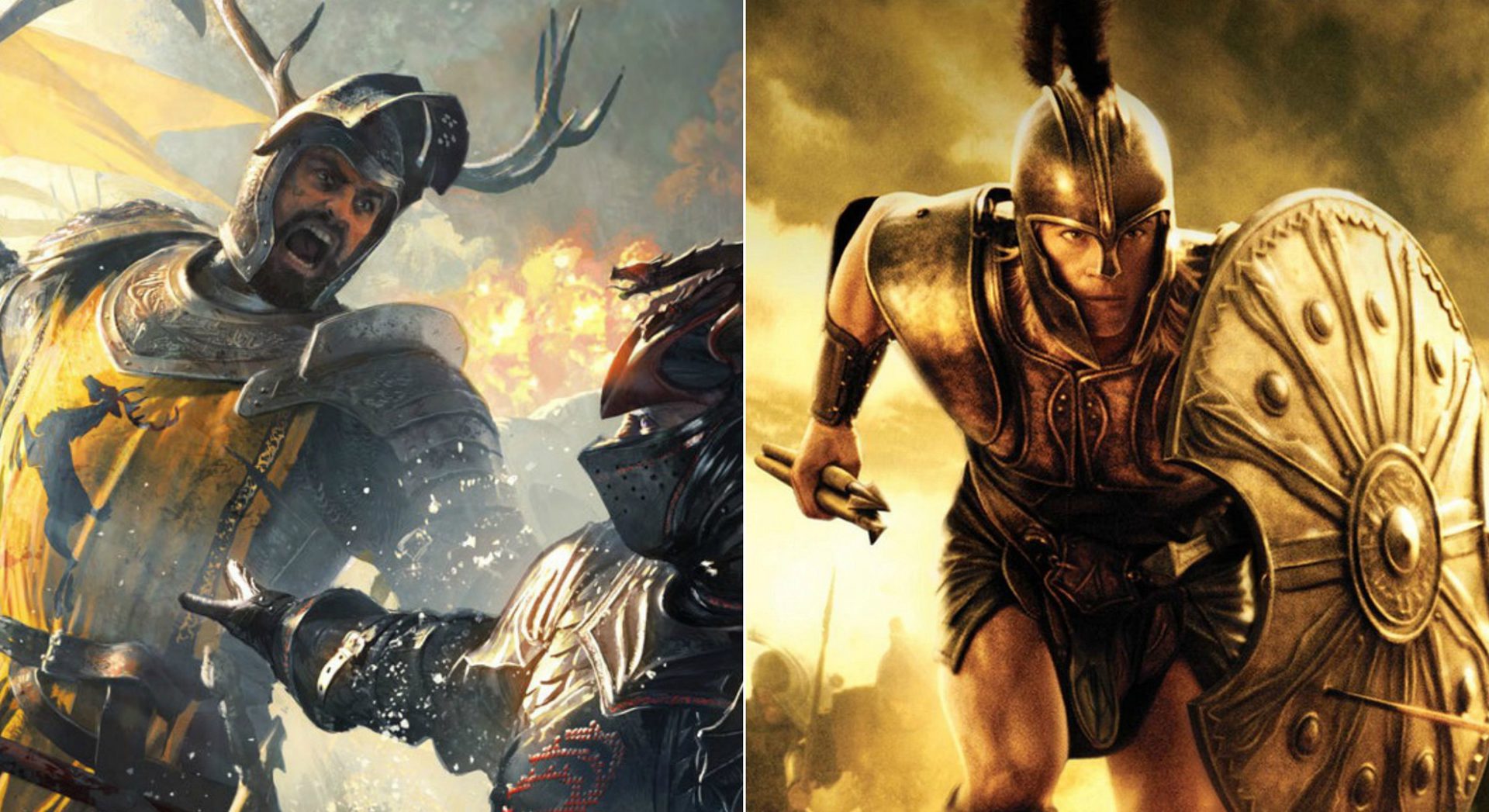 Not so much a scene in itself, but rather the concept altogether. A Noble Lord/King is married/betrothed to a beautiful woman who gets "captured" (actually runs away on her own free will) with another prince. That causes a war and the kidnapping party loses their heir in a one on one fight (Achille vs. Hector, Robert Baratheon vs. Rhaegar Targaryen).
The defending city gets tricked by a ruse and opens its gate which leads to its demise (The Trojan Horse in Troy/The Iliad, Tywin Lannister coming as an ally and then sacking the capital once his army passes through the gates)
2 – Jon Snow's Death – Julius Caesar's Death (Rome)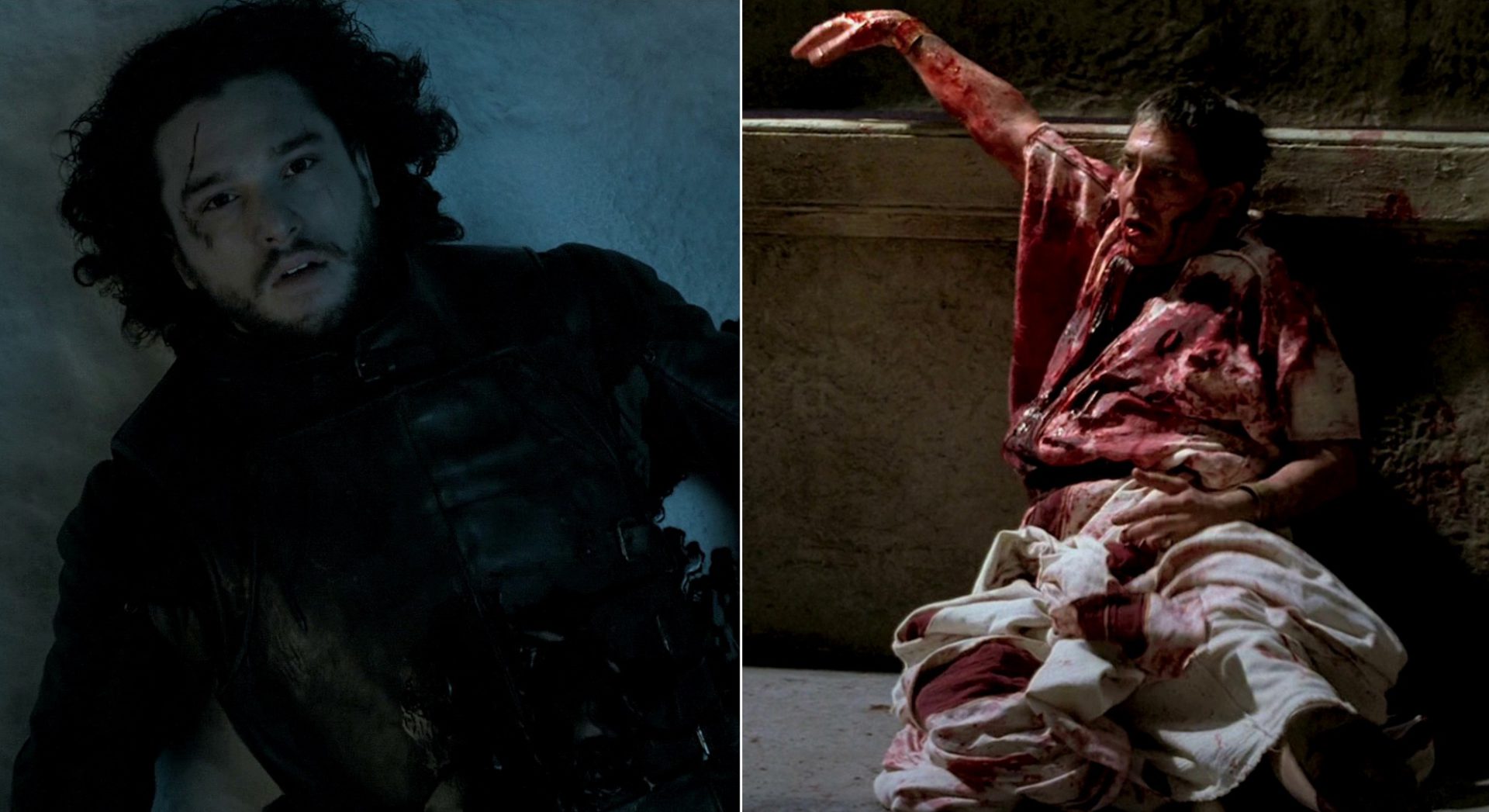 As it had been covered in "11 Real Life Parallels In Game Of Thrones", both characters are leaders whose change they bring incite internal turmoil, resulting in their treacherous murder. Both end up getting stabbed multiple times by men supposed to be loyal to them, including one of their trusted confident/disciple, referring of course to Brutus for Caesar, and Olly for Jon Snow.
Side Note: Many "Game of Thrones" actors are also part of the cast of "Rome", another great HBO series that was canceled before its time due to its large budget, including Ciarán Hinds (Caesar/Mance Rayder), Tobias Menzies (Brutus/Edmure Tully),  (Mance Rayder) and Indira Varma (Niobe Vorenus/Ellaria Sand). "Rome" is definitely one of the many shows fans of "Game of Thrones" would enjoy.
1 – Cersei Burns The Sept – The Baptism Scene (The Godfather)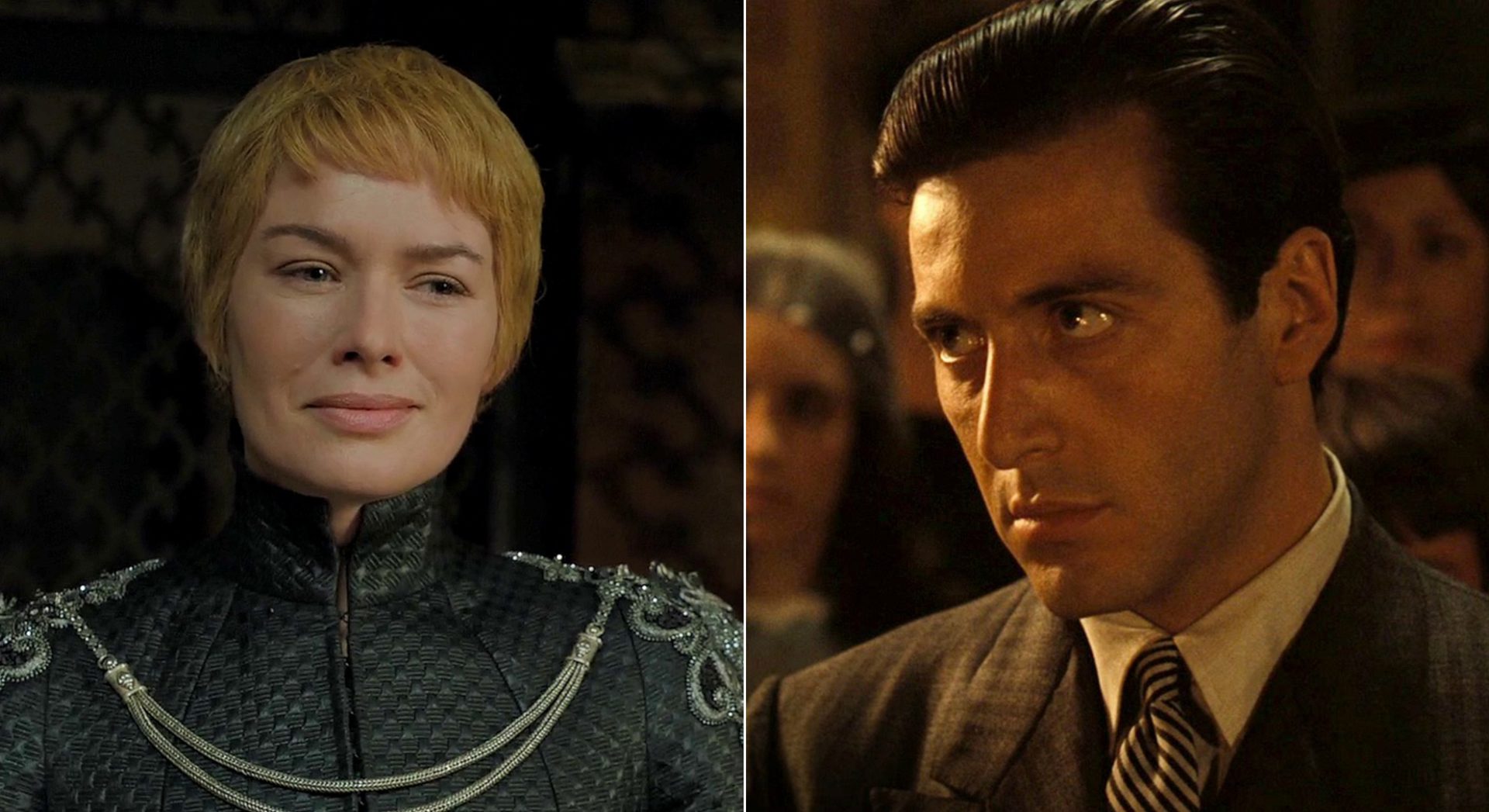 Both Cersei Lannister and Michael Corleone are ruthless when it comes to protecting their family and eradicating their enemies. Michael has all of them assassinated while he's at church attending his nephew's baptism.
Cersei does likewise by having Qyburn and the little birds handle Pycelle. The Tyrells, her uncle Kevan, the High Sparrow, and the remainder of the Faith Militant get blown to shreds by a massive Wildfire explosion that destroys the Grand Sept of Baelor. All the while, some haunting, yet masterfully composed music plays in the background